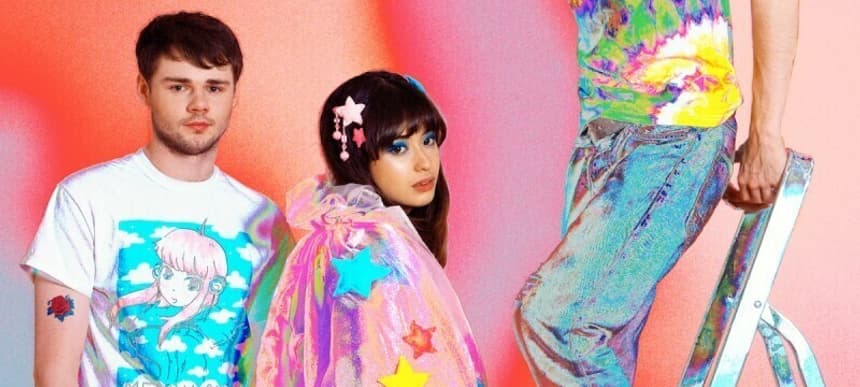 29.08.2014, Words by dummymag
Next: Kero Kero Bonito
One of Kero Kero Bonito's first gigs was at a retirement home. "A friend, who's also a really good songwriter, works for a charity," explains Gus, one third of the South London band, "He had a calypso dude playing and asked us. We thought: 'It looks fun, it's for charity, it's practise…'"
"We ended on Small Town," elaborates co-producer/songwriter Jamie, "There was a ring of very elderly women all holding on to each other for support. Without one of them, they'd all collapse."
It's not just for this choice of show that Kero Kero Bonito seem atypical of most new bands. Their debut mixtape, 'Intro Bonito', is a 15-track, 30-minute blast taking in J-pop, new jack swing, digital dancehall, turn-based RPG soundtracks, and Seinfeld slap bass, with vocalist Sarah spitting wonky half-raps involving supercomputers, gun crime, supermarket deals, and going to the park in a mixture of English and Japanese lyrics. It's inventive, colourful pop music, and it's rare to find a band who've built up a world for themselves so assuredly on their debut release.
"Finding KKB is sort of like falling down a very mad, very fun rabbit hole," says Hari Ashurst, co-founder of Double Denim Records, who released 'Intro Bonito' earlier this week, "I remember one of the first things I watched was a video of them on the way to something called Brighton Japan Festival, which is about as far away from a new band playing Birthdays or The Waiting Room as you can possibly get."
Meeting up in Deptford on a sunny afternoon, old school pals Gus and Jamie explain how they recruited Sarah after looking for rappers on an online Japanese ex-pat message board. "We were really interested in Japanese rap," Gus says, "So we put an advert up on MixB, which is an ex-pat community board for Japanese people in London." Surprisingly, the listing ended up getting loads of responses. "Loads of really strange responses," Gus continues, "These old Japanese dudes who wanted to be in a band with us." Sarah's was one of the first replies they got, and the best. "She'd recorded with this Japanese girl group and had all this art stuff. It was like: 'OK, we should do this.'"
They quickly realised that they had mutual interests – musicians like Kyary Kyary Pamyu, and video games like Tomb Raider, which Sarah gives a shout out to on Sick Beat. "I was really into Tomb Raider!" she enthuses, "I used to play it every day after school with my brother. I was very obsessed. We used to print out the cheat sheet and follow everything."
It goes without saying that a childhood playing video games forms a big part of KKB's distinctive sound, from the Toejam & Earl-esque electro funk of Intro Bonito to the lyrics of Sick Beat. Bonito Intro slaps airhorns, cheesy rap samples, and orchestral stabs over Chrono Trigger drums and a melody straight out of Final Fantasy V. "Video games inhabit a really cool sound world," Gus says, "It's very simple synthesis. It's relevant to what's happening now. It's not like a dense, textural thing."
And that's the thing with Kero Kero Bonito: belying their seemingly kitsch, cheap MIDI sound is an incredibly sophisticated musical and technical sensibility. Likewise, Sarah's lyrics often use simple, funny language to tackle complicated subjects: the incredibly catchy Sick Beat is sort of about being good at video games, but it's really about not fitting in with how women are 'expected' to behave. Let's Go To The Forest deals with the decimation of a natural habitat, and Babies (Are So Strange) is about the societal pressure put on women to have children.
In the future, they'll be releasing a debut single, building towards an album that'll sound a bit more considered: "A bit more songwriter-y, rather than just disjointed basslines and riffs," says Gus, "Which sounds really boring, but I promise you is really good!" They also intend to work with producers from the wider community of underground pop music surfacing in London right now, centred around labels like PC Music (whose Danny L Harle recently debuted a remix of Sick Beat in a mix for Rinse FM) and parties like Simon Whybray's JACK댄스, where Kero Kero Bonito recently played behind a bank of mini keyboards and samplers to a packed out crowd in the sweaty, smoke-filled basement of Dalston's Powerlunches. The crowd was a bit younger at that one, though.
Double Denim released 'Intro Bonito' on August 26th 2014 (buy).