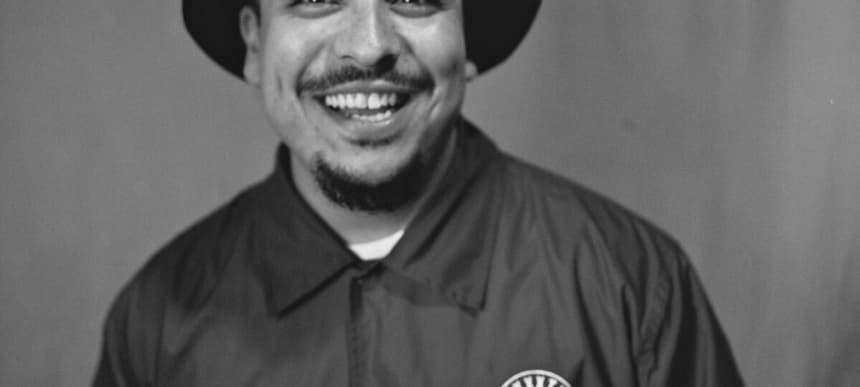 17.08.2015, Words by Aurora Mitchell
Next: Kiko Bun
Kiko Bun's music has such an infectious energy to it, made for summer trips to the park with the sun streaming like a strobe light through the trees swaying in the wind as you cradle a beer in one hand. Crafting sun-soaked reggae, Kiko's passion for the genre started when he was very young. "I was brought up with the sounds of dub and rocksteady during my youth as my Dad was a keen reggae head," he expands.
His start in music came from a variety of places, from a more classical strand to a love of salsa and hip hop, "I found a love for the violin, which I studied right till grade eight as I fell in love with hip hop and eventually came back to reggae. I was a very musical child obsessed with rhythm and melody." It was the combination of these different styles and genres that helped Kiko to shape where he wanted his sound to be. "That may be funk, hip hop and maybe a touch of jazz at times," he elaborates. "I also like to combine the old original rocksteady raggedy sound with a more up to date sound."
"Eventually I began to write songs rather than raps, and riddims rather than beats and fully immersed myself into the underground UK reggae scene, soon finding myself looking for a band to join on the internet. I became the lead singer of a band called General Skank and went on to write and perform with them all over London for three years."
Since starting a solo career as Kiko Bun, he's also been collaborating with musical peers and friends such as Cadenza and Loyle Carner – ""Along the way I met Cadenza and Loyle Carner through mutual friends," – giving him a chance to flex his influences in different ways.
On the first single before his Island Records signing, Where I'm From, Kiko repeats, "I remember where I'm from." It's a humbling sentiment from someone who will probably feel the need to remind himself of this as his career expands. "Signing my record deal with Island is the biggest highlight of my music life and I feel privileged. The team are lovely and they sure know good music," he beams. The signing came about through Island noticing him after he had built up a dedicated Soundcloud following.
Sometimes, the catchiest offering from Kiko yet, is his Island Records debut and a song that he's been sitting on for a while as he explains how the track was made. "I first wrote Sometimes about a year ago. I wrote and produced it all from scratch in my bedroom with a coffee in hand. I then recently took it to a studio and replayed live drums and bass into it."
While he's still currently focusing on this summer, which has included him playing at a variety of festivals, he's already looking to this time next year when it comes to music that he's planning to release, confirming that a couple of longer projects are in the works. Before that will come an EP that features previous collaborator Cadenza, Dre Island, Winta, General Degree and Alborosie. "I've called it 'Come Again' because while I was out in Jamaica I noticed a lot of vocalists would say 'come again' when they wanted to do another take. I guess I'm bringing a little reggae back into the picture."
Sometimes is out via Island Records in October 2015.