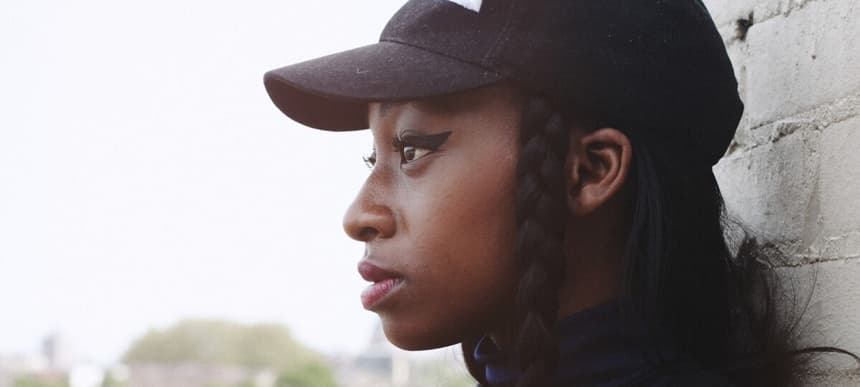 21.09.2015, Words by Natalie /
Next: Little Simz
We meet Little Simz in the lower levels of Red Bull Studios on Tooley Street, where she's been holed up for the past few weeks recording her debut album, 'A Curious Tale Of Trials + Persons'. Out now on her own imprint Age 101, the album marries together hip hop with Simz's no-holds-barred real-talking lyrics and carefree singing: even politely tipping her hat to her neighbour Mary to apologise for all the noise she made recording vocals. There's time for collaborations too, with The Hics also making an appearance on the album. Beyond the album Little Simz also done a Vevo LIFT session and performed her personal stand-out track Wings with a 70-piece orchestra at The Royal Albert Hall a couple of days before we met her. Let's just say – the Islington native, known to her family as Simbi Ajikawo – goes hard.
Casually charting her career like its nothing, Little Simz recalls making her climb into music at the tender age of nine years old. Hanging around in a youth club in Islington, it was just a hobby, with the realm of possibilities like future acclaim from artists such as Kendrick Lamar never crossing her mind. Up into her early teens Little Simz was just testing the water, but decided at 14 that she was in it for the long haul. "Rah, this is what I want my life to be, this is what I want my career to be," says Simz as she recalls her teenage thoughts. "I decided I wanted to take this as serious as I possibly can and take it is far as I possibly can." The work-rate stepped up from then on and now at 21, Simz is effortlessly swimming in the upper echelon of young British talent.
Simz's holds her crew Space Age in high regard, and the involvement with like-minded people in her clique has kept Simz grounded, as well as edging her career along further by being a source of constant inspiration. "Not all of us do music but it is music based and that's what our shared interests are. We're anything creative: photographer, singer, musician, rapper, producer and even a personal trainer,' Simz explains. "It's just a broad spectrum of different skills that people bring and that's kind of how it's always been. If I need them to come through to a video they got me and they'll be at the front row of all my shows. Likewise, if Chuck 20's got a show we'll be there, and if Josh Arcé is doing a video we'll be there. It's a foundation of support really."
Little Simz did flirt with normality for a while, but it didn't work out for her. When music hit a brick wall, she tried to find a job, but quickly realised it wasn't in her calling. "I applied for bare jobs – literally every single retail job you could think of – but none of them got back to me. I was thinking, "That's mad weird, how are all of my friends applying for jobs and getting them when never even got one interview?" It was weird but now I realise it wasn't meant to be. I probably would have got stuck in that system. It's just kind of funny how life pans out but I feel like music is the one thing that I'm good at. If it's not this then I don't know what I'm gonna do to be real." Throwing herself back into the music, Simz has her gaze fixed forward to self-made success and jumps over any hurdles that are thrown in her path. "I'm still grinding, as if none of this shit ever happened," Little Simz says. "I haven't had time to reflect or think a lot." On top of this she doesn't let herself be labelled as a 'female' rapper, but there's still plenty of struggles being a woman in her industry. "There's always a justification of why I'm where I am. It's mainly because I'm a girl. I can only do this or I'm good at this 'for a girl'. It's mad annoying and for me it is fuel. It's motivation," she explains with passion. A strong young woman, Simz doesn't let haters and pessimists bog her down, steering herself away from stereotypes or self-segregating all-female line-ups. Her answer to it? Stepping out of the box and putting up a shield, with a quick dose of real talk. "Alright cool, you think i'm only good at this because I'm a girl. Well, I'm going to take myself out of this box. Do not label me a female rapper. I don't want to hear that, because that immediately puts me in a box. I'm not that. I'm an artist. I play instruments."
Simz's strength is apparent and combined with her drive to succeed without boundaries, it builds a vehicle that will take her far. Drawing on inspiration from strong and influential peers like Lauryn Hill, Simz is about more than just the music and the moment, seeing herself as a future entrepreneur or humanitarian. "Lauryn Hill was a major influence on me because she is a strong, powerful black woman and she is representing something that I feel a lot of people should be representing more", says Little Simz. "She's spreading a message, she's spreading love and she's just a great musician." A fan of rappers who embody hip hop's grassroots like Tupac, Biggie Smalls, Jay-Z, Missy Elliott and Kanye West; Simz isn't scared to shake her sound up, throwing drums, guitars and soothing vocals into the mix. There's contemporary influences in her flow too: gathering momentum from slow to fast, with carefree chatting switching into immediate and raised voices, all dissecting a range of deep and person to dark and far-reaching subject matters.
Working on a 'A Curious Tale of Trials + Persons' at Red Bull Studios has also broadened Little Simz's horizons when it comes to production; teaching her how to work within schedules, deadlines and a time frame. Instead of laying down tracks whenever creativity hits (whether that's 6pm or 6am), there was an enforced time frame to follow. Rather than restricting Little Simz, it's only made her output better. "This is my best work to date and that's because of a number of things: who I worked with, who mixed it and who produced on it. Also, Red Bull Studios for giving me a comfortable environment to create good music."
'A Curious Tale Of Trials + Persons' is out now on Age 101 (buy / stream).