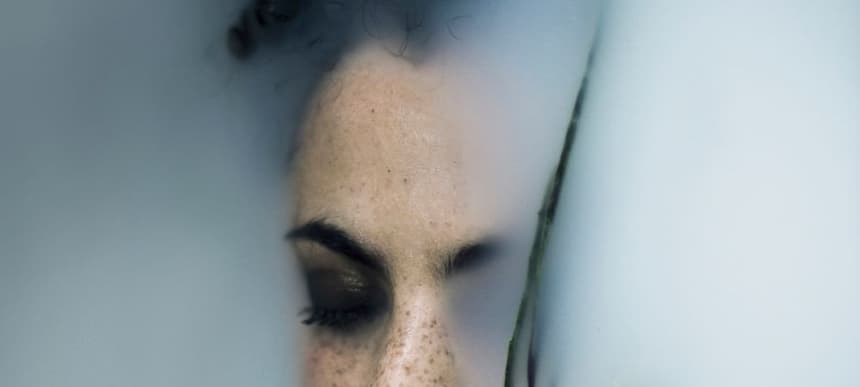 02.10.2015, Words by Natalie /
Next: Roseau
Roseau is the name of the Dominican Republic's capital which Kerry Leatham's dad once called home. It's that trans-Atlantic connection that made her choose it as the moniker for her blend of jagged, UK bass-weighted beatmaking and melodically inclined pop structures. Her debut album on Big Dada, 'Salt', works so well because of the way she balances the two impulses. With her earlier steps into music leaning toward the former, she explains that she used to have some reservations about the associations attached to pop.
"I think it was something that I felt slightly unsure about, but writing pop music is something that I'm totally comfortable with now," she says. The way she approaches writing now varies from track-to-track, with New Glass having its origins in a beat, but the likes of Salt and Accelerate starting with a song or a melody around which other elements then took shape. Trying to discern where her influences lie is difficult, she says, because of the steady supply of new music which she consumes each day.
But those shifting points of reference tally with the drift of ideas within the record. They line up with London's ever-changing musical make up, too, where Leatham has been mostly based for the past few years. It's not very surprising, for example, to hear that lyrics talking about "sipping on a tin of K" have their origins in East London where Leatham's based. "That's a summer's morning on Broadway Market for you," she laughs.
Beyond that, she took cues from the surroundings local to her parents' in Colchester, Essex. Exploring the local area, she found an abandoned warehouse which ended up providing a lot of the sonic building blocks of the album. Rather than aiding any kind of field-recorded atmospherics, she explains, "It's more that it just formed my kind of palette of percussion and things like that. I was just recording sounds to use as samples and things like background vocals; I recorded some of them in the warehouse as well, as it's got natural reverb. But you wouldn't necessarily notice, except on songs like Salt maybe."
Before she was signed to Big Dada, she'd spent the past five years releasing music on the Tape Club label. That's produced longlasting connections with labelmates Dogtanion and Peter Lyons. "Will Evans, who runs the label, is always really keen for artists on the label to collaborate and form musical friendships," and it was Dogtanion who came in to work on 'Salt' in its latter stages, providing some much-needed perspective after Leatham had been holed up on her own in the studio for so long.
It's over the past few years that she's also come to realise that she doesn't work in the same way as other people. "A lot of musicians I know have quite a set idea or a vision for an album, but I've never been like that. I don't know if that's a good or a bad thing. I think I just…" she pauses, "I always just try and write and get ideas down and build from what feels right."
Roseau's debut album 'Salt' is out now on Big Dada (buy / stream).