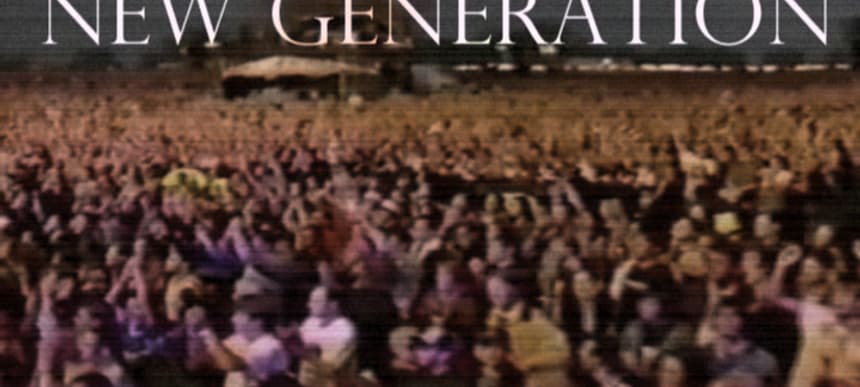 15.11.2013, Words by Aimee Cliff
Next: New Generation
A few weeks ago, producer Saint Pepsi exploded thanks to a premiere of his song Unhappy on The Fader. The song itself is a mix of minimalist ghetto house drum machine beats against a sped-up sample of The Summer Ends, a song by late-90s emo band American Football. It seems like it should be jarring, but it works beautifully.
Saint Pepsi's sudden rise to online prominence seems to have taken him by surprise. "It's been unreal, dude," he told me earlier this year. "Kinda frightening actually." Becoming a reluctant poster boy of sorts for the genreless genre vaporwave must be pretty crazy. But for Saint Pepsi – real name Ryan DeRobertis – it's not about being the star of the show. He's a pivotal piece in the future-funk-loving label KEATS//COLLECTIVE, as well as the founder of bubbling hotpot of internet creativity, New Generation.
"I'm the one who came up with the idea for New Generation before I was relevant at all or anything," he said in July, before his break. "However, I don't like to see myself as the 'figurehead' or anything to that degree, because I don't think it's something that needs a face." Back then, he described it as "an umbrella, a URL version of the expatriate thinkers of the early 20th century, except we're musicians and not writers." It's a global community that speaks of communication and collaboration in an endless cycle.
Right now, the collective of 30-plus artists is on "hiatus". Saint Pepsi explains further: "It's definitely not over. But it needs to grow. I feel like if it happened now it'd be viewed as like 'SAINT PEPSI and his friends' by most publications and that was like, the exact opposite of what I wanted." A rise to fame, especially so suddenly, can provide some tricky obstacles. "I wanna be seen less as a curator, more like the glue," he compromised, continuing: "We're this grassroots worldwide movement and yet somehow we're cohesive. You would think we grew out of a local scene, but we just became a bunch of people who were inspired by each other around the world."
An important factor in its growth is the tinychat-based e-venue SPF420, founded by Chaz Allen (aka Metallic Ghosts) and the mononymous Liz. "SPF420 is reflective of the world we live in now," Liz explains to me online (where else?). "Right now we are in a time where our favourite bands aren't able to tour the world. SPF420 and live internet performance allow there to be a time capsule for ever-changing art." Saint Pepsi sees these virtual gigs as important safe havens of communication. "Artists are simultaneously onstage and in the audience. It's a really unique way to experience a concert because at normal concerts it's not really proper etiquette to converse about what you're hearing." The lines are now blurred. He says it indicates "much less of a cult of personality, [with] no distinction between normal guy and being a celebrity."
It's kind of reminiscent of that famous Sex Pistols gig at the Free Trade Hall, Manchester, in June 1976. Morrissey, Bernard Sumner and Peter Hook and Mark E Smith were all there, before they each went on to form their world-changing bands. Peter Hook said of this night that it "destroyed the myth of being a pop star, of a musician being some kind of god that you had to worship" – that punk spirit possessed each audience member, who then spread it in their own style.
Each show on SPF420 is a potential Free Trade Hall, an inspiring experience for audience and artist alike. For Liz, even vaporwave itself is a URL incarnation of that same spirit: "Vaporwave, in my opinion, is our current 'punk scene'. The digital rebels. The ones who 'steal' others' music, just to manipulate it and chop it up a bit. That is so fucking punk…It's like how punk bands only knew how to play power chords. It's brilliant. Vaporwave isn't lazy, and neither is punk. I think that these two genres of music are parallel: short tracks with messages that are very literal, made with minimal intent (for the most part)."
Many of the New Generation artists can be aligned with this. Spazzkid's DIY work ethic, which leads him to be his own publicist, manager and distributor, is coupled with his own happy-go-lucky musical style, which has, for instance, seen him turn the cheesy europop of Alice DeeJay's Better Off Alone into his own stunningly chilled version. HΛRRISON steals obscure snippets of funk and soul for the propagation of smooth, glossy jams that sound thoroughly modern. Esprit 空想 combines sampling with misty synths, resulting in pools of relaxation that seem to exist in their own time and place. Then there's Luxury Elite, who makes music that sounds like a fantasy future funded by megabucks earned on a virtual stock market, all to the tune of lo-fi, proto-casette noises.
New Generation, its associates and sister-collectives, consist of a marginalised set of up-and-coming music-makers who make being the natural underdog seem cooler and more rewarding than ever before – this movement speaks of a more connected world, with embryonic punk spirit living in each sampled track, cover and remix. Saint Pepsi's description is charmingly modest: "It's cool because we do have a bunch in common," he said, "and the music we're going to be able to do together is going to be great." All it takes is a little global community spirit.