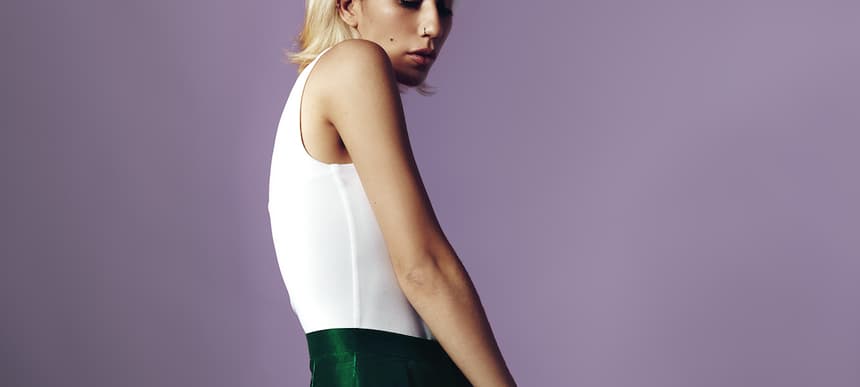 21.11.2014, Words by dummymag
Next: Tei Shi
"I'm influenced by the environment around me, and the voices in my head," says Valerie Teicher, aka Brooklyn-based musician Tei Shi. For an artist who's bounced around the Americas most of her life, it would be hard to find any other inspiration to Tei Shi's music. I'm chatting with Valerie via email, a few days after she played four sets at New York's CMJ festival. "CMJ was really fun this year. The last two shows had pretty packed audiences, which was great!" Not even a bout of illness could prevent Tei Shi from giving her all for what seems to be a homecoming – New York, the place that's nurturing Valerie Teicher into her pop trajectory.
Tei Shi first appeared in the summer of last year with her 'Saudade' EP, featuring the wondrously affected M&Ms and the slinky Nevermind The End. Valerie described the project as "mermaid music" in the track notes, manifested in the crystalline, clear production. Valerie's answers are very informative and direct; you get the sense she is putting her life to paper as well as music – the complete opposite of the elusive and tricky title that her debut EP suggests. 'Saudade' has no direct translation into English – rather, it's a Portuguese term that describes "a deep emotional state of nostalgic or profound melancholic longing for an absent something or someone that one loves". Well-rounded, simple, yet sophisticated, Tei Shi's debut was quickly tagged under the 'alt R&B' umbrella – something that Teicher was uncomfortable with. So was this an attempt not to be defined? "The word [saudade] was meaningful to the project on many levels," Teicher explains, "One of them was definitely the fact that the nature of the word reflected what I sought within the music."
'Saudade' targets very raw emotions, ones that could possibly be linked to how Tei Shi explores the sense of belonging to a particular place. Now based in Brooklyn, Valerie was born in Argentina and raised in Colombia, before emigrating to Canada when she was eight years old. The influence on her music, she says, resulted in "adapting to such drastically different and eclectic environments… the nature of being kind of transient has led to the emotions that have poured through in my writing."
The previous release was a result of three years studying in Boston, whereas new track Bassically marks a change that represents that Tei Shi is very much in the moment, both personally and artistically. It's a preview of a second Tei Shi EP, building towards a potential album release in 2015. "Bassically is one side of the area that the new material is exploring. If this EP that I'm working on is a hexagon, Bassically is one side of it. All sides are pretty different, but there is an overall cohesiveness in its direction, I would say."
As for what direction that is, Bassically brims with a propulsive, rhythmic energy, whereas 'Saudade' "was probably meant to make you wallow a bit." With that said, its very formula rests in the same catharsis that 'Saudade' does, except that Bassically showcases the full abilities of an artist who has the potential to lure you into the unknown. Tei Shi hints that her newest song, See Me, will come with footage of a woman swimming with crocodiles, perpetuating the themes of water – and the dangers that lie beneath. See Me is more akin to her previous work, suggesting that there's always something dark below the light.
Perhaps a hexagon would be the wrong shape to attribute to Tei Shi – her work is more befitting of a circle, one that is completed by her contentment in New York. "I definitely feel as though New York is the place where I've felt the most comfortable – if there is a home for it, its here." A quick look through her Instagram and Facebook accounts show her hanging out with Shy Girls and Mikky Ekko, among others. "I'm just one of the many, many people here doing something creative – it's nice because there is definitely a sense of community and collaboration within the people I know," she says.
The most striking thing gained from chatting with Valerie Teicher is her self-awareness – both this and her honesty are in tandem with her as a person and as an artist. When I ask Valerie more about Bassically, and if she is comfortable interpreting it as a feminist track, she says it's "a kind of anthem for breaking out of any role or mould that you feel pressure to fit into, whether it is within the context of a personal relationship, or in a more general social context." Teicher's desire to break out of defined expectations links back to her first EP's title. Arguably, what gives Tei Shi its poise is the love for what remains of the past, which triggers Teicher's senses and make her feel alive again. When she introduced herself, she described her sound as 'mermaid music', which seems incredibly apt as the music travels through a watery landscape, both ethereal and pure. If Brooklyn is the modern Atlantica, then let Tei Shi be their Ariel.
Double Denim released See Me on November 4th 2014 (buy).