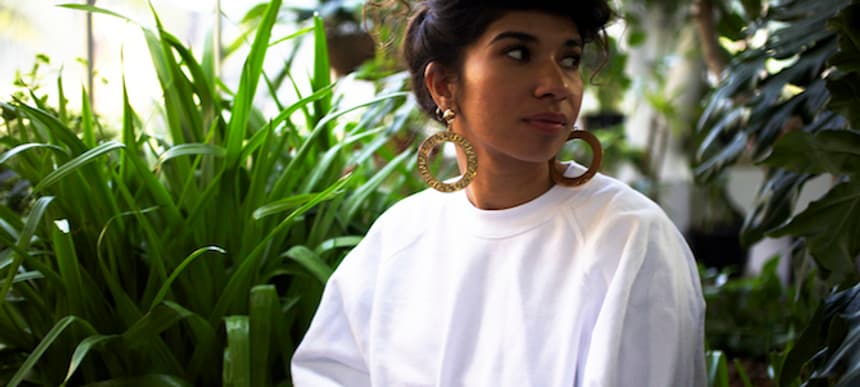 15.05.2014, Words by dummymag
Next: Throwing Shade
Throwing Shade – whose alias is a reference to seminal documentary Paris Is Burning, but whose real name is Nabihah Iqbal – is a walking musical encyclopedia who likes blood orange juice. Having studied Ethnomusicology in school, she pulls music from the farthest reaches of the earth together as influences for both her show on NTS Radio and for her own music. One of the first times that I heard her was via a mix on her Soundcloud for Primitive London (a mix which happens to act as a perfect introduction to, and summation of, her musical style), which contained a magnificent remix of Christina Aguilera's Genie In A Bottle that took the track more into the Mandy Moore In My Pocket realm. Clearly, I had to know who this person was.
Making what she says others most often call 'cosmic r'n'b', Iqbal is about to release a new EP, '19 Jewels' – its title "a reference to Soviet-era clockwork, and a gift from an old friend of mine who died" – through No Pain In Pop. For this EP, Iqbal employs "proper vocals" for the first time, which she says "helps to give my music more of a 'pop' feel." Its first single, Sweet Tooth, features Iqbal's friend Emily Bee (other singing on the EP is by Iqbal herself, as well as a male friend) and "is a song about a boy crush" that started out as just an instrumental ['ODC', which also features on the EP] before growing into something more, with the lyrics rapidly coming together: "I was thinking about caramel, and his sugar face and honey lips." This imagery ties into the song's "weird and hot" video, which features "loads of hot boys getting covered in honey and caramel and sprinkles and sweet things", but also flips the gender norms of popular culture, by objectifying boys, instead of girls, for once. "You always see music videos full of hot girls, but it's never the other way around," Iqbal says, "And if it is, it's usually from a homoerotic point of view. I wanted to present boys in a sexual – albeit tongue-in-cheek – way, from a straight girl's perspective."
Talking about other tracks on the EP, it becomes evident how "the moods and feelings it evokes are probably a lot more complex than those you'll find on the dancefloor." But Iqbal is a nuanced and sensitive, never didactic, mixer of other place's sounds. As she describes each track, this complexity reveals itself: the down-in-the-doldrums Nguzunguzu-esque creep and dither of Once is "Arabic grime" with, to paraphrase Iqbal, a straight out of Blade Runner breakdown, while the spindly Pure Life came from thoughts of "cars, smoke, dancers, and the colour blue." The duet-of-sorts Real Bad uses the forever relevant pop/r'n'b song sentiment of 'want you real bad' to great new effect, while it also "stays true to the whole 'cosmic r'n'b' aesthetic…I suppose the pitched up/pitched down vocals are reminiscent of the whole chopped and screwed thing."
Talking about the DJing aspect of her job (she recently celebrated the one-year anniversary of her show on NTS), Iqbal points out the differences and dichotomy between live DJing ("I just want people to feel happy and to dance really hard. 'High on life.'") versus on-the-radio DJing ("It normally takes me about two days to prepare for one of my NTS shows") that hadn't occurred to me before. "I like to play each track from a different country, and delve into weird and rare field recordings from all around the world," Iqbal says, "I spend a lot of time sourcing the music, thinking about how to present a particular theme (if the show has a theme), researching all the different musical traditions and instruments… deciding which order to play the tracks in… it's become a kind of ritual for me. It feels very fulfilling to be able to approach the process of listening to music in such a meticulous way." Her IRL DJ sets have more streamlined goals but are no less entertaining: "…I'm not sure how well Siberian throat-singing would go down on the dance floor! When I DJ out, my one aim is to make people dance really hard and have fun, and so I'll pick my music accordingly. I like mixing things up in an unexpected way, like playing a Rihanna acapella over some Arabic dance music, so long as it keeps everyone dancing harrrrrd."
'19 Jewels' acts as a middle ground and meeting place for the music she plays on the radio and on the floor. It's important to know when to be meticulous and when to let things flow freely, and Iqbal has a found a happy medium, finding her ritual on-air, off-air, and in person. Suffice to say, she does the opposite of what her namesake implies with her arms-wide-open, magnanimous way of considering, interacting, and fashioning music.
No Pain In Pop release the '19 Jewels' EP on May 19th 2014 (pre-order).