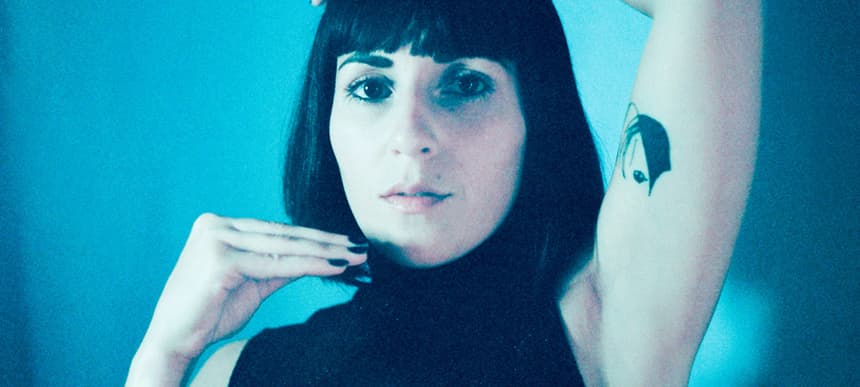 07.06.2016, Words by dummymag
Nite Jewel: "I'm fiercely independent, and I need to do my own thing."
"Philosophically, I believe that what contains the most depth in my life is the most basic and everyday things we experience," explains Ramona Gonzalez – the Los Angeles songwriter, producer, and artist better known as Nite Jewel. "Becoming aware of those little things allows us to say more. [As a songwriter] saying more with less has always been a big deal to me."
It's a Tuesday afternoon, and Ramona is just waking up. The night before, she was working on the music video for her single Kiss The Screen until 8am. Through observing the mess in her living room and the fogginess of the awakening mind, she further articulates her songwriting philosophy. "My shit is everywhere, I'm really tired, and there is an empty smoothie cup on the table I should throw away. There is a story in this mess, and when you start writing songs, it all starts to extrapolate. Who is this person who is down and out? Maybe she's a housewife? Maybe she's on the run? Maybe she's in a motel in Niagara Falls and tripping on acid? You can create a story from all the tiny things in front of you."
Since 2008, Ramona has been an active and memorable figure within the international musical underground through doing exactly that, whilst also consistently evading stylistic classification. She's recorded collaborative projects with a who's who of cult Californian talent including modern funk ambassador Dâm-Funk (as Nite Funk), second generation Bay Area rapper/producer Droop-E, and baroque pop experimentalist Julia Holter, as well as performing around the globe and releasing several remarkable albums and EPs as Nite Jewel, whilst navigating in and out of the mid-tier independent label industrial complex.
"I became an artist within a very strange musical landscape," Ramona reflects. "People have these stereotypes about LA. Sure, there is the Westside, where the next John Mayer is playing Hotel Café, but it goes deeper. You have people at art school, who go to museums and underground theater and play in rock bands. It's very open. No one is going to look down on you for singing in the women's choir for a breast cancer benefit and then playing with a screamo band the next day." "Ramona is open and a true artist in every sense of the word, without having her nose up to others in music and their different styles and upbringings," confirms Dâm-Funk. "Her individualism and unwillingness to cater to what's going on at any given moment, especially in L.A, is what connects me with her."
The musical landscape she ascended wasn't just strange and diverse. It was, as Dâm-Funk's comment suggests, also creatively uncompromising. The central figure in their world was the idiosyncratic avant-garde pop artist Ariel Pink. People would boo him at shows. He'd scream at the audience. Journalists hated him, and Ramona and her friends loved him. It was an era when the internet felt more open, and when she released her debut album 'Good Morning' through her own boutique label Gloriette Records in 2009, Ramona's gauzy, beat-driven cassette deck psychedelica was heard in a way that emerging leftfield artists often aren't anymore. As she began to catch people's ears, and watching how Ariel conducted himself was a big inspiration for her.
"I appreciate Ariel's iconoclastic behavior because it's so different to everyone else's bullshit positive attitude, which is just a way to make more money for themselves," she says. "Ariel is the person who stood against the grain, who isn't a businessman in rock and roll clothing." Quick to couch these thoughts with a reminder that she comes from a working-class background, and as such appreciates what she has, and loves getting to play and release music, Ramona is – falling in line with her enthusiasm for Ariel's approach – somewhat disappointed with where music is at in 2016. "I think there could be a bit more badassness in the music industry," she admits. "Everybody is so fucking tame… People are so fickle now. They don't have a backbone. They just want likes, and they're going to do what they need to do to be liked. That's how we've completely shaped our world views. What happened?"
"Ariel is the person who stood against the grain, who isn't a businessman in rock and roll clothing." – Nite Jewel on Ariel Pink
Regarding what happened, she's got opinions, mostly relating to the state of the American economy and its impact on creativity. "The music industry is making no money, which suppresses experimentalism and different points of view," she says. "People who are from different classes struggle more and alternative perspectives aren't as heard. Fortunately, the world of underground hip-hop is very accessible through the Internet, mixtapes and touring, which is amazing. A lot of that stuff doesn't reach fancy websites, but there is a huge and wide audience for it."
One of Ramona's key entry points into that world has been on her ongoing working relationship with Droop-E, which from contributing a chorus to his song N The Traffic, has grown into a moody group project called AMTHST. "I love the ethereal part of her music and how it's all flow and so natural," Droop-E enthuses. "You can just vibe to it. It's feel good music but at the same time deep. She's humble and real." "There is a lot of experimentation going on within underground hip-hop, which is really refreshing and life affirming," Ramona continues. "If that wasn't happening right now, I would be like, 'what the fuck is going on in the music industry?' Everything is so safe right now."
On June 10th, Ramona will address these concerns musically with her third album as Nite Jewel, 'Liquid Cool'. Sleek and explosive, it ripples with the sky-high melodies, spellbinding atmospherics and infectious rhythms that Ramona's talent has long suggested. Concise and engaging, its nine-song running time captures the energy and spirit of her earlier work, while at the same time simultaneously steps sideways and up a level to explore new directions and possibilities.
Who better to provide additional commentary on her progression than her longtime collaborator and peer Julia Holter? "I first heard Ramona's music at a Nite Jewel show in 2007 or 2008," Julia recalls. "Her voice was so compelling. I was really moved by her combination of soaring melodies and addictive murky dance music, but it was also clear she was ambitious and excited to challenge herself. She has maintained all of these qualities and her production style still stays true to the simplicity of that era of Nite Jewel, but she's adding more layers and bringing a greater degree of sonic dimension and higher fidelity to her music… She's also very true to and comfortable with herself as an artist (and a person), and I think this is reflected in a constant, reliable thoughtfulness in her work."
"I've always had trouble at jobs and dealing with the hierarchy of employers, so why would I put my art into a similar system? I'm fiercely independent, and I need to do my own thing." – Nite Jewel
That being said, to arrive at 'Liquid Cool,' Ramona had to go back to basics and take a break from collaborating. For the release of her second album 'One Second of Love' in 2012, she signed with Secretly Canadian – home to the likes of The War on Drugs and Major Lazer. It looked good on paper, but as a reality, things never quite meshed. For a time, Ramona's creativity suffered. "I'd been writing various albums for the Nite Jewel project and by 2014 I had three albums that were pretty much done, but I still wasn't feeling right about them," she admits. "I wasn't getting the response I wanted from my label or elsewhere. I wasn't getting that feeling."
As a crisis of confidence began to hit, she responded by retreating to a private place and hitting reset. Ramona put all her recording gear inside a walk-in closet, left Secretly Canadian, slipped into the normality of day-to-day life and turned inward. "I wrote this album at my house while doing a million other things, hustling other jobs, playing shows and doing errands and tasks that were nothing to do with music," she explains. "Being a musician, where all you think about is being a musician, isn't very relatable at all. I needed to get back to regular problems and down-to-earth issues."
Over the course of sunny L.A. days spent recording around life, Ramona came to further realisations, using them as the catalyst for what would aesthetically speaking, become smooth-yet-uneasy reframings of '80s synth-pop and R&B. "As Ramona Gonzalez the songwriter, I write in so many different styles and genres. Because I'm a singer and a producer, I can really get my ideas out in any way. I can do soft rock, RnB, hip-hop, whatever. I have a lot of different musical characters I can embody, and I don't want to pour them all into Nite Jewel," she says. "Nite Jewel's music is incredibly tied to my soul. It's where I keep all my secrets."
"Nite Jewel's music is incredibly tied to my soul. It's where I keep all my secrets." – Nite Jewel
As 'Liquid Cool' grew from these truths, it lyrically and emotionally flowered into a retrofuturistic exploration of loneliness within our crowded, disconnected and yet hyper-networked world. Having grown up in a technophobic household, Ramona didn't get the internet until she was seventeen, and even then wasn't really exposed to it fully until she started performing as Nite Jewel whilst studying at college in Los Angeles. As a result, internet and technology related themes have long hung heavy over her music. "I don't approach it in a way that's trite or because it's a hot topic or anything," she explains. "It's literally because it fascinates me and I got there late, so it was incredibly impactful for me… The internet is a pretty fucking serious arena from which we organise our lives and dictate our actions. The real world almost seems like a token experience to me nowadays."
When the time came to plan the release of 'Liquid Cool', Ramona decided to put her money where her mouth was and reboot her Gloriette Records imprint. "I don't really like infrastructures in society that seek to create a caste system of authority, so being signed to a label was miserable for me," she admits. "I've always had trouble at jobs and dealing with the hierarchy of employers, so why would I put my art into a similar system? I'm fiercely independent, and I need to do my own thing."
On the flipside, Ramona praises doing it yourself. "It's amazing because I get to see every tiny process that goes on behind making and releasing my album," she says. "I get to see the people who care, and I don't see the people who don't care because they don't work for me." With her creative vision and business framework in harmony, it feels like Ramona is where she needs to be. "This is literally my creative expression and the people around me are propping it up to make it happen because they believe in it," she says. "It's a beautiful thing to witness, especially because it's getting such a good response. That makes it even more vindicating."
'Liquid Cool' is out through Gloriette Records on June 10th (buy).