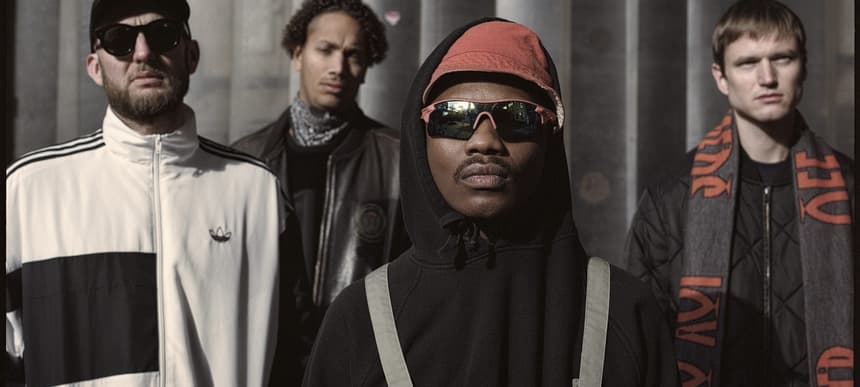 25.11.2020, Words by Felicity Martin, Photos by Dan Kendall
Off The Meds are the techno boyband reshaping club music
With their self-titled album out now, the Swedish and South African quartet are making bonkers dance trax
When they get in the studio, Off The Meds have fun. "Like for real, have fun," says Kamohelo Khoaripe, the South Africa-born vocalist of the self-styled "techno boyband" which also includes Swedish producers Adrian Lux, Carli Löf and Måns Glaeser. Their self-titled LP, which came out last week, is one of the most exciting records you'll hear this year. Khoaripe's low, guttural voice (speaking in a blend of Zulu, Tsotsitaal and English) meets production with a post-genre attitude: techno, rave, acid, grime and dancehall are all referenced here. "We have no goals other than to have fun," says Lux, joking: "We're the goal-less boys."
Lux, Löf and Khoaripe speak over a shaky Internet connection from the Stockholm studio they meet in every Tuesday. The band formed at an after-party where Glaeser persuaded Khoaripe to go into the studio and lay down some vocals (he can't remember it). Lux and Löf got on board after, and the group was born. Their first single, 2017's 'Geraas', made waves in the European electronic underground and they started getting booked for shows, but it wasn't until dark, merciless 2019 single 'Belter' that they received wider acclaim, aided in part by a chugging Joy Orbison "Belly" remix.
The three producers knew each other previously from the tight-knit electronic music scene in the capital – Lux is responsible for proto-EDM banger 'Teenage Crime' – and Khoaripe moved to the city in 2013 from his nascent Johannesburg. The result is a mind-bending mashup of styles – the band listen to "everything," Lux says. "Genre is such a confusing term to me, 'cos for me it's just music. I grew up on a lot of hip-hop and dancehall and stuff like that, and I guess a lot of that is pop, in a way, with song structures and stuff. So we use the best of that. But I think we all love club music, so there's a lot of influence from the club scene." Despite the club influence, much of the album is structured like pop tracks: short and with catchy vocal hooks: on 'EKSE', that word (Afrikaans for 'I say' as well as a slang word for 'dude') becomes the chorus. This cutting-edge club sound with pop sensibility made the album the perfect choice for release on Studio Barnhus, the Stockholm label run by Kornél Kovács, Petter Nordkvist and Axel Boman.
The record's cover is the red mask emoji as an Off The Meds fan, complete with gold tooth, 2020 skinny sunglasses and an OTM face tatt, while previous artwork has seen flag mash-ups in a nod to their mixed heritage. Album track 'Fani Madida' is named after the South African former footballer, a top striker in his heyday. One of the band's early tracks, the self-titled 'Off The Meds', was influenced by Khoaripe listening to football commentary on the radio. "[It's like] how the commentator just hypes everything up, like: 'This guy has the ball now' and 'This guy has the ball' and the fans are screaming 'Yeah!' It's just me saying 'Carli has the mic,' then 'Adrian has it', 'He passes it to Måns', 'The fans want more…'" The "Off The Meds" refrain becomes like a football chant.
The vocals on standout single 'Karlaplan', is Khoaripe reacting to the low-slung, industrial synth-ed instrumental when he was played it. Speaking in English ("Big tune yeah") as well as his home language Sesotho, one of the lines is a hood term meaning "this is a heavy track", which directly translates to "THIS IS A VERY BIG METAL." The track came with a Swim Club-directed video shot on film with a big crew in an octagon-shaped shurch. "It was like a full-on movie set," Löf says. "It was one of the happier shoots I've been to in my life," says Lux, despite all the Russian stuntmen and swords slicing the air.
Off The Meds were meant to be having a release party for the album this week, but a U-turn by the Swedish government has put a firm stop to that. The formerly anti-lockdown country has now imposed a rule of eight, meaning they'd only be able to invite four guests. Although the group disagree about the purpose of the LP (for Löf, it's a club album; Glaeser sees it as "an album to listen to while taking a train down the coast of the French Riviera"), it's a shame to think that these tracks won't get to be played to big crowds on release. The album opens with the crackly blast of a live recording on 'Bheka Mina', a snapshot of the raw energy of their live show.
In a way, it's the perfect lockdown album: tracks like 'Factory Workers' and 'Voice of Meds' skewer late stage capitalism: "We're factory workers, hard workers, night shifters, day sleepers," Khoaripe raps, a refrain which, in the context of a club track, takes on a completely different meaning. "We make iron, steel, metal and copper," he continues, his articulation recalling the hook from Section Boyz's 'Lock Arff'. "Full time you overtime, All the time you overtime, party time you overtime," he raps on 'Voice of Meds', "Now we broke you overtime." With our lives forcibly slowed down by the pandemic, this alignment of working and partying is something that might be hard to remember, but it's also a reminder that we'll be back there soon enough.
The band's weekly recording structure means that they now have three other albums' worth of material in the bag. Now, as well as to have fun, their goal is to work on their live show. "It's kind of like a band experience," Lux says. "It goes into progressive, more abstract vibes towards the end of the show usually. But now it's more like we're like The Beatles," he laughs.