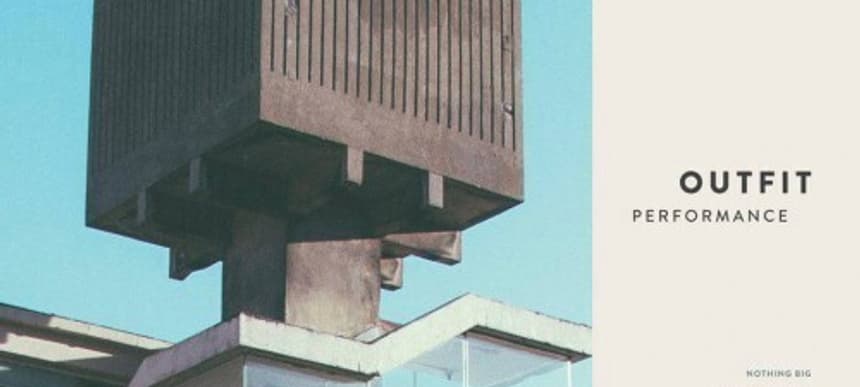 12.08.2013, Words by dummymag
Album of the Week: Outfit - 'Performance'
Outfit have been together for two and a half years, but they've been around in other forms for a lot longer (I recall seeing one of their previous incarnations, Indica Ritual, back in 2008), and unsurprisingly, time has been on their side. Giving the band a few years to release a debut album has meant that 'Performance' arrives not half-baked in order to capitalise on buzz but with a straightforward confidence that comes from building a reputation, honing a signature sound, reworking and revisiting material, and finding their feet both musically (in ditching the awkward R&B and grooveless dance punk of last year's 'ANDREA' EP) and geographically (in trading London for their native Liverpool). The resulting record is probably the best debut from a British band this year.
A lot of the album's success is down to its concision – clocking in at 40 minutes, 'Performance' never drags, and streamlined down to a mere 10 songs, it's refreshingly free of filler. But more than this, the album works so well because the songs are really, really good.
"Good songs" is a pretty subjective way to evaluate an album and, personally, one of my lowest priorities when it comes to music, but in the case of 'Performance', the record really does hinge on the strength of Outfit's songwriting combined with their approach to sound. Sticking to the former point, every song on the album is an earworm. Cantankerous lead single House On Fire is structured as a perfect pop song – a simple, looping synth riff, an addictive chorus, a breakdown into a wall of guitar screeches back into the chorus, a tactic used across the album on songs like I Want What's Best and Elephant Days, one of the album's highlights. The mood on Spraypaint shifts from mournful verses to ecstatic choruses, never dictating an obvious emotion that the listener should be experiencing. Singer Andrew Hunt holds the tracks together, his vocal remaining mostly understated but going all-out on songs like Performance and Two Islands.
As for the sound of the album, it contains shades of everything from mid-80s new wave, unconventional songwriters like Scritti Politti and XTC, the dark, witty lyricism of Prefab Sprout, audio experimentation from groups like Disco Inferno, the exploration of the possibilities of sound that comes from Brian Eno, to the warm electronic flavourings favoured by labels like Kompakt and Border Community. The influences are sonic tics and nods rather than full-on pastiches, though, as if they've been assimilated on an unconscious, intuitive level, and for each of these moments there are points which seem to go into uncharted territories – isolate the sounds of the swirling synths and foreboding drones on album opener Nothing Big, or listen to the clack-click-clock drums on title track Performance, and it's clear that few if any other indie bands are approaching their songs like this. The result is quite bookish – the tracks set to a dance tempo and rhythm aren't particularly funky – but no less effective.
The fact that Outfit even got as far as releasing an album at all is a feat in itself. The economic realities of the music business today means that a relatively unestablished five-piece rarely get the chance to put out a studio album unless it's on a major label or large indie and has scope to be featured in an advert. The fact that we're hearing such a strong debut from an indie band unafraid to experiment, err on the unconventional and make the music they truly believe in irrespective of trends or marketability should be applauded.
9/10
Double Denim released 'Performance' on August 12th.