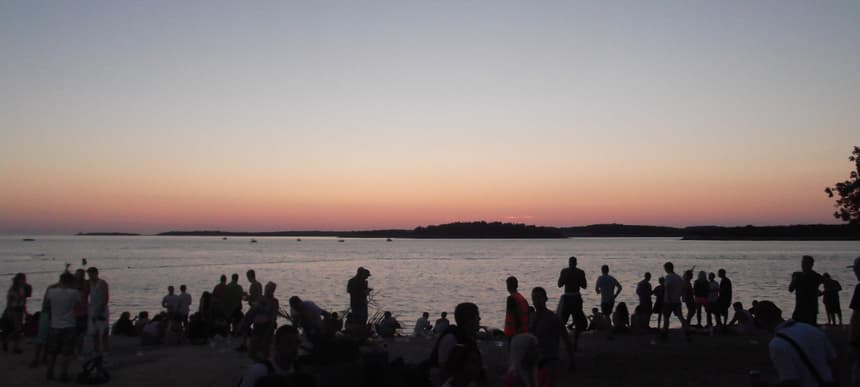 06.09.2013, Words by dummymag
Outlook festival report
Outlook's one of those many festivals that's always been on my radar but I've never quite made it out to before, which let's face it isn't exactly difficult these days, with festivals popping up at a rate of knots. I first heard about it through a friend who'd got a last minute ticket in 2010 for its first year at the now ubiquitous 150 year-old abandoned Fort Punta Christo site. I can still remember skimming through the line-up and my jaw rapidly plunging at viewing the crème de la crème of the day's dubstep lynchpins staring back at me, pretty much owning all corners of a sound that still enthralled me at the time. I've been pining after Outlook ever since, while always half wondering how smoothly it's evolved following the dispersion (and let's face it, disintegration) of that '08/09 dubstep boom.
A large chunk of the answer for this can be felt through the creation of Dimensions last year: signalling a need for more of an onus on representing house and techno while (rightly) wanting to keep hold of the phenomenal fort site without having to expand out onto a larger, more soulless (and less sinister) space. But for the most part Outlook seems to be confidently moving forward as it adjusts to having a sibling event, and catering to the needs of every dub head, junglist, d'n'b don and cutting-edge kid out there.
One of the biggest new draws for Outlook and Dimensions in 2013 comes with the creation of two opening parties taking place at the site of a stunning two thousand year-old amphitheatre in the nearby town of Pula. During one of the more surreal moments of my festival, MC Danman and myself took a cab ride with a slightly out of place looking guy from the Croatian tourist board, who expressed his surprise at events being allowed on at the venue, with Croatia said to usually be pretty stringent with their historical landmarks. I could see what he meant – it's tough imagining the National Trust sanctioning many parties in the UK after all. There was a really special vibe getting to the amphitheatre, though. The theatre's humongous arcs – which still appear entirely intact save for a small tidy-up in one corner – also meant that many locals (and maybe those who just didn't fancy forking up the extra money for the ticket) were able to peer in through the arcs and enjoy the acts, unchallenged, along with those of us inside. There was some clever booking on the part of the organisers here, with several of the acts feeling like originators or pioneers in their own ways. After Trojan Soundsystem's Earl Gateshead ("yeah yeah!") got us started, things turned decidedly turntablist with J Rocc and self-proclaimed "godfather of DJing" Grandmaster Flash respectively.
"'Excuse me, is this Rustie? It doesn't sound like Rustie' asked a confused looking guy early in Rustie's set, as the Glaswegian tore into another snarling Southern rap joint."
A way in which Outlook is able to keep in line with that '08/'09 pinnacle is the consistent presence of Digital Mystikz (Mala and Coki) and Loefah assembling for a headline DMZ set. What makes seeing a DMZ set special is that there remains a real purity in what they do – while much of the music landscape around them has moved on, when you're locked in to a session like this things feel just as fresh and significant. For my money, you'd do well to find a vs. or B2B set with the flair and clarity that DMZ deliver, as they endlessly tag each other in for a few tunes at a time. The clarity of their personalities shine through so clearly: Mala supplies the deepest, dub-iest low-end; Loefah is the most elastic of the three, shifting from the dread-filled miasma of his own Goat Stare while propping up the energy with James Blake's CMYK; Coki – still the most elusive of the three – delivers his familiar dose of caterwauling top-end. It was an absolute road block trying to make it out to Mungo's Arena for Mala's set with Gothtrad, and he was along again for his Mala in Cuba project which made for a percussion-rich smattering of colour as things wound up on Sunday night.
"Excuse me, is this Rustie? It doesn't sound like Rustie" asked a confused looking guy early in Rustie's set, as the Glaswegian tore into another snarling Southern rap joint. To be fair, if your experience of the Glaswegian has only really come through 'Glass Swords' I can understand some of the confusion, but it's this guts 'n' glitter concoction of rap and his own perky, neon tunes that few can really touch. This had been a tough clash as Evian Christ played at the same time, but after seeing the 'Kings and Them' man for one of my favourite sets of the year at Deviation recently, I decided not to spoil the memory and put my money on Rustie. While he isn't doing anything radically different from what we've come to expect, everything seems to keep getting sharper, and his set was ideal playing out at The Harbour (effectively Outlook's main stage). Much of this works as its always important to remember how big a role the sugary melodies of trance play into what he does, and while some may have found his recent 'Triadzz/Slasherr' release lacking in much subtlety, there's no denying both tracks sounded blistering busting out from those monolithic speakers.
Another artist who it felt like they benefited and deserved the larger space was the glorious DJ EZ, the UK garage mainstay representing a sound I didn't really hear much of elsewhere. I'd just been to see the legend David Rodigan, and in a weird way you can kind of see EZ doing for garage what Rodigan does for reggae. He's a ridiculously tight DJ: teasing intro after intro until you've been worked up into a complete storm. It has to be said that with the obvious expansion of Outlook it's quite easy to spend a good chunk of your time away from the interiors of the Fort itself, due in large part to the the quality on at the larger stages. Outside The Fort was another favourite outdoors haunt, which featured a full-fire set from Machinedrum, who continued to find those sharp links between jungle and footwork energies. As someone who generally gets pretty turned off by d'n'b, one complaint would be that many of the most atmospheric spaces – like The Dungeon and the miniscule Noah's Ballroom – seemed continuously overridden with 160 bpm testosterone.
As can often be the case with large festivals, Outlook had a couple of snags along the way; Talib Kweli, Antony B and XXYYXX – the type of experimental beatmaker I'd hope to see Outlook booking more of in future – all didn't make it out. A couple of powercuts along the way threatened to spoil things too: The Wailers did an impressive job of fighting on through a period of pitch darkness on the opening night, and Todd Edwards's set was cut criminally short after the whole The Clearing stage seemed to temporarily die ("Someone's getting fucking fired for the last hour!" was Todd's message when the lights eventually flickered back into life).
There's a sense that moving forward Outlook could look to keep strengthening their hip hop and rap corners. While Joey Bada$$ is still at a tender age and very inoffensive, there's something that feels a bit old hat about what he does: a harking back to 'Golden Age' hip hop with a sense of nostalgia that never really works no matter the genre. Yasiin Bey (Mos Def) made for an intense watch, looking majestic in flowing white garments and with razor -sharp raps that covered Trayvon Martin and a clever The Motto remix that flipped YOLO into an attack on white supremacy, but for what was effectively a headline slot something felt flat in the air, and there was little attention from Bey to fire up the atmostphere. The festival seem to have only recently started looking to represent these areas more, and booking Yasiin Bey must still feel like a major draw, but hearing so much hip hop of a far more party mindset from DJ after DJ, you wonder whether things could be freshened up a bit. Wouldn't booking a Waka Flocka Flame, or an A$AP Ferg, or a Danny Brown have slotted into the vibe more smoothly?
For my money the MC that stole the show was Manchester's finest, Chunky, who seemed to be just about everywhere. Operating probably more as a hype man than anything else, if you've been in his presence before you'll know he's got an entirely unique way of building that hype, and one that makes him one of the most loved current mic controllers in the UK. Whereas MCs in these kind of hosting roles usually go in for chants of "PUT YOUR FUCKING HANDS IN THE AIR", "OH SHIT, THIS ONE'S MAD" (etc), Chunky's got a smoother approach to helping the DJ reel you in.
"The Heatwave – increasingly a current cornerstone of all things UK dancehall and bashment related – threatened to sink their boat with a relentless three hours of Jamaican heat. I'm all for a Heatwave Cruise of the Caribbean next summer if the guys are down."
"If you wanna show some appreciation Outlook, clap your hands along with the snares" or "You don't have to do anything, just wave your hands" were a couple of choice lines, as Chunky glided across the various stages like a ballroom dancer in a trance. I saw him alongside Sarge Pokes for DMZ, opening up for and compering for the entirety of Swamp 81's excellent night-long stint at the Outside The Fort arena, and for Jackmaster's closing set for Numbers' slot at The Harbour. I've seen Jackmaster a few times this year and haven't always been blown over, but this set was a really strong, unfussy early hours crowd pleaser: with spins for The Streets' pill-popping classic Blinded By The Lights and Skream's Midnight Request Line suiting the mood and the moment. Chunky kept himself busy getting as many members of the crowd to do that crazy standing-on-your-mate's-shoulders thing (I think the number reached was eight), while later chucking out Jackmaster stickers and some always-welcome cans of beer to the masses.
Then there are the beach parties and the boat parties. Thursday's sunset was ushered with sets from Throwing Snow and the always dreamily enticing Koreless, while Eglo were a smart fit for Sunday's final chill-out beach session. While I'd expect the majority of the boat parties to be special (you can tell they mean a lot to the artists) I can't imagine many were as good a party as Hot Wuk. The Heatwave – increasingly a current cornerstone of all things UK dancehall and bashment related – threatened to sink their boat with a relentless three hours of Jamaican heat. I'm all for a Heatwave Cruise of the Caribbean next summer if the guys are down.
Being aboard for Hyperdub letting their hair down was one of the standouts of the weekend, featuring a delectable line-up of Kode9, Terror Danjah, Scratcha DVA, Ossie, Ikonika and Cooly G. Props must go to a merry Scratcha who got plenty involved, jumping up and down like a madman after dropping his absolutely belting (and soon to be released) Chilli Burrito, and taking part of the mixer with him in the process. Ossie's set was flawless but seemed to go on so long there wasn't enough time for Ikonika and Cooly G at the end. But the vibe was suitably laid back, and we even got a couple of vocal lines from Cooly G at the end. Ace.
Without overstating it, there was a noticeable sense of connection between so many of the sounds at Outlook, a connection that feels a lot stronger than can be boasted at most festivals. Issuing out from those "year zero" sounds of Grandmaster Flash's prototypical scratching and Marley's omnipresence at the opening party, there's also a continuing focus on the roots of soundsystem culture (one that, after I had a chat with an Indian DJ helping to muster a dub and roots scene in Deli, is still a mutating global phenomenon). Long may this Fort site be the chosen home too, as it offers so much: one moment you're chilling on the beach like it's a Café Del Mar Ibiza party, next you're in surrounded by grotty concrete walls snarling to grime like you're in an abandoned South London warehouse. While Dimensions, at this moment, feels like the more "current" of the two festivals, I found it a relief taking a rest from the pillars of house and techno, so immovable from the majority of UK dancefloors right now. If bass remains your obsession and first love, then there isn't really a party quite like an Outlook party.
Outlook takes place in late August/early September every year at Fort Punta Christo, Pula, Croatia – more information here.