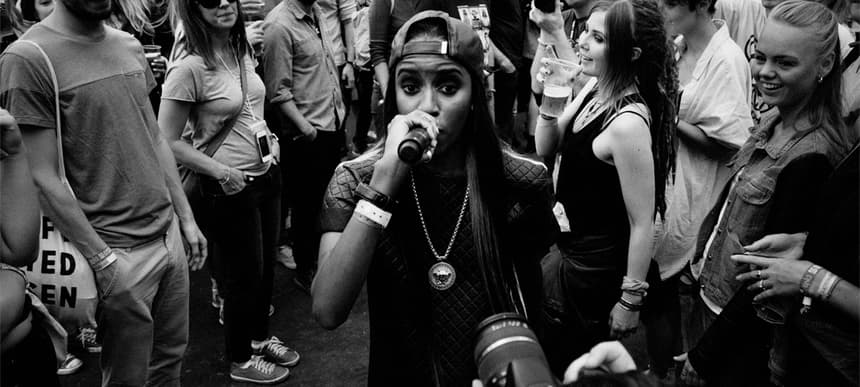 12.08.2013, Words by Ruth Saxelby
Øya festival report
"I don't paint what I see but what I saw," Edvard Munch once said. This gem of a quote was imparted by the expressive Norwegian tour guide who had the unenviable task of herding a crowd of international journalists around the Munch Museum on the morning before the 15th edition of Oslo's annual Øya festival kicked off. The visit was just one of a number of extracurricular activities laid on, which provided a clue to the level of organisation that would go on to shape the Øya festival experience: the Norwegians do it bigger, better and, in more ways than one, a whole lot cleaner than us (no drugs that I could see but tons of hand sanitiser – make of that what you will). But back to Munch for a minute. The painter of The Scream was talking about how the psyche colours memory, and something of that sentiment bled into the experience of wandering round the almost painfully picturesque site (think waterside stages, medieval ruins, fjord sunset backdrops, that kind of thing) over the four days of the festival. There were the iconic acts that weren't quite present, the over-hyped bands that pleasantly surprised and much challenging of what it is to perform live in 2013. But, above all, there was bags of experimentation and energy on show.
No stranger to evolution, Mount Kimbie enjoyed an adult contemporary pop moment in the mid-afternoon sun on day one. You could almost imagine Stevie Nicks sweeping on stage to join them at their most jammed out points. They sounded smooth and lush; the sparseness of their early songs long behind them now they grapple instruments instead of controls. While – of course – Maybes roused cheers, it was their newer material – Home Recording and Break Well especially – that sounded both the tightest and, thrillingly, the freest. The latter, in one of those you-couldn't-even-make-it-up moments, even pricked the ears of a giant dragonfly that flitted above the bobbing heads of the crowd.
There were the iconic acts that weren't quite present, the over-hyped bands that pleasantly surprised and much challenging of what it is to perform live in 2013.
Later, as the sun set, Tame Impala dropped some of the wistfulness that's always made me hold them at arm's length and got heavy into looping riffs. The effect was somewhere between Emeralds and Explosions In The Sky, but eminently more appealing. Guitar lines snaked over urgent drums and I was transfixed for a minute or two. The spell broke when they slipped back into song mode, but this glimpse of somewhere deeper than they've gone before was enough to give hope for future releases.
Two of underground-gone-overground pop's biggest stars, Grimes and James Blake – who played Thursday and Friday respectively – proved that being mainstream doesn't have to mean making concessions. Both played their big songs but didn't shy from dismantling them. Blake added an extended dub intro to I Never Learnt To Share while Life Round Here was broken down to its core elements, clicking, churning and burning all the harder for it. Then there was a gorgeous rumination on CMYK, spinning and skirting around its central theme. Later he even got a little house-y and, in a turn up for the books, was smiley and chatty between songs. The previous day, Grimes had two professional dancers join her on-stage for her most performative performance to date. In a first, for me at least, she left her keyboards to come out front and dance, tracing jerky lines with her limbs that echoed the animation style of her dancers. Sonically, she was more physical too: there was much invigorating primal yelping. There were also extended breakdowns, church-like wails and death metal screams. She turned Vanessa into a big, almost proggy K-pop number and upped the tempo on Be A Body, making it sound like thunder and lightening as, conversely, the clouds broke. "Thank you for listening to experimental music," she says at one point. "It's not really festival music." Everyone cheered to let her know that in 2013 it absolutely is.
Which, sadly, might be why so many of the headliners fell – and sounded – flat. Maybe it's Munch's fault, but the weight of history stacked the odds against Kraftwerk, Wu Tang Clan and Rodriguez. These icons – wielders of influence and shapers of modern music – performed to crowds of thousands yet there was a strange energy in the air. Despite the momentousness of hearing them in a festival context, it was impossible to shake the staidness. We wanted to witness history, to say we were there, but all we got were ghosts. To be fair, Wu Tang Clan's message of energy and love just about kept them afloat but, sadly, the sound was as cracked as their weed-ravaged voices. Rodriguez tried to break out of his legacy – performing show tunes on a piano – but all the audience wanted was Sugar Man, dispersing soon after. While sonically Kraftwerk were, precisely, Kraftwerk, they also weren't. Their name used to be shorthand for innovation and experimentation, yet here were four men doing what they've always done. The 3D visuals just simply weren't enough.
Thankfully Norway's own Cashmere Cat, Detroit's Danny Brown and London's SOHN packed enough energy between the three of them to sustain spirits. Cashmere Cat was all percussive, silken sound, capitalising on our time's prevalent nostalgia for the present by wringing recent rap and R&B hits through a hyper-emo sound palette. Tonal melodies that ran like rain droplets down a window were interrupted by obnoxious hi hats that pierced like sharp memories of lost love. But what I loved most was the options he gave the feet: there were so many notes to step to, places to move.
Norway's own Cashmere Cat was all percussive, silken sound, capitalising on our time's prevalent nostalgia for the present by wringing recent rap and R&B hits through a hyper-emo sound palette.
Hugely satisfyingly, it was like there were two of Danny Brown present on the Thursday. His voice bounced off the shiny new hotels across the water from his stage so it was like he was playing call-and-response with himself a split-second after each spit. It doubled the percussive disjointedness of his beats, all sharp but blurry, cut but warm, the bass bleeding into everything. "I wanna come out there with y'all and party," he yelled, and later came good on his promise by disappearing into the night with a huge crew.
SOHN played on day four, a tough slot playing to festival weary heads. It was a simple set-up, just him hiding his face in a hoodie as he lent over his keyboard, but it was all he needed to do: the sweetness of his voice against the gloominess of his production was enough to ignite hearts. If only Kendrick Lamar had consulted with SOHN before his set. Instead he rolled up with a full live band and drowned his dextrous rap flow and the subtle intricacy of his production in Vegas-style fills. That said, judging by the sea of hands, the crowd couldn't give a flip.
Øya saved the best to last with three incredible – and surprising – performances on the final day: Haim, Angel Haze and The Knife. On record, I had all but dismissed Haim as pleasant-but-ultimately-boring summery pop. I love being wrong: these three sisters fucking rock. Against the sunshine and rain, they were all grimaces and gags: technically ripping their instruments a new one while filling time between songs by flirting with the audience. It was like Fleetwood Mac performed by three Janis Joplin fans and, most tellingly, I don't have notes to work from for Haim because I was too busy dancing.
In terms of live rap, it was Angel Haze that nicked it at Øya. Against a backing track and drums, she came on stage like a hurricane. Not that she was on stage for long, preferring to jump the barrier and rap from the middle of the audience. Her lines were delivered rapid fire but never lost their sharpness, fueled by tightly wound energy that seemed the base for her flexibility. The air was electric as lines from Gossip Folks rose above a sea of heads: "Once upon a time in Detroit / There was a little bitch born with a sweet voice / Saying all she ever wanted was to sing a song / And have a crowd full of people that sing along". Her timing and reading of the crowd was exquisite: she had the whole place in her hands, which might've sparked the inspirational talk. "The only way to live your dreams is to be supreme," she hollered before closing on New York surrounded by fans in the middle of the field.
Then, finally, there was The Knife. But not before an ingenious ten-minute aerobic session by a Cockettes-referencing warm-up guy who got the crowd jumping about shouting "I move to be moved", neatly segueing into the show's album-focused theme: 'Shaking The Habitual'. It was my first time watching this performance and I'd spent the day being haunted by tales it was just going to be "a load of dancers" and – sacrilege – "The Knife weren't even going to be there". To say I was nervous would be an understatement. I was also tired and cold and hungry; not the ideal headliner-watching circumstances. Happily, The Knife smashed all preconceptions with a show fit for the end of the world – if not in totality, then of what constitutes live performance today. Yes, there were dancers – and hallelujah! – but there were also other-worldly instruments wielded by Karin and Olof (often in drag, with beards and wigs, hence people's confusion) and their crew of merry men and women. The energy was fever pitch: by turn aggressive and sensual but always heavy with a burning sexuality. At one point Karin grabbed her crotch as she shouted "This one goes out to all of your who are ready to smash patriarchy." Full of Fire was even more aggressive than on record, all kick drums and matching band attitude, coming off like an iron being hammered in a furnace. Without You My Life Would Be Boring was turned into a big dance number complete with choreographed moves while Ready To Lose was stretched into something more tender and atmospheric. The latter was the only calm(er) moment in what turned out to be an almost entirely techno set, which was rounded off by a 'Shaking The Habitual' style version of Silent Shout. Watching the crowd watching The Knife felt radical: this sea of people in this moment with this band, feeling the fire.
Oya Festival takes place every August in Oslo, Norway (more info).