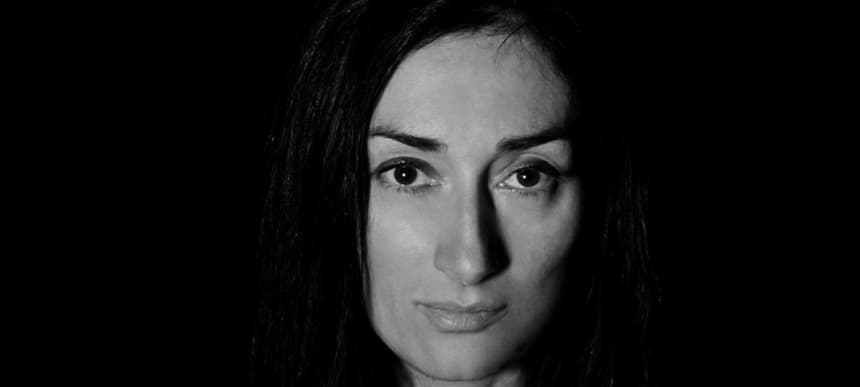 26.01.2016, Words by dummymag
Paula Temple: "I make powerful music, not violent music."
It's early November and 5AM at Corsica Studios. There's a palpable tension in the air as an overly packed Room One squirms around for dancing space, sweat dripping from faces as people try to maintain stamina just over half way through a 12-hour party. As Paula Temple steps up for her live set, the mood changes as she starts rallying out intense techno to an embracing crowd. Her music has such an overwhelming presence that it takes on a different form as it's rattling through your body from a club system. As she mentions in our conversation a couple months later, "I make powerful music."
For a few years Temple had stepped away from a musical career, focusing on other endeavours, including becoming a certified Ableton trainer. Despite convincing herself she wasn't an artist, the creative impulse kept reappearing, making her realise it was production that truly made her happy. In 2013, she returned with the growling, mechanical techno stomper Colonized. It was the start of her relationship with one of Europe's most highly regarded dance labels, R&S. After another 12" on the label the following year, remixes she's laid-down for The Prodigy are also coming to light and expected for vinyl release this year. It wasn't intentional but Temple was inundated with remix requests in 2015, which has resulted in a shift towards on reworks in her output.
I talked to Temple over email, which resulted in an honest discussion spanning the use of violent language in music writing, the reaction to running a label that's explicitly 50% female and queer artists, and how the evolution of Ableton has changed her production process.
It feels appropriate to start with an apology for using the word "bludgeons" in the write up for of a remix of yours. It feels wrong to attach words with those connotations in a musical context. You're definitely not the first producer to bring this up and I would love if you could talk more about your thoughts on the use of violent language to describe music?
Paula Temple: "Hey it's okay, I appreciate your response. Dummy isn't the first to describe my music with violent terms in the two years since I returned to music. At first I was surprised but didn't make a deal of it, even went along with the light humour of such descriptions. There are some artists who like to be associated with violent language, or call their music violent. But the thing is, I make powerful music, not violent music. To me, that is an easy distinction to understand. This music is also a middle finger to the increasing conservatism and controlling elements of society, which in itself is a type of non-violent resistance.
"This music is a middle finger to the increasing conservatism and controlling elements of society." – Paula Temple
I'm also conscious of the daily extreme violence happening around the world and right now in Syria, Iraq and Palestine. When the violence is out of sight, our Eurocentricity makes light of violent language in music. When the violence makes an occasional appearance 'close to home' in Europe – like the Paris massacre – then we understand the horror. And then it does not feel so good or fun to use violent language to celebrate music. In fact, I would argue its use, if normalized, is quite dangerous in this time of increasing xenophobia in Europe."
At the moment you're heavily focusing on remixes. What is the most important function and purpose in mind when you come to a rework and is there a reason for this particular focus for you right now?
Paula Temple: "When I remix, I try to keep the message or mood from the original song as central. Most of the time a remix feels like a co-production, or an alchemy of the original artist and the remix artist plus our different worlds. As the remixer I get to choose which elements from the original song I connect with the most. This sense of alchemy is why every remix I have done are so different to each other. I started last year with two remixes for Fink- a very deep song full of melancholy about a relationship on the edge of a breakup- then ended the year producing a remix for Peaches that has a totally queer-sex techno party mood.
This particular focus on remixes was more of an accident really. I got asked to do about 30 remixes in total last year. It's a great honour to be asked and I would have liked to have produced a remix for everyone but I just don't have the capacity to produce that amount. I'm not that quick at producing either, especially when I am touring a lot. Now I have to focus on my own material for a while."
One of those remixes is for The Prodigy – how did that all come together?
Paula Temple: "I was so happy to be asked. Renaat of R&S and Liam of The Prodigy have a lot of respect for each other. Renaat knows what works well, so he made the suggestion to Liam a while ago, and then Liam asked for the track over the summer. When I handed over the remix, Renaat went out of his skull with excitement and asked The Prodigy if it could be released on R&S. They worked out a territory that wasn't too tricky for licensing, so there will a vinyl release on R&S in Europe soon. To me, it is such a special occasion to bind rebel souls in this way."
There were releases beforehand but you officially started Noise Manifesto last year with 'Decon/Recon #1'. It's a label that you're featuring at least 50% female and queer artists on, are you currently working on anything for 2016?
Paula Temple: "We are just starting 'Decon/Recon #2' with different artists than '#1'. I would describe it as a more spiritual techno this time. I'm not sure when it will be released as we are taking our time to produce the music and I'm in no rush with Noise Manifesto releases. It's not a business or a vanity project. It is a contribution of music with a new approach, so it comes with some extra care, especially as we're working in a collective way. When the tracks are all produced we will announce who we are, although [laughs] you already know I will be on it.
"I'm careful to only include men who are active in progressing the electronic music business as an open, safe, and inclusive platform for all bodies." Paula Temple on Noise Manifesto's 'Decon/Recon' series
It was funny how the framing of 'at least 50% female and queer artists' freaked out a couple of guys posting on Resident Advisor when 'Decon/Recon #1' was announced. If they knew how to add up before feeling so emasculated they would understand that it also means up to 50% cis men. I'm just careful to only include men who are active in progressing the electronic music business as an open, safe, and inclusive platform for all bodies: whether on stage, behind the stage or on the dancefloor. I'm conscious that we are nowhere near that progression yet. Fortunately in these past two years I have met some great guys who care a lot and I look forward to involving some of them."
Visibility is a very key issue and it would be great if you could expand on some of the female and non-binary producers and DJs that have been inspiring you since your return to production.
Paula Temple: "Just a few to start with! Pan Daijing, SØS Gunver Ryberg, Cio D'Or, Aïsha Devi, Aurora Halal, The Lady Machine, Nidia Minaj, Kyoka, Silva Rymd, Kaltès, Applex Twin, Fever Ray, Karen Gwyer, Rrose, Machine Woman, Ikonika, Born in Flamez, Erika, Lene Willikens, Cindy Looper, DJ Shiva, Umfang, Adriana Lopez, Annie Hall, Pernille, Mary Velo, Demian Licht, Rebekah, Skirt, Christina Sealey, all of my students at last years Ableton Popkollo camp in Malmo who will be part of the next wave of electronic artists and of course the 'Decon/Recon #1' artists rRoxymore, Oni Ayhun and Planningtorock."
Has being a certified trainer at Ableton encouraged you to become more prolific with producing again?
Paula Temple: "Yes in part. I don't really train anymore as my time is now committed to producing and performing. I was certified in 2008 and I was teaching for several colleges and organisations at the time. Ableton would occasionally send the certified trainers a pre-release beta version of their new software to test from. Ironically, I was always too overworked to spend time testing new software, so I didn't really keep up with the new developments. When the beta of Live 9 came out towards the end of 2012 it included a redesign of the compressors and EQ and some improvements to workflow. At the time I was no longer teaching and had decided to make music again. I was so happy with the new compressors and to get a harmonic distortion on the hats the way I would on my hardware compressors, but much easier to save the settings. I heavily compressed and sidechained some of the sounds on purpose and this was what helped 'Colonized' to sound the way it does."
How has your production process developed and changed as Ableton has evolved over the years?
Paula Temple: "When Ableton Live Version 1 came out about 15 years ago it was mostly for the DJ type of producers and only for looping audio. I used Ableton Live mostly for DJing and re-editing tracks. I was also part of co-developing a controller called the MXF8 to make DJing with Ableton Live have a more spontaneous feeling. At the time I had a studio full of hardware compressors, an Akai sampler, synths, reverb units, and a mixing desk. I had to make a sketch of every setting and I couldn't take this equipment anywhere with me, so I was restricted to making music in one room. When Ableton Live Version 4 came out they introduced midi sequencing and VST, so I switched to Ableton Live to make music as well. Now I have trained myself to mostly make music from the laptop, so I can be mobile to create music in almost any place that inspires me."
During the years since you stepped away from releasing music, I believe you really experienced a lot in a non-music context. What was it that brought you full circle and back to producing?
Paula Temple: "It is my life. I tried for many years to ignore it, convinced myself I am not an artist. I gave all my energy and attention to everyone and everything else. When everything turned to shit, I asked myself what gives me that sense of joy and freedom I am craving? From then on I devoted myself to creativity."