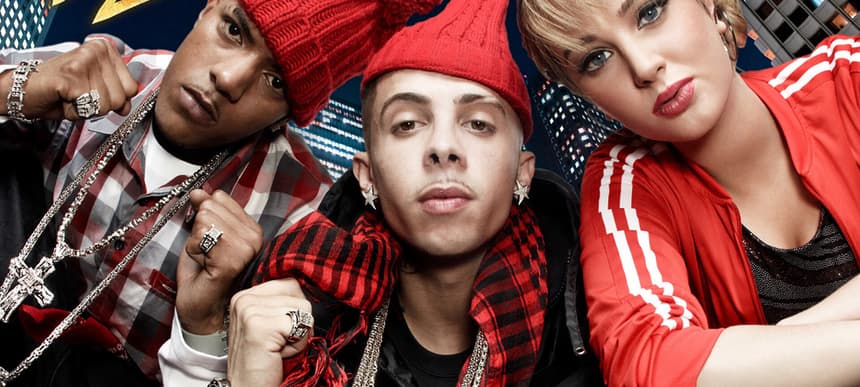 04.04.2019, Words by Danielle Koku
Playing With Fire: The rapid rise and fall of N-Dubz
From council estates to Number One, the trio set an urban British identity for the youth of the millennium...
Contostavlos isn't a surname most people would instantly recognise. Rawson isn't the most common, either. That is unless, of course, you're a born and bred Londoner who grew up bluetoothing your mates the music of N-Dubz. Coming to dominate Channel U from the turn of the millennium to 2011, the now-defunct pop trio's name is a nod to their very own NW1 upbringing.
From the London Borough of Camden's roads to the critically acclaimed success of debut album 'Uncle B', Costadinos Contostavlos (Dappy), Tula Paulinea Contostavlos (Tulisa) and Richard Rawson (Fazer) were a force in their prime. Brought together by Dappy's dad and 'Uncle B's namesake Byron Contostavlos – also of 1970s band Mungo Jerry – N-Dubz was initially an attempt to keep the three kids on the straight and narrow.
Relating a broad spectrum of teenage angst, their working class upbringing, plus tales of gangs, drugs and bereavement, the group's candour stole the hearts of many, engineering near-consistent chart success in the process.
Besides Battersea's So Solid Crew, N-Dubz were the first (if not, one of) mixed gender group to gain a firm foothold on the north side of the Thames. As a trio, their collective success lay in each member's individual niche. Tulisa's vocals rang of emotional depth, often in exchange with Dappy's irate verses as a scorned lover. In videos, the two would occasionally play romantic partners – a confusing detail for those that had clocked early on that they were cousins. The third wheel in this scenario, Fazer, offered his input in the form of string-laden instrumentals that made seemingly shallow topics like infidelity seem wholly more dramatic.
In the process, the wooly chullo hat emerged as a cult symbol for young girls obsessed with the pint-sized scallywag that was Dappy. Many of us are guilty for buying them in assorted colours and turning the 'flop' of one side up, above the ear. Fazer, ever the dark horse, remained more committed to the keys than to the occasional verse. His presence was still felt, albeit in a less flashy way than his bandmates. Nevertheless, the group epitomised the look of London in the millennium: white tracksuits, bucket hats, and scarves to the nines.
Being able to look a few stops down the Northern Line instead of across the Atlantic to the US for new files to download from Limewire sowed the seeds of an emerging urban British identity for many of us. Echoing the grit of The Streets' earlier 'Original Pirate Material', N-Dubz were able to reflect the beating heart of inner-city life, relationship struggles and teenage turbulence.
Their genre-straddling came effortlessly with the likes of grime artists Tinchy Stryder on the Brit Award-nominated 'Number One', Skepta on the appropriately named 'Na Na' and Chipmunk (as he was known before Chip) on 'Defeat You'. Contrary to popular belief, love songs didn't have to trade vulnerability for soppiness. Rather, the trio captured a strength in suffering that still counts them within the R&B bracket, but only just. Their ascent at a time when the London was happy to mix grime and garage with other genres provided N-Dubz with a formula with universal appeal.
In some ways, N-Dubz succeeded in becoming pop stars in the traditional sense of the word. Finally making the Atlantic leap, their signing to Def Jam under Universal Music set them firmly on the commercialised route of chart-topping. Their video sets became sleek apartments and private jets (see 'Best Behaviour') rather than the concrete stairs their day one fans were used to.
Removed from the original scenes that enriched their storytelling, their lyricism began to revolve around tales of stardom and touring. Their original sound didn't suffer to the extent of a British fanbase collapsing entirely – we simply quietened in their absence. Publicly announcing a break from music in 2011 after a dispute with Def Jam, their fade-out from relevance began, colourfully punctuated by Tulisa's successive disasters and Dappy's erratic behaviour (including the continuation of their pre-existing beef with Lethal Bizzle).
Since, the group have firmly parted ways and N-Dubz is no more, despite continual rumours of a reunion. While the  2018 revival of Dappy's rap career shows he isn't done with music entirely – 'Oh My' was a solid comeback, and showed that what he has lost in youth is more than made up for in his ability to ride a melody. Fazer, too, continues with production – albeit with a comparatively lower profile. Tulisa, "the biggest female boss that ever lived," has endured a rollercoaster of public controversies, propelled along by the near-consistent shaming at the hands of the British tabloids. That's not to say her music career has ended – she's just teased solo comeback single 'Daddy'.
For fans, perhaps it is bittersweet that such an era has truly passed. For N-Dubz, however, it might be just the break they needed as people – and not every blast from the past needs a revival. It is unlikely that the trio many of us remember so fondly will ever again exist in the same form or calibre. Nostalgia in listening has a power that is so often underestimated and, for those under 30, "Na na naiii" is so much more than simple onomatopoeia.
I'm still holding out for a reunion tour though.