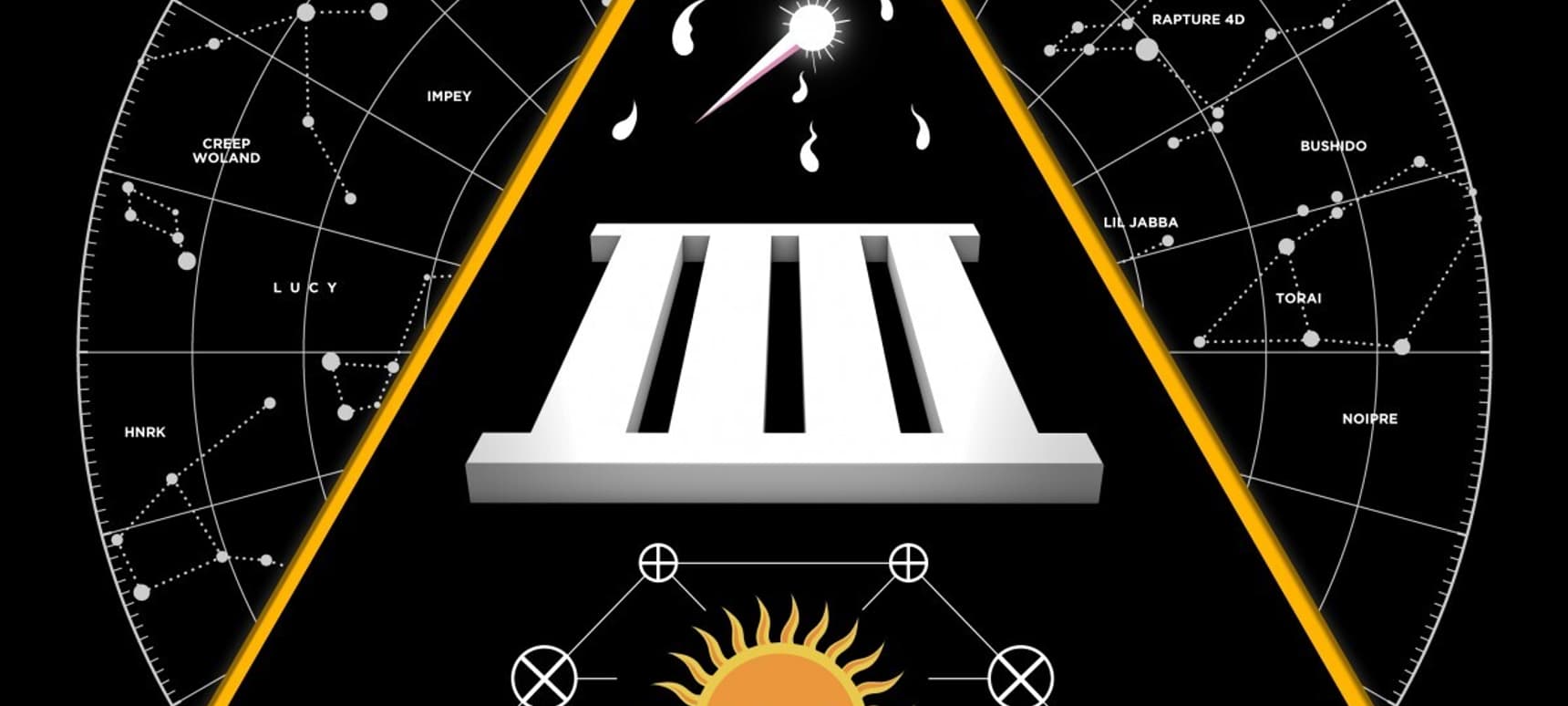 11.01.2018, Words by dummymag
Premiere: Astral Black - 'Frass FM 4' Compilation LP
Party starters Astral Black kick off the new year with a frantic fourth edition of their storied Frass FM compilation series, showcasing the absolute best the record label and club night and it's affiliates have to offer the club scene in 2018. Available today as download and a limited edition casette, AB, headed up by Jon Phonics, are attacking the market from all circles in their efforts to bring the noise.
Where previous installments have featured tracks from the likes of Henry Wu, K15, Sivey, Celestial Trax and Slugabed, Frass FM IIII welcomes Hyperdub's Proc Fiscal, hnrk of Team Sesh, Local Action's LiL JaBBA and Gobstopper's Loom among others.
Elsewhere Astral Black mainstays Drae Da Skimask, Impey, Bushido, Creep Woland and Xao whet appetites for more official releases to come throughout 2018, and contributions from L U C Y and Torai hint at the future direction of this exciting young label. In this compilation, expect warm, vibrant, tropical sounds clashing with colder, clattering and party-ready sounds to have you bumping all year long.
We caught up with each individual contributor to the compilation, as they broke down their tracks and what to expect from the LP. Check that out below, along with the the album in its entirety, and the tracklist.
TRACKLIST:
Lachlan McFeely Bolt – Now
"This track came from a period where I was enjoying working on music outside of the laptop, and playing around with instruments for the first time in a while."
Drae Da Skimask – Thermal
"Who stole the cookies from my cookie jar…who me? Yes you, couldn't me then who? Bo! Rest In Peace Billy Boyo."
Impey – Big Easy
"Five wobbly legged sailors pumped with lager, bellies spilling over their trousers, eyes squinting through the glare of an unforgiving July sun. They begin to question the true contents of the beer and food they had been gobbling at the brothel back on land – this feeling was nothing like any of the boozed-up escapades they had in all their years at sea. The boat creaks with every heavy plunge it takes up and down the ferocious waves, and five pairs of psychedelic eyes exchange a worrisome look."
Bushido – Through The Glass
"I made this track in the summer after a couple too many Fruit Shoots and too little sleep. Just a tropical funky vibe to sip down on in the sun. New bits hitting your beach soon via Astral."
Loom & Tsunga – Homer Riddim
"In 2012 Me and Tsunga were in a field in St Albans, we'd dropped acid with Homer Simpson's face on, it was the warmest day of the year. As we walked through the field we found a floppy disk. We kept it as a joke as it had Homer's face on as well, hand drawn in tip-ex. After the acid had worn off we headed back to my studio, I loaded the disk into my Akai S950 and found the samples for this track. An hour later we wrote this banger." – Loom
Noaipre – Frosty Time
"I asked Noaipre for tracks as he's been one of my favourite producers for a while now, since hearing his tracks out in clubs and seeing him live at Sonar 2011. I first heard 'Frosty Riddim' on Slack's NTS show a few years back and it is a little belter, so I felt like it needed to be released." – DJ Milktray
Polonis & Proc Fiskal – In Da Glen
"Me and Polonis made the tune in Astral Blacks Studio in Glasgow, I think Creep Woland and Milktray were ringside. I did the drums and got Polo to play a couple melodies, then I added as many as I could. Creep was saying the tune made him feel patriotic and sounded like a national anthem or something, and we should name it something Scottish as fuck just to rep. And for those who don't know, "Your dugs got tits" is a popular folk saying among the young fleetos that roam Scotland" – Proc Fiskal
L U C Y – Moths
"This is my tune 'Moths', I built it from a dub that I did at the Red Bull riddim rally – it was called 'Moths' because I didn't really rate the original tune and I don't really rate moths either!
Creep Woland – Crisis
"Like maintaining a firm grip on a lit firework, bomb-defusal for rude boys."
Dvsty – Imperial
"Happy to be returning to Frass FM. 'Imperial' is a track for nodding your head to and thinking about films like Escape From New York."
Rapture 4D – Fourth Nerve
"'Fourth Nerve' was the first ever tune I made on my new Apple Mac – the track was made with loads of excitement in a time of my life where a lot of sporadic, positive things were happening. A bit like the track itself."
Xao – Gutter
"Each Frass FM compilation collects gems from artists that have guested at Astral parties or radio shows, alongside the core roster. It's always a good snapshot of the year for the label. I contributed this creepy little number, I was listening almost exclusively to trap and messing around with FM synthesis – tinny hats and bells ensued."
Torai – Gora
"I'm a huge fan of the whole Steel Banglez, Mist-esque sound so I wanted to make something that was on a similar wavelength but a little bit more paranoid, with more hints towards the DJ Mustard side of things. Vocals are always tricky because you don't just want to use the same acapella every man has butchered but I feel they're rather central to this sound, so that's where I started, mangling the acapella as much as I could without totally ruining it and slowly worked from there."
hnrk – Schlaflied
"Veiled in a cloak of rain is the feeling I wanted the track to convey."
Nebula – Falling
"I met Jon Phonics through Drae at one of the Astral Black nights and we stayed in touch. I was sending him beats and this joint 'Falling' must have stood out to him because now he we are and it's on Frass FM 4."
LiL JaBBA – Subterfuge
"Just whipped it up one cold grey day, was thinking about spies and this one Warioland level called Parsley Woods. I had some good tunes on that game, and the track ended up having a kind of forlorn vibe to it, a bit morose but ends up on a oil-soaked beach."
The compilation is available for purchase here.
Check out Dummy's curated playlists on Spotify.