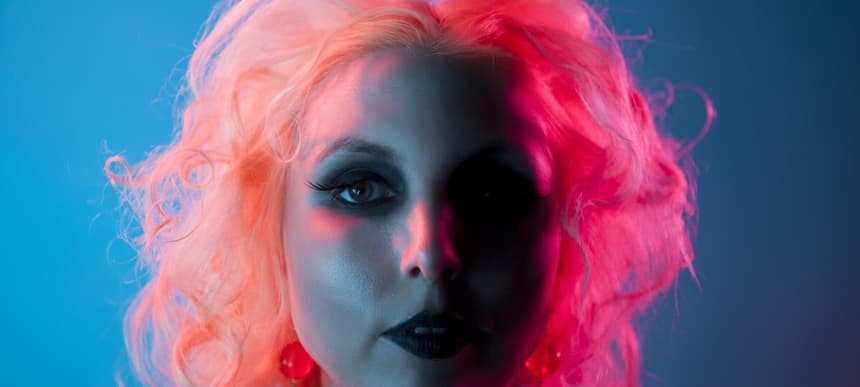 10.02.2016, Words by dummymag
Premiere: Cherushii - Manic (Magic Touch Instrumental)
Fresh from her first ever live performance with label-mate Maria Minerva at Dummy Presents in Los Angeles last week, 100% Silk's Cherushii returns to the hot seat for a quick catch up in anticipation of her next EP, 'Manic'.
A ruminating house jawn, title track Manic is the stuff carefree rave dreams are made of. Crammed full of sexual sax riffs from Marcia Miget and the soaring party vocals of Kara Marie, it's a peak time banger adorned with positivity, taking pride of place on dancefloors where moodiness is kicked out of the fire exit like a pesky patron. Cherushii also enlisted Magic Touch (aka Damon Eliza Palermo) for an instrumental rework, which dials in with a party-starting attitude and the artwork suggests, will make you dance so hard you drop your flute of champagne.
We caught up with Cherushii alongside a premiere of Magic Touch's instrumental of Manic to chat about being a carefree raver in her hometown of San Francisco, performing with musical confidant Maria Minerva for the first time on an exotic downtown rooftop, and collaborating with her boyfriend and hero, David Last.
Hey Cherushii – how's your 2016 so far? And the Dummy party you played in LA on Friday, how was that?
Cherushii: "Hi! 2016 has been busy so far, mainly with live and DJ gigs. The Dummy party was a blast, it was a treat to get to perform with Maria Minerva. That was our first time performing together – we didn't even get a chance to rehearse beforehand. I love LA, so I'm always delighted when I get to come down to visit."
Tell us a little more about the 'Manic' EP. How would you describe your sound?
Cherushii: "Manic, the song, is pretty indulgent, it's a straight-up vocal house tune with a huge sax solo. Kara Marie, the vocalist, is a close friend of mine, and we had been talking about collaborating for a few years. I wrote this song specifically for her, which was fun, because as a dance music producer, I don't often get to use my traditional songwriting skills. The saxophone is played by Marcia Miget, who was my music teacher as a child, and the first person who really taught me to love music. She's an incredible musician, and a huge inspiration, so it was nice to get to collaborate with her as an adult. We recorded the sax on Manic and Far Away So Close (from my most recent 12" on 100% Silk) in the same session. The remixes are from two of my friends and label mates, Magic Touch and Bobby B, who are both really creative producers."
Is there any one particular genre, release, mix, period that was the biggest influence on forming your sound and output?
Cherushii: "The San Francisco underground rave scene at the turn of the 21st century was the biggest influence on my music and aesthetic. I started going to raves during a time when the global dance music economy as we know it wasn't as fully formed, at least not in the United States. The Bay Area rave scene was very self-contained, low-budget, and DIY. Individuality and self-expression were encouraged, so ravers wore all kinds of crazy things, and danced in ways that would get you laughed out of a hip techno party these days. SF's mix of hippie culture combined with its obsession with computers and technology made for a really vibrant, creative, freaky scene. This is where I cut my teeth as a live performer, and learned to work with a crowd. My sense of fun and playfulness in my music definitely stems from my time as a carefree raver in SF."
Your track with Maria Minerva, Thin Line, is a massive fave. Any more collabs planned?
Cherushii: "Thank you! Yes, we are working on more music, though no real plans for a release have solidified just yet. Maria and I are great friends and love working together, so it's highly likely that you'll hear more from us in 2016."
Now the fun stuff….If you could go back in time (or maybe to the future to invent something) what musical genre would you choose and who would be the dream line-up to party to / people to hang out with?
Cherushii: "There are so many artists I would have loved to have seen perform in their heyday – Sylvester, Patrick Cowley, and Klaus Nomi come to mind. The early '80s were an interesting time, after punk tore down all the old rules, but new rules hadn't quite been established yet. If I were to go back in time, perhaps I would start an experimental synth project in 1979 or 1980. I'm pretty happy being an artist in 2016 though – I think this is a very vital and exciting time to be a musician."
"If I were to go back in time, perhaps I would start an experimental synth project in 1979 or 1980." – Cherushii
What's your dream outfit to perform in? (No financial boundaries and the shop stocks unicorn hair).
Cherushii: "I love colors. My favorite outfits have bold colors, interesting shapes and angles, and always a pair of fun sneakers."
What's on the horizon for Cherushii?
Cherushii: "In the immediate future, I have a remix for Amateur Dance coming out this month. I'm also working on an album with my boyfriend and hero David Last, which is more electro inspired. On the DJing front, I do a weekly club night in San Francisco with my buddy Roche called Run The Length Of Your Wildness, and I have radio show on KALX Berkeley 90.7 FM every other Thursday from 9:30pm-midnight PST. I'm flying up to Portland this coming weekend to perform, and will be hitting other American cities here and there throughout the year."
Cherushii's 'Manic' EP is out now (buy).