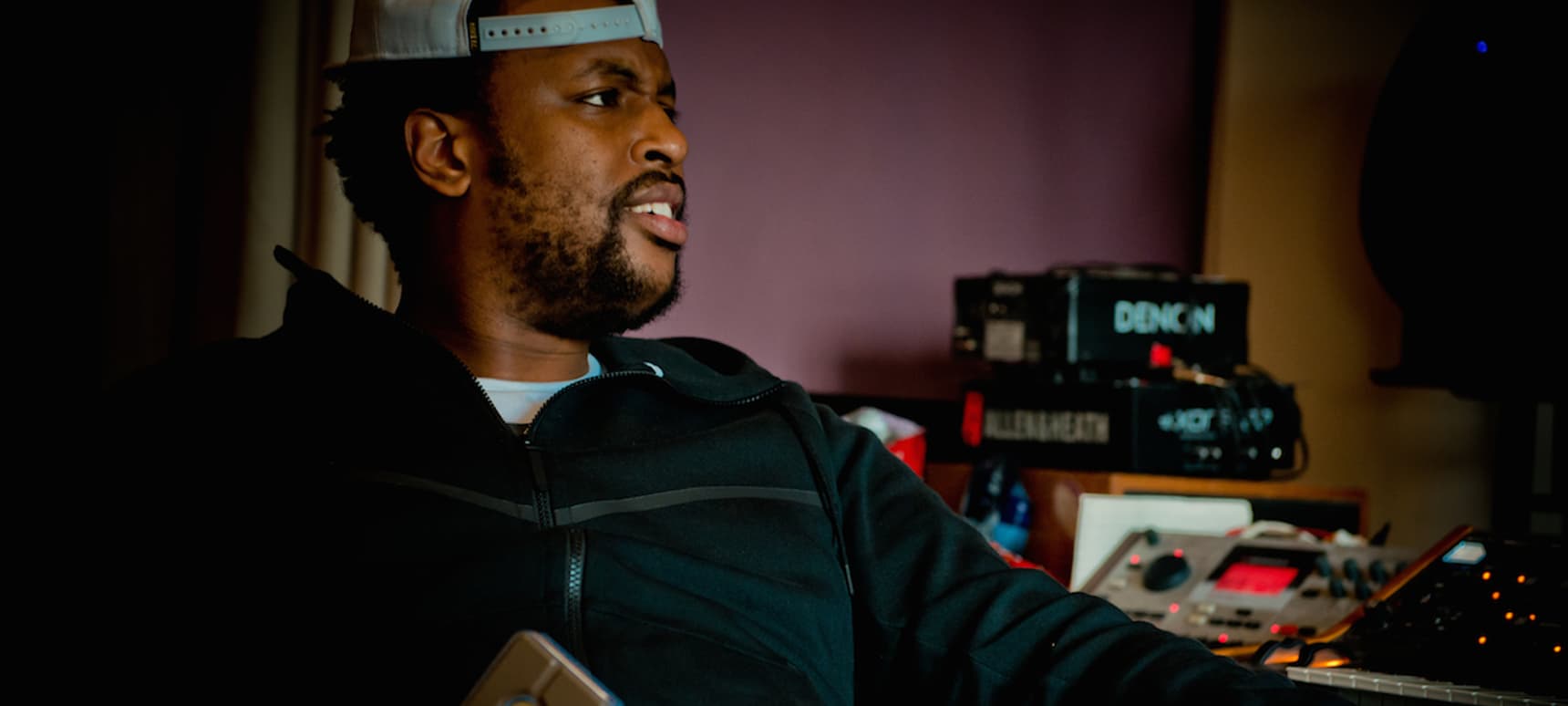 18.10.2017, Words by dummymag
Premiere: Grandmixxer - SLSA
Iconic South London grime DJ and producer Grandmixxer is to release debut record 'SLSA' via his own newly-established label, South London Space Agency, on November 10. A concept years in the making, South London Space Agency, complete with its own rebooted NASA emblem, has been created to provide a home for both Grandmixxer material and new music from a family of producers and MCs he has worked with over the last three years. Inspired by the sounds he grew up with in London, Grandmixxer's take on traditional grime sonics has also been informed by influential club night and label, Boxed, whose international network of new-age grime producers helped forge the careers of experimentalists like Rabit, Murlo and Sharp Veins. A regular face at the club nights and also behind the decks, Grandmixxer would take these new sounds on tour, where he would (and still does) DJ around the world for artists like Novelist and The Square. Debut record 'SLSA' is a testament to these interlinking worlds, with the title-track instrumental straddling the two perfectly; its crunching, 8-bar loops are prime foil for MCs to spit over, but also packing enough heat to do damage as standalone club ammo. 'SLSA' also comes complete with ruff-and-tuff vocal versions from two of the best young spitters in the UK right now in Mez and YGG's PK, both of whom stand on the cusp of breaking the underground. We caught up with Grandmixxer to talk about the label, his relationship with the new generation of MCs and producers.
You're well known as a DJ, but how long have you been making beats for?
I've been making beats since 2014 and seriously in the last two years but starting flirting around with Fruity Loops back then. I've always had sick producers around me and was always a person who would nurture the producers around me, like Dullah Beatz, lots of great producers, so I never felt the need to make my own beats. I felt like sometimes when I'm mixing and creating a beat, by mixing two tunes together and creating something totally different, I feel like I've always been making beats ever since I started mixing. I started producing because within my mixes I started finding a zone, a frequency, that I was enjoying, that I kept on creating when I was mixing and I wanted to make music that felt like how my mixes felt emotionally. I can create that with a mix but how about making music that is my emotion, my life? So I started producing.
When crafting your own sound, which other producers did you study and learn from the most?
Producers that I took influence from were Dullah Beatz, JT The Goon, DJ Oddz, Jammer… so a mix between the old grime guys and some of the new guys. Obviously Wiley, Geeneus, all the guys that were using the Triton back in the day basically. I took direct inspiration from Dullah Beatz because of the close proximity between me and him and like, bought a Triton because I fell in love with that original grime sound. More than the producers themselves, it was the Triton. I figured out what sounds the producers were using to make grime in the early days. So yeah, those guys.
You've surrounded yourself around some talented artists, from Mez to PK to YGG and Big Zuu. How would you describe each of them?
Mez is the young athlete who is going to be a gold medallist but is not allowed to race with the seniors yet. But he's better, faster at running than some of the guys currently running. So I'd say Mez is 100% a spitter, and 100% an MC, like every single fibre of his body. That's who Mez is to me – he's the MC art form in a person. Everything is second to MCing to Mez.
PK's a very wise individual. PK is always down for the team, whatever we've got going for the group, PK is always on it, you know what I'm saying. He's a bit of a talisman among the lads, he's a funny guy, keeps everyone in check still. That's PK. He's one of the most unique MCs you're ever going to hear on any genre. Just spits and flows you won't hear anywhere.
Big Zuu is a powerhouse MC. Big Zuu is the guy you take notice of when you listen to a group of people. His voice is power, his emotion… Big Zuu definitely… you can connect with Big Zuu on many different levels – through music, his personality. He's got that conscious side to him as well. He's saying what people want to hear, what people feel so that's Big Zuu for me, a real life MC, bringing everything.
YGG – the young grime gods, self-explanatory. That's exactly what they are. They've got one of the best young DJs and it's three of the best, most energetic MCs that are around today and ever to be honest. YGG are doing stuff nobody else is doing, they're killing the shows, killing radio, so yeah man, they are the front runners right now for me and I have to have them involved in everything I do.
General Courts and DJ Travis-T are two young DJs working in similar sounds to you. Tell us about that.
General Courts and Travis are the young Grandmixxers. They're the heirs to the throne, the guys that know everything I know, that I've personally shared every bit of knowledge I have about this DJing thing with them and likewise they share with me. Those are my guys, that's my crew, that's my DJ team, that's my legacy.
Tell us a bit about your new label, SLSA. How did the idea to start your own label come about?
Ever since I've been buying records in my early teens, I've flirted with the idea of putting out songs that I liked. The first time I tried to put a record out was when I was 16 so I've always had the idea to want to put out music but it's taken my whole life of living and experience to decide what my label is going to be and what it will consist of and how it should sound. So for me, SLSA came about at the perfect time, at a time where I could see what I wanted to bring to the table. Not what I think could sell, not what I think is missing but what I want to bring, what will be my legacy. I want to bring that same energy to the game that brought me to the game, continuing on that, because there's not much of that going on these days. I can still remember, and very much in love with the early days of grime, so my label is reflecting that but obviously with a modern twist – we are in the future now, I've travelled the world, been to lots of different places… that's what SLSA is – South London to the world.
What is the ultimate aim for SLSA?
The sky is the limit. I don't want to put any boundaries on what we can do or what's possible. You guys will see what we do and I don't want to put any limitations on it. In terms of this label, anything is possible. We just want to bring this good music, music we believe in, to you and that's it. Sky's the limit.
Listen to 'SLSA' exclusively below:
'SLSA' is out on November 10 via South London Space Agency, alongside vocal versions from PK and Mez on 12" / digital.
'SLSA' launches at Mick's Garage on November 11 — tickets + info: https://www.residentadvisor.net/events/1017527