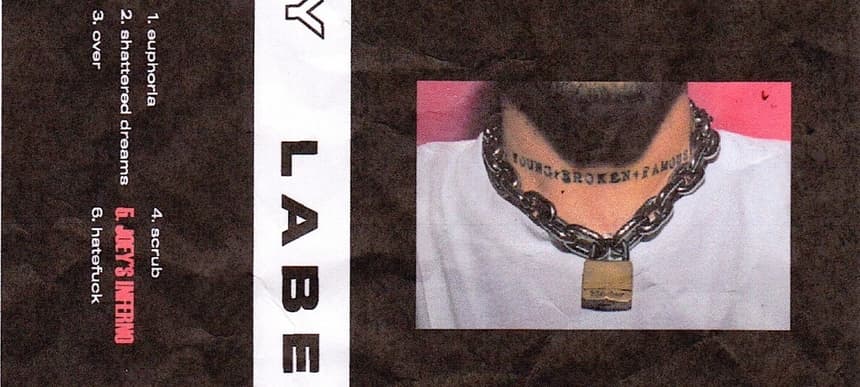 08.01.2016, Words by dummymag
Premiere: Joey LaBeija - Joey's Inferno
First Joey LaBeija became an underground club music deity in his native town of New York City, and now he's got his sights on the rest of the world. Bronx-bred, Joey is a producer and DJ revered for his rhythmic assaults on sound systems that nod towards his Puerto Rican heritage (i.e. Big Pun and Wisin Y Yandel) and his love for the more extreme and experimental corners of electronic music – ranging from Bjork to friends, Rabit and Lotic.
As a fourth generation member of NY's House of LaBeija, Joey is less interested in recording a plain reflection of traditional of ballroom and vogue. Instead, he seeks out to create aurally winding paths that further immerse listeners in his personal experience. On his full-length debut 'Shattered Dreams', the producer pours his innermost feelings into the emotionally charged release, which portrays his experience through the rise and fall of daydreaming melodies, meticulous clatter, and sublimely abrasive percussion. It spoke to label-head Geng straight away, and found a home sweet home on Purple Tape Pedigree.
After appearing as a stream-only mix on The FADER, we now have the exclusive stream of 'Shattered Dreams' track Joey's Inferno. A darkly euphoric cut, it marries Joey's energetic influences with the need for inner sanctuary. Due for release on January 15th, the release will also be accompanied with a video for title-track Shattered Dreams.
Listen above and read an interview below with Joey, Purple Tape Pedigree's Geng and artwork connoisseur Christian Velasquez.
Hey guys – how has 2016 been for you all so far? Do you want to take this opportunity to introduce yourselves?
Joey LaBeija: "2016 has been cute so far. I've low-key been back in New York for a minute and haven't really told anyone I've returned from my hiatus in Kansas City…mainly because my schedule doesn't really allow me much time to have down time. I don't think I've had a moment to rest since I've been back."
Christian Velasquez: I'm Christian. I did the visuals and creative direction for Joey's video, posters, covers, etc. I'm affiliated with Arena, an up and coming creative consultancy. So far, so good…I'm moving up to the city next week and couldn't be happier.
Geng: "I'm Geng. El general de Purple Tape Pedigree. You can't see me right now, but I'm throwing up the "Roc" or the Illuminati hand sign. 2016 is gonna be something else. Love is love."
What was the main pull for releasing 'Shattered Dreams' on Purple Tape Pedigree?
Geng: "It spoke to me right away! Joey didn't give me any sort of foreword about anything – he just texts me and asks for "advice on something." A few minutes later, I get an email with a link and hear a story in six tracks. In texting him back, Joey tells me that the music is about the past 12 months or so. That was 'Shattered Dreams' in its unpolished glory – shit was ill. Funny part was, we had been good friends for a while, through music and as New York City natives, and an EP of his for PTP had already been scrapped (Joey wanted to take more time…I still play the demos). Suddenly, this comes along and it all just made sense."
Can you sum 'Shattered Dreams' up with an emoji?
Joey: "Upside down smiley face emoji."
How do you approach artwork for Purple Tape Pedigree, especially with this release in particular?
Geng: "While there is an overarching aesthetic regarding the label's visual presentation, I always want to allow every artist his/her own space in which to create. Not everything has to be a mech suit or dystopian and emotionally taxing or CGI soda cans.
Joey already had photography shot by Eric Johnson – an OG to me (he did the covers to a lot of classic albums including Lauryn Hill and, my personal favorite, Cam'ron's 'Come Home With Me'). Once he showed me Christian's physical artwork, I was dead sure that he'd pull it all together for a physical product."
Christian: "Well it came from understanding Joey as a DJ and as a musician. I wanted to tie all the loose ends together so that it could remain in this nebulous state. Like if you're going to sample all of these eras of music, I wanted to sample all of those visual formats and throw them all together and reposition them to make something new. The poster for the video is like this blockbuster image. The artwork for Joey's Inferno is literally in cassette cover format. The music video for Shattered Dreams is like Hype Williams making a video for Marilyn Manson circa '99, which really makes sense if you've seen Joey play. Also, I was just really motivated to produce content that made sense in the context of what Joey does instead of just doing some random shit and applying a bunch of effects to it."
The track in question – Joey's Inferno – is more like a fresh highland spring or effervescent waterfall than a burning fire. What's the story behind the name?
Joey: "The song itself was inspired by my life which was a living hell at the time. Every day was like being in a nightmare that I couldn't wake up from. All I ever wanted was to have my sanity back and to be happy again, but with every bit of progress came another huge setback. Joey's Inferno is the voyage of me dragging myself from out the bowels of Hell and back into mental stability."
What's your biggest inspiration?
Joey: "Failure. Destruction. Fear of the unknown."
Christian: "Fucking with the paradigm."
Geng: "Family (not necessarily by blood). Confrontation. Public Transit."
Do you believe in aliens?
Joey: "Uhm…Duhhhhh haven't you seen Spice World?"
Geng: "Hell yeah!! You ever seen Blue Planet?!? Tom from Myspace, too. He's either an alien or was controlled by 'em to cement social media into the daily mix. The aliens are just waiting for a couple more generations to be raised off of 140 character limitations before they jump down from the balcony seats and hit us with a laser powered by the harvested energy of our combined egos."
Christian: "Aliens are just people from the future traveling back and forth in time."
Anything you want to end on? Further events on the horizon, shout outs?
Geng: "Celebrate people while they are still alive. Never stop telling those close to you that you love them. Love to the whole PTP posse. Love to Celestial Trax and Rashad Becker for their respective mixing and remastering work on 'Shattered Dreams'."
Joey: "Well, I can't wait for everyone to see the music video to Shattered Dreams, next week. It was a shit ton of fun to work on. Big thank you to Christian and Joseph Bacon for all of their hard work. Christian and I are currently curating some larger scale events to work on when he moves here in a couple of weeks. New York is even more pathetic than it was when I left back in September and, as a native, I feel obligated to bring this city back to life…she's been on a respirator for a while and the children here are just watching her crash and burn. Big kisses."
Christian: "Shout out to Joseph Bacon who was the right hand for the video, couldn't have done it without you."
'Shattered Dreams' is out January 15th on Purple Tape Pedigree (buy).