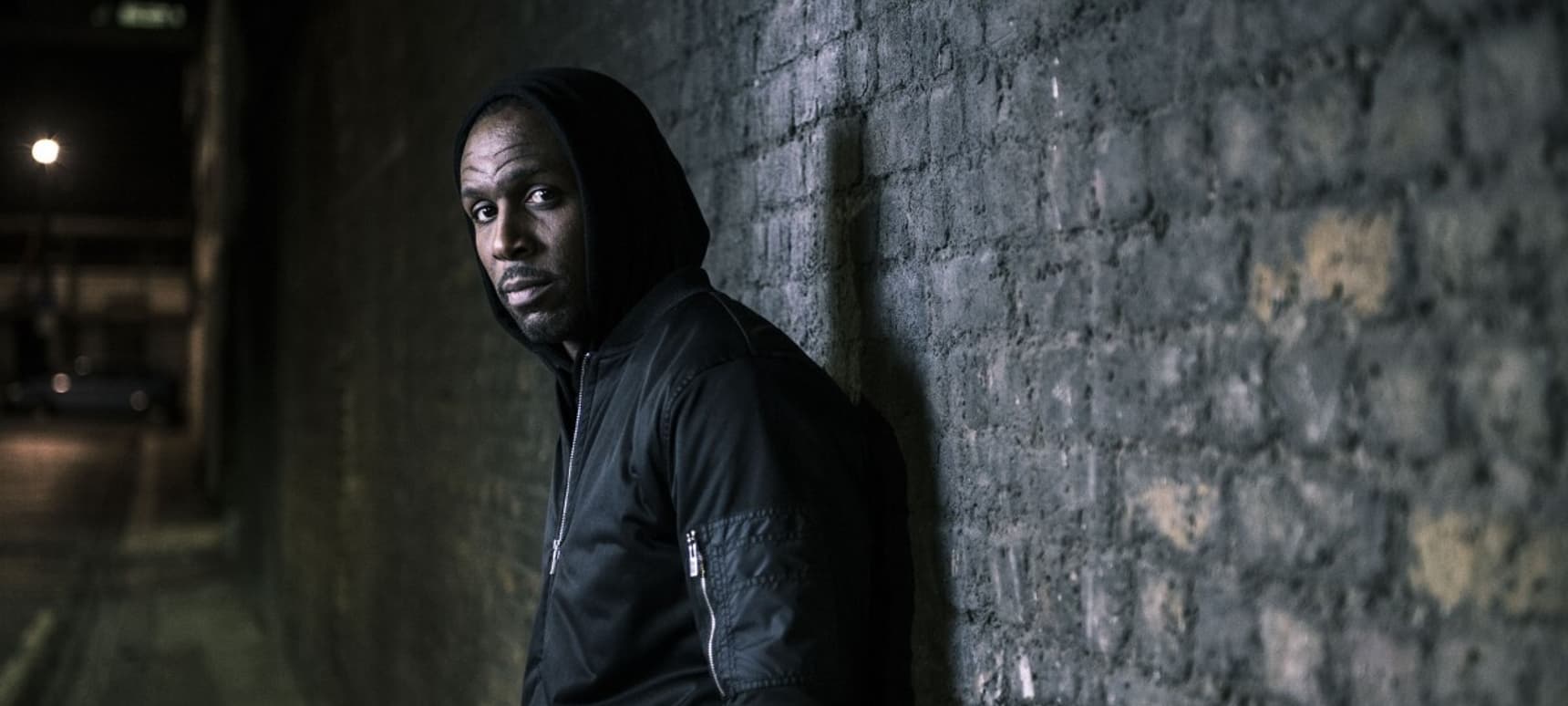 20.01.2017, Words by dummymag
President T: "Grime's more about the music than tryna be some roadman gangster."
Advertisement executives call the day I meet President T on 'Blue Monday', but when I arrive to talk about his new album, 'T on the Wing,' the Tottenham MC is chipper. He's waiting in the bar of Guanabana, a Caribbean restaurant in Kentish Town, and he's very relaxed.
Next door is a Chinese takeaway – Zing Zing – but it isn't, he tells me, owned by his brother Big H, whose "zing zing zoom" bar was guaranteed to provoke an instant wheel up during grime's early years. His own popular reload lyric meanwhile, "Kill Off Killy", was similarly hype-inducing, and fans have been eagerly awaiting his recent reappearance on the rave circuit. Following a stint in prison, he's back on music full time, and ready to unleash his potent brand of grime on the world. I sat down with him to find out more…
So you were born in Birmingham?
I was born in Birmingham, then came to London when I was three years old, so I grew up a talking Londoner. I've never really had a Birmingham accent or anything like that. But then in my teenage years, I went to Manchester for about three years and spent some time there with some family in Manchester. So most of my family are from Birmingham and Manchester.
And you started MCing in Manchester, in Dark Side Crew?
Dark Side Crew, yeah. That was grime. That was when garage was merging into grime, and we basically did lots of shows around the Manchester/North West area, and we got quite a big name for ourselves. I'm sure it's an even bigger name now.
Then when you came back to London; that was when you formed Meridian Crew?
Straight into Meridian Crew. Obviously, my younger brother was already doing bits with JME and Skepta – H – and my cousin Bossman as well was doing bits, so I just jumped on that bandwagon and we formed the Meridian Crew.
Was that mainly radio or tunes?
Mainly radio. Deja Vu on Mondays. I'd done a few tunes but it was mainly radio.
I feel like people are more focused on making tracks these days, do you think that's a positive development?
It's a positive thing. People are getting credited for their music now rather than it getting shrugged off as just some short time phase. So I would say now the scene's in its best format, because now people are actually able to make songs, and providing the song's catchy and it's liked by a lot of people, it will now go places and it's not discriminated against for being part of the grime genre.
"There's no point tryna use my style or my flow, because when I pop up out the woodwork again, your curtains will be drawn"
And so you felt like this was the right moment to make a strong return to the game?
I spoke to a few friends on the phone the other day and I said I shoulda done all this years ago. And my friend turned around to me and said to me, no Prez. Maybe if you had done it years ago they wouldn't have appreciated it like how they appreciate it now. So I'm glad I've been hammering away for a couple years, because I know that now is the time when grime, urban music is appreciated. And it can go places now, whereas years ago you had to push three barrels down the stairs for your tune to even get heard. There wasn't really a major platform for it like there is now.
You've got a pretty recognisable style, what would you say makes you stand out from other MCs?
I write my own lyrics. I'm also a ghostwriter for other artists. I'm not gonna say who 'cause that kinda takes their power away. I've been ghostwriting for years. I would say I'm one of the best writers, lyricists in this whole genre.
And on a personal vibe, that's me. So I'm only being myself when I MC on tracks. And I would say that plays a big part of it – being yourself. And I've kept my same flow for years, I've never changed it to suit trends. When you know you've got something that no one else has got, or a style, you can kinda mature it and elaborate on it. Obviously other artists have tried to use it in the past, they know who they are, it hasn't worked for them.
There's no point tryna use my style or my flow, because when I pop up out the woodwork again, your curtains will be drawn. You'll be exposed and everyone will know you was never the original. So I can't say that I've got any fears of someone adapting this as their own, because the country knows and the world should know by now that it belongs to President T.
"The first time I heard 'Sandwich',  I literally picked up my chair at my dining table and threw it across the room."
What were you listening to when you were younger – jungle?
When I was younger I was into jungle, drum n bass… the real, old school authentic drum n bass like Bassman, Trigga, Shabba, Skibba, as MCs, Mampi Swift, DJ Die, Brockie, Hype and all them sounds. Then I went over to the garage sound. Producers like Todd Edwards. And then that merged into grime. So all credits to man like Wiley himself from the very early days. He was building grime. Danny Weed, Target and that's kinda the essence that we took on and kinda gave it our north London spice. So all credit to the original eski dons. Danny Weed, Target and Wiley, and many others. Sorry if I don't mention your name right now but many others.
We kind of adopted their eski sound and made our own north London type of grime. All credits to man like Frisco, who's a big representation of north London. 'Cause he's Tottenham, north London like myself. And I would like to think that there's similarities in all of our styles. So me, Skepta, Frisco, and like the ones from north London, JME, H and Bossman. Frisco and Bossman are similar in my eyes. They don't sound the same, but they've got this authentic Tottenham, north London sound, which is now recognised.
Grime is British, people are forgetting that it's British. A lot of people are talking on tracks like they're from some sort of LA constituency when we all know they're not, we all know they're probably from some council block that's run by a local authority. I wish more people in grime would be themselves, instead of tryna fake this gangster image when grime doesn't really come from that. It's more about the music than tryna be some roadman gangster.
Which other grime artists do you listen to?
The first time I heard 'Sandwich', (So Large featuring Ghetts), I literally picked up my chair at my dining table and threw it across the room. I'm also on the Sandwich remix – me and Bossman Birdie – which is currently getting spun on all the stations. So that's a prime example of other artists doing energetic things, going into the studio, making tracks, pulling off a good song. And long term artists like myself appreciate that. I can work out whether an artist has put effort into his track or not.
The productions on your mixtapes have always been really impressive. What do you look for in a beat?
It has to have trumpets with bass. I like trumpets with bass and, to describe it in words would be… championship grime. I am the King of the Kings, red carpet type of sound, like announcing the arrival of a great monarch.
Stranger Returns has got a range of producers – I'm keeping it a bit of a secret. I always tend to work with producers that ain't really known, and then after they've worked with me they've got a whole future for themselves. I'm definitely gonna be working with Westy in the future, there's another producer from the Midlands called Mighty Max that I worked with on Back Inna My Face Volume 1. He produced the intro on Back Inna My Face. Spyder Beats – I'm bringing him out of the cemetery again.
When it comes to picking features, do people ever not make the cut?
Features get taken off the tracks all the time b! Features get dropped all the time. If any artist in the future is not happy with me not having them on the track, well then send another bar, 'cause the first one never made it! That's all it is really. It isn't just about me it's about what the fans want. I've got a career to think about, and a business, so personal doesn't really come into it.
Will some of the tracks floating about as YouTube radio rips, like 'Jail', be on there?
It might be. The original 'Jail' was produced by Bless Beats, so I'm gonna get him to revamp it. He makes championship music.
And when can we expect to hear Stranger Returns?
I'm basically waiting to get clearance on a lot of the bits on it, but it's 85% complete. This might sound a bit ironic but this project is so intense that the last 15% of the album is the hardest bit. A lot of artists in the game will have 99% finished their mixtapes or albums, but the last 1% is the hardest bit. It's the mastering, the finalization, the quality checks. That's what I'm bringing to the game – I'm bringing street music with toppa top quality.
T On The Wing is out now.  Steam it below: