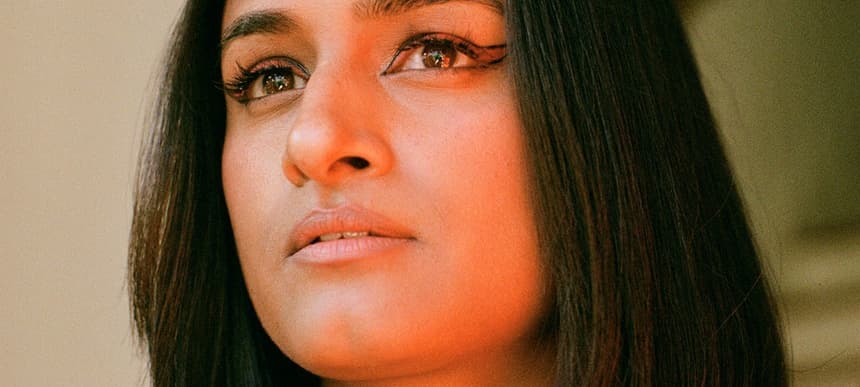 11.05.2021, Words by Nathan Tuft
Priya Ragu's post-genre sound champions her Tamil heritage
"I had this inner voice within me that got really loud and was like, 'What do you have to lose?!'"
"People always ask me what kind of genre I make and I honestly can't answer that because I've so much influence in my music," Priya Ragu says. "I love listening to Tamil folk music, boom bap, R&B, even bossa nova – so I don't want to limit myself by creating a certain type of music and am keen to try new things out. I don't want to restrict myself."
Blending Western influence with the Tamil music of her Sri Lankan heritage, the Switzerland-based artist only really decided to pursue music in 2017. "It was something inside of me telling me that I should follow this path," the 35-year-old artist recalls of her decision to quit her office job and do music full time. "I knew that I needed to take creative time and space to see what I could make."
That choice would go on to define who she is as an musician, unafraid to take risks and – aside from initial airplay and success in her native Switzerland and neighbouring Germany – Ragu never imagined her music would reach international status so quickly. "I thought if I was going to have a music career, than it would take me five or six years or so for it to happen". In 2017, she took a six-month hiatus to New York where friend and rapper Oddisee offered up use of his Brooklyn studio. This gave her the time and space needed to develop and grow into an artist. "I had this inner voice within me that got really loud and was like, 'What do you have to lose?!' I wanted to use the time and talent to see what could happen. It wasn't about meeting people or [networking] but more about connecting with myself and the music."
After Priya's parents fled the Sri Lankan civil war in the 1980s, they came to settle in Switzerland, a place that lacked any semblance of Tamil culture. Reconnecting to the sounds of her heritage and early love of artists like Ilaiyaraaja and A.R. Rahman wasn't initially instinctive, as she'd come to shun this side of her background and deeming it "uncool". Now, Ragu's music champions her upbringing and the sounds of her culture, using Kollywood samples and Krishna mantras to traditional tabla and the Tamil language itself.
It was M.I.A. who first provided Ragu with a clear role model. "I felt really proud to see somebody from the same heritage making it happen and suddenly everything became very cool and accepted," she says. Priya notes, however, that since M.I.A. there have been few figures in music as visible as her and she hopes to bring further representation via music to the South Asian community. Now in full acceptance of her sound and wide variety of influences, Priya labels her music as "Ragu Wavy" in celebration of that unique space for her sound.
Another element that brings a personal touch to Ragu's work is her close relationship with her brother Japhna Gold, who produces and writes alongside her. Like the well-documented partnership between Billie Eilish and her sibling Finneas, their bond is clearly a strong one (she refers to him as her "best friend"), and acknowledges how their personal relationship has only benefited their professional one, trusting Gold to experiment and have freedom when putting together beats. "It's really dope being able to be on this journey with him," she says. "Having the perfect producer is incredibly important when putting together a song. We do have different types of music tastes but it's interesting to see how we merge together."
Last year's 'Good Love 2.0' was a true reflection of her commitment to blend and fuse sounds and remain authentic to herself – something she channelled through the video for the track which finds Priya out in Goa. The vibrant and intimate video, which includes stunning set pieces and aesthetics, was cast by Priya herself after combing through Instagram and finding a director in Mumbai, and both a stylist and a lead in Delhi. Her intention was, simply, to create something that she herself would love to watch. "I think having great visuals play a really big role and all the details matter to me in whatever I do because it really elevates the music that I create and also it's important for me to bring the culture into the visuals."
In a bid to maintain the high standards of her visual output, the video for follow-up track 'Chicken Lemon Rice' taps into Priya's Sri Lankan roots while challenging preconceived notions of gender and tradition. The result is an iconic celebration of togetherness, self-expression and culture that reflects the track's positive message. The top comment underneath the video says it all: 'Who ever styled them needs a met gala invite. Every look is FIIIIRE.'
The track underwent remix duty at the hands of Honey Dijon, Joe Goddard and Little Dragon, marking 2021 out as Ragu's defining moment. Her latest offering is 'Forgot About', a tale of forgotten love that she penned a number of years ago, showcasing Ragu's rich melodies and expressive vocal delivery. With a relatively minimal instrumental arrangement supporting her, Ragu provides the song's heartbeat with her layered vocals. Drawing from personal experience, the song acts as a true outlet for her emotions, taking the track to another level. "The song is about having a really special connection with somebody and you think it's a once-in-a-lifetime thing," she says. "I personally experienced it and really struggled with that so after a number of years, I wondered if that person still thinks about me".
Ragu is also set to feature on 'Goodbye My Love' from Jungle's upcoming album later this year and has announced a body of work in the pipeline. "It's been really clear from the beginning what we want to achieve and work on [from a project of work] and this includes how we select tracks. I'm not creating 100 different tracks and only picking ten – every song I am making is focused and has a purpose".
With live shows on pause since the international lockdowns shook up the music industry, Priya hasn't yet had the opportunity to demonstrate her performing abilities on a large stage. November 2021, however, will see her embark on a European headline tour, with nine shows in place across six countries, including her debut London show at the Jazz Café and culminating in Zurich a week later. For Ragu, this opportunity is special for her, especially in taking her music to the live stage. "It feels like a crazy experience that I am really looking forward to. I can't wait to perform my songs live and transmit the energy to the people and be able to connect with my fans."
Priya Ragu is just one of a crop of artists proving that they can flourish with the odds stacked against them, in a global health crisis. "Timing is everything to me and when the time is right, things will happen," she finishes, thinking about the next few months ahead of her. Excited to release more music ("I can't wait to hear the response!") and to take her sound across the globe, Priya Ragu is ready to bring her cross-pollinated sounds to an even bigger audience than ever.
Watch the lyric video to Priya Ragu's latest single, 'Forgot About':