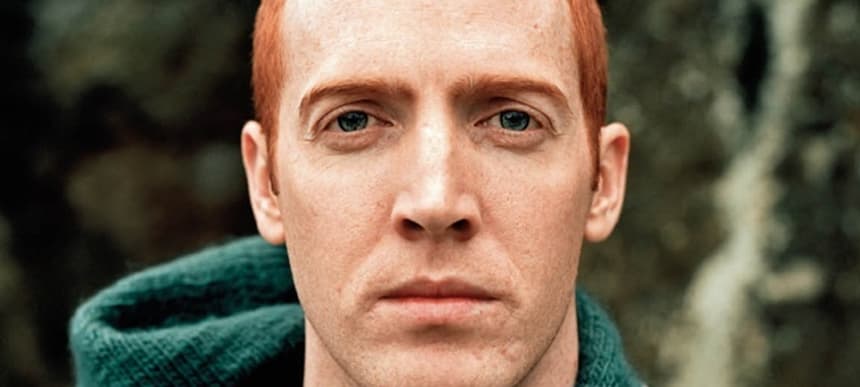 25.10.2013, Words by Aimee Cliff
Quick Catch-Up: Active Child
Pat Grossi, aka choral pop artist Active Child, has had some time away with his music, and you can really tell. In the vast expanses of his new EP, 'Rapor' (stream it here), which follows two years of constant touring, you can hear the thumps of stadiums, the bodily swell of choirs, the wide-open hum of highways and generally the powerful reach of ambition. The synths buzz harder and dilate wider, the features come from big-name pop singers Ellie Goulding and Mikky Ekko, and the choruses write themselves all over your memory in permanent ink. It's his most confident sounding, and just biggest sounding, release to date, following 2011's tender debut album 'You Are All I See'.
Not only the sonics, but the themes are huge, pulling pop heartstrings with stinging lines like "Even if I wanted to love you, would you love me?" on the EP stand-out Evening Ceremony and the tragic call-and-response of "show me where it hurts/and will you make it okay?" on Silhouette, his duet with Goulding. Meanwhile the strident, percussive opener She Cut Me doesn't even need any words to sound full to the brim with a cathartic release of energy. We caught up with Grossi to find out what ignited this fuller, fleshier pop sound, and what's on the horizon for him next.
Hi, Active Child! Where are you right now and what does it feel like?
Active Child: "Right now I'm sitting writing you from a balcony over looking the ocean on the Gold Coast of Australia. Just now two dolphins swam by. Not even joking. Woke up early this morning and went for a surf. There is a room full of instruments downstairs, and I am quite literally in my own little slice of heaven."
You made this EP after finishing two non-stop years of touring. Was that as tiring as it sounds?
Active Child: "It was pretty exhausting. We had toured pretty heavily in the US before then, but things change drastically when you start to tour internationally. One country overlaps with the other and before you know it you have no idea what day it is and where you are. That said, I wouldn't take a single show back. Well, maybe one or two."
Back in 2010 you told us all about your love of Antiques Roadshow; did you watch a bit of that to recover from all that travelling?
Active Child: "Surprisingly enough I haven't watched the old Roadshow in a long time. Recently I've become obsessed with the myriad of TV drama series that everyone is talking about, but I have still yet to see a single Breaking Bad episode. Still waiting for the right moment I guess, and partly scared it might take over my life and I can't afford that right now. When I got home from tour I would spend most of the morning writing and then go to a movie by myself in the afternoon. Solo movies are highly underrated, much like solo gigs, still my preferred way to see a band."
"If I had to pick [a dream collaborator], I would say The Knife. That would be a dream come true." – Active Child
What do you do in your down time these days?
Active Child: "Well, before things started to get crazy again I spent most of my free time with my girlfriend cooking at home, taking weekend trips out into the desert, or afternoon hikes. I've become very domestic over the last year or so. But I've always been a home body."
How did the features from Mikky Ekko and Ellie Goulding come about?
Active Child: "I first saw Mikky at the Grammys with Rihanna. A few months later I was introduced to a producer, Nick Ruth, who I eventually worked with on 'Rapor', and he was working with Mikky as well. The collaboration sort of span out of that connection. I had written Subtle but it was missing something. Mikky came into the studio and put together a vocal performance that I think is nothing less than pure magic. Ellie and I had met a few years back while we were both in NYC. Since then she covered Hanging On and from there I started to think seriously about doing something together. I have always dreamed of doing a classic duet with another female artist and I think Ellie was a perfect fit for Silhouette. It was strange, after I wrote the melody for the chorus I kept hearing her voice singing it, so naturally when it was time I reached out. Needless to say, my instincts were right."
Do you have any dream collaborators you'd love to work with on the next release?
Active Child: "I've got a laundry list that is steadily growing. But I'm also conscious of not doing too many features. I think I'd be more interested to explore more collaborations with other producers. But if I had to pick one, I would say The Knife. That would be a dream come true."
"Spending so much time on the road and seeing how the crowd reacts to music also had a big influence on the style of the new songs. I wanted to write songs that not only moved people emotionally, but also pushed them physically." – Active Child
On your current tour you're playing with a 14-piece choir. How does that feel?
Active Child: "Performing with a fairly large choir by my side is also a dream come true in a lot of ways. So many of my songs reference that sound and in many of them I layer my voice in the background to create that exact effect. So to finally be able to hear that live on stage with me, voices bursting to life and singing parts I had written was very emotional for me."
What was your vision when you started making the 'Rapor' EP?
Active Child: "I had a very simple vision for this EP. I came home from tour and focused on writing songs that I felt were bigger and bolder than anything I had written before. Spending so much time on the road and seeing how the crowd reacts to music also had a big influence on the style of the new songs. I wanted to write songs that not only moved people emotionally, but also pushed them physically. Some nights it was fun to play a very somber set and let people drift away with the music. But other nights I could tell they wanted more energy and so did I."
What music have you been listening to in 2013?
Active Child: "I've been drifting between a lot of different sounds lately, but I seem to continually come back to various experimental electronic artists such as Oneohtrix Point Never, Tim Hecker, or Andy Stott. Some others would be Symmetry, Julia Holter, Kurt Vile, FKA Twigs. Honestly so much good new music out there I wish I had more time to listen."
What's on the horizon for you next?
Active Child: "Next I'm playing a special show in Melbourne with a string quartet and choir. Really excited about that one. After that its back to the US for a tour with JMSN. Once tour is wrapped up I'm gonna escape for a minute, catch my breath and then get back in the studio to finish up my proper album which should be out in the spring."
Third Rock/Vagrant released the 'Rapor' EP on the 21st October 2013. Listen to it here.