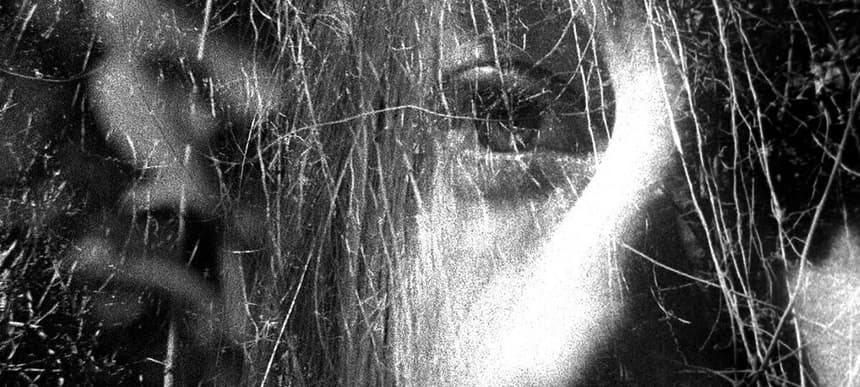 27.05.2014, Words by dummymag
Quick catch-up: Grouper & Paul Clipson
The singular, intense sound world of Portland's Liz Harris, more familiarly known as Grouper, is one always worth keeping up with.
Last year's 'The Man Who Died In His Boat' consisted of music recorded along with 2008's 'Dragging A Dead Deer Up A Hill', but now at a distance from its release, it feels like one of her most significant statements to date. Whether seeking out where "the spirit meets the skin" on the devastation of Living Room, or Vanishing Point's shivering piano icicles, these bare, song-based pieces seemed to take us closer than ever to Grouper's core. Recent extended works have explored Harris' fascination with dream states and the ties between mind and body, explored in detail in an interview with Dummy last year and evident on undulating pieces like Sleep and Rolling Gate (released in a limited capacity on Harris' own Yellow Electric label).
The latest Grouper project is a new undertaking for her: a 75-minute audio-visual piece created with San Francisco filmmaker Paul Clipson titled HYPNOSIS DISPLAY, set to meditate on ideas of modern America in sound and image. It was commissioned as part of the Opera North Projects, and will be premiered with a performance at Leeds' Howard Assembly Hall on June 5th, before being shown in Glasgow and London. The atmosphere of HYPNOSIS DISPLAY's recently shared trailer is one of dreamy dread and uncertainty, but we were still keen to find out more, so sent over questions to Liz and Paul for more on the background, influences and ideas that dominate the project.
You released a project with Jefre Cantu-Ledesma last year, someone Paul has worked with frequently. Was it through that connection that this project came about, or does the link go back further?
Liz Harris: "Paul and I met each other through friends and the music scene in the Bay Area. Our first experience working together was for a performance at the Root Strata On Land festival in San Francisco a few years ago. After the performance, audience members did not believe me when I said we hadn't co-ordinated the imagery and music to go together beforehand. There's something very synergistic happening in our approach to making work, our creative values. Originally, Leeds Opera North got in touch wanting me to score an existing silent film – I knew right away that I wanted to pitch an original collaboration with Paul instead."

Paul Clipson: "Our connection did begin through Jefre. Liz and I met in Spain at a festival she played in, while I was there with Jefre, screening Super 8mm films with Tarentel, the band he was in at the time. A few years later, Liz and I worked together for the first time at a San Francisco festival, On Land, that Jefre organized via his label Root Strata. I thought our performance there together was really great, and a few years later we worked together again in Portland for a show at Valentine's. I've always been struck by the intensity and emotional register of Liz's work, and have enjoyed working with her whenever the opportunity was there."
Tell us about the process for HYPNOSIS DISPLAY: did the images or the sounds come first, or did the two emerge together?
Liz Harris: "Together, but not in the same room. The bulk of intense collaboration has been on conceptual structure, conversations that happened before beginning work. We spoke on the phone and in person, and sent writing and influences (books, films, ideas) back and forth. We traded stills, clips and recordings. It is important to us both to give each other room on literal detail and structure, aesthetic choices. There is a kind of magic conversation that occurs between independent structures that have the same intention, same foundation."
Paul Clipson: "The sounds and images were conceived in parallel streams of work. Besides our various separate travels (Liz doing shows, I shooting some of the film in Los Angeles and New York), Liz was primarily in Astoria, while I was working in San Francisco. Whenever possible, we'd share parts of our work together, but mostly, the two forms are like field recordings from parallel universes, where a sort of emotional, intuitive osmosis will combine our work together when we present the sounds and images live in June."
You've produced artwork and videos yourself in the past. Was there any crossover in this project, with you being involved in the creation of the visuals, or Paul in the music?
Paul Clipson: "Not literally, but in sharing our work together for this project, perhaps an unconscious influence occurred. I hope so."
Liz Harris: "As Paul says, not literally. Almost certainly subconsciously. We've each been audience for each other's sketches, filmed and recorded together, decided on landscape and concept together, given each other feedback."
What appealed in creating a work about contemporary America?
Paul Clipson: "I think we're both deeply moved and inspired by environments, landscapes and space in general and in particular, there's a very visceral charge in our work methods that has to do with engaging with and responding to where we live. This was an opportunity to further bring into focus particular themes or obsessions that we've felt in regards to this country."
Liz Harris: "The idea of belonging, wanting to feel at home in my own body/culture/country, is a theme that finds its way in to my work naturally. I was raised being told that I wasn't actually part of the US. I feel strongly, most of it negative, about where the US sits in this world. Often it's merited, and at times I feel I'm using an idea of the US as a figurehead for more intricate upsets. I wanted to explore this. Paul and I are both captivated by the way that impressionistic and literal interpretations of landscape overlap. It took effort and mindfulness for me to pull back and present a portrait that acknowledged personal opinion, and also left room for simple observation, for the independent opinions of the audience, for the beauty (community, culture, landscape) that exists here, too. Paul's description of his own approach helped me with this balance. His eye is attentive and neutral at once."
Trains feature heavily in the trailer, certainly a recognisable element in "American mythmaking". Is the film in part trying to realign, or update, some of these ideas and images?
Paul Clipson: "Not consciously, but rather in attempting to record some of these recognizable elements and environments (trains, highways, cities, etc.), both sonically and visually, there's an interest to experience these spaces in a different way, or to feel them in unusual terms, to try to understand these places and how they can become separate or strange to us."
Liz Harris: "Trains, moving vehicles, and machinery recordings feature strongly in the soundtrack, too – a commuter train, several bridge crossings in cars, cars driving past a stationary point on the Golden Gate Bridge, the sound of fishing boat engines in Alaska from above and below water, recorded on hydrophone. Surely, travel and the sound of machinery of production/consumption are intrinsically tied to the narrative of US westward movement/invasion/consumption of the North American interior and Pacific Coast. For me, the conscious fascination with sounds of rhythm and travel are towards more ephemeral allusions. I love the train scenes and sounds in Stalker. Such a graceful metaphor to describe both the movement from concrete description of a landscape towards a more poetic impression, and the evolution of personal isolation in a country plagued by a kind of decayed idealism, by disrepair."

Were there other influences from music, film and beyond that influenced the project?
Paul Clipson: "In broad terms, films that have deeply moved me and continued to inspire me while filming HYPNOSIS DISPLAY were Bruce Baillie's Quixote, Michelangelo Antonioni's Zabriskie Point, and Chantal Akerman's New From Home."
Liz Harris: "I love Delia Derbyshire's mix of pure experiment, melody, and portraiture in the series she made for the BBC with Barry Bermange. I relished working with less song-based structure, more noisy elements for this project (lots of static, and engines, interruptions.) There are a few Pansonic and Dead C recordings that didn't necessarily influence me consciously towards this direction, but that I thought about after I'd recorded and was listening back and editing. Paul sent me a number of films when we first began discussing the project. Zabriskie Point struck me the most intensely. I also had very frequent block-text dreams for the entire time that I worked on this project, and they directly influenced certain recordings and lyrics."
Finally, could you each name the last film you saw that really moved you?
Liz Harris: "The Turin Horse."
Paul Clipson: "A few days ago, I watched Claire Denis' 35 Shots Of Rum. I was very moved by the film's ability to describe a few peoples' lives in a such a warm, unsentimental way."
HYPNOSIS DISPLAY debuts at Howard Assembly Room at Opera North, Leeds on June 5th (tickets), followed by shows at the Centre for Contemporary Arts, Glasgow on June 6th (tickets) and LSO St. Luke's, London on June 8th (tickets sold out).