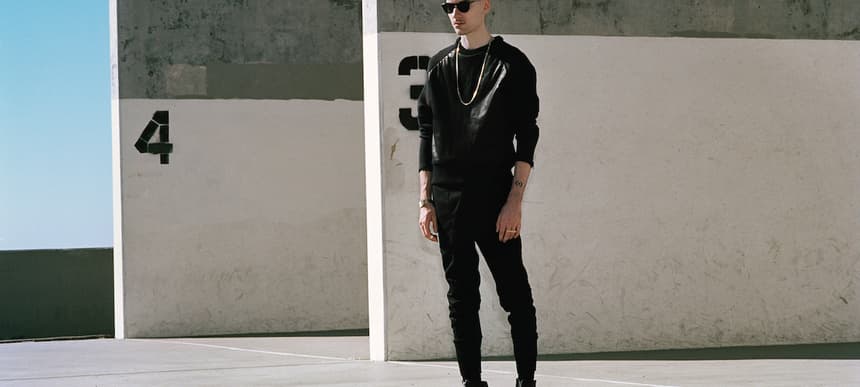 11.03.2014, Words by dummymag
Quick catch-up: Jimmy Edgar
The past few years have seen Jimmy Edgar become an ever more in-demand club DJ, producer, and live performer, with the Berlin-dwelling Detroit native's schedule occupied by a seemingly never-ending string of international tour dates. Edgar seems to have found his most comfortable setting to be the club, and he's been releasing a lot of solid gold dance tracks and remixes in the period since his last full-length album, 2012's 'Majenta'.
Not one to rest on his laurels, Edgar has kept himself busy with his own record label, Ultramajic, which seems him acting as A&R (with help from good friend and JETS collaborator Travis Stewart, aka Machinedrum) while working alongside Pilar Zeta on the label's distinctive artwork to release tracks by himself, his close friends, and likeminded musicians.
Jimmy Edgar will touch down in London to play at Room 2 of Fabric this Friday (March 14th), so we had a brief catch-up over email to see what was happening in his world and where his head was at before the date.
Hello, Jimmy. Where are you as you write this, and what's it like around you?
Jimmy Edgar: "Hi. I'm at my desk right now, working on some new artwork for Ultramajic. I just had a great meeting about printing options for these pieces. I'm retouching them with a Cintiq pen tablet, which are extremely large files.
"My studio is in a bit of disarray at the moment because I'm moving, but I can move past it. I just came back from Cairo, and to the right of me are these amazing golden Thoth ceramic plates – a real rare find, and they were dirt cheap."
You've been touring an awful lot over the past 12 months. What's the best new dish you've discovered on your travels?

Jimmy Edgar: "I'm always astonished that people notice how much I travel. It's just become a lifestyle. I simply move a lot. It's strange to think how stationary our thoughts and consciousness is, yet our body is never still.
"I'm discovering less and less food recently because I became vegan almost a year ago. I used to think vegan people were a bit irritating, because they love to talk about it and tell people how they can't eat anything. I've become one of those, sorta. Anyways, with the amount I travel, I have to stay healthy any way that I can, and without this sounding like a freaking Martha Stewart interview, I feel like these days I am actually eating real food. It goes without saying that it is a bit difficult, but the way I feel is worth it so I won't be giving in to junk any time soon."
"I used to think vegan people were a bit irritating, because they love to talk about it and tell people how they can't eat anything. I've become one of those." – Jimmy Edgar
What sort of ideas have you been most interested in exploring in your music recently?
Jimmy Edgar: "I'm exploring the down beat these days. A lot of dance music is all about the back-and-forth vibe, or the opposite feel, where it bangs like a pendulum. I'm really loving the sound of repetition in the down beat, and changing patterns a lot less frequently. This comes from the amount that I've been DJing – I find myself looping parts much longer and building mixes patiently. I have this strange focus when I'm DJing; my eyes defocus and I'm in some kind of meditation until I'm done. It's important for me to connect with people – that's why I have a hard time doing cohesive online mixes. It's such a big switch to make a mix for people at home or working. I think of myself as a party DJ.
"As for my music music, versus my club remixes… I'm listening to a lot of new jack swing, Trax, Carlos Souffront mixes, and always R&B, spanning the past 50 years."
Last time I spoke to you, you were pretty excited about all the things you were gonna do with JETS, but that seemed to take a bit of a backseat with your and Travis' own projects afterwards. Is the recent Midas Touch single the return of JETS?
Jimmy Edgar: "JETS will be as we have time. Like you said yourself, we've both been traveling non-stop, and JETS is not a priority for us – it's a fun project that we love to share.
"JETS will probably always be a backseat hoe, because our first love is our own music productions. Yet, it's amazing when we can get together and create magic. We have quite a bit of unreleased stuff that could see a release on Ultramajic – that's the rough plan, when it's ready."
What else is coming up on Ultramajic?
Jimmy Edgar: "The thing about Ultramajic is that we have such a fine integrity with the output and design that it doesn't make sense to pump out releases. With that said, we do have a very busy year with new signings and some releases from friends. Right now, scheduled are tracks from: Lando, Matrixxman, SOPHIE, Chambray, and some really great remixes. We're also jumping on the merchandise vibe, because Pilar and I have designed some interesting wearables for later in the season. Other than that, we have residencies and parties all over the world, namely WMC, the Social Club in Paris, Fabric in London…
"Ultramajic has a lot of my focus, because we just feel it's such a nice way to roll out music and art simultaneously. It's definitely a labour of passion and love, but we have a desire for success, too. Isn't that really what it takes for a winning combination? As long as precision and focus meet artistic integrity, then I'm happy, no matter what happens."
"As long as precision and focus meet artistic integrity, then I'm happy, no matter what happens." – Jimmy Edgar
Last year saw you releasing mostly 12"s and remixes. Do you see yourself working towards another full-length album any time soon, or are you enjoying the freedom of periodic 12" releases?
Jimmy Edgar: "I decided last year that I wasn't going to do an album ever again, and I may have changed my mind. It depends what happens with my live show – I'm working on a new visual show.
"I'm warming up to an album, but it most likely won't be a slamming dance record – I think that's more for singles, but who knows? I'm keeping my mind open and letting my creations make their own path."
When was the last time you went to a club, but not because you were DJing there, and was it good?
Jimmy Edgar: "I can't even remember. Most weekends I'm doing this anyways, so why would I want to go clubbing again? I have things I wanna do that don't involve clubs. I love club culture and I love DJing; being part of the fire in the party is really special and it comes with great responsibility to entertain.
"But yeah, I also enjoy silence, and most of all I enjoy working on art, which doesn't really involve a club. What comes to mind is seeing R. Kelly in concert. Oh yeah, I saw Alexander O'Neal, and that was amazing."
What are your five favourite things right now, musical or non-musical?
Jimmy Edgar: "Learning how to apply the golden ratio to 3D design, finding geometry within the human face using circles, squares, and triangles. Getting one new module for my modular, and it changing the entire synthesizer. Finding old tracks that bang in the club – either ones I used to play, or ones that I'd never heard. Digging for vinyl in new spots. Reading about extraterrestrials and Egyptians."
Jimmy Edgar will play Fabric on Friday March 14th 2014 – more information and tickets here.