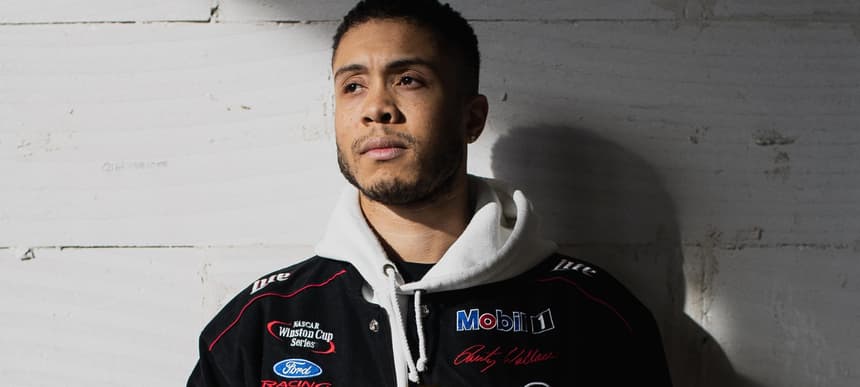 14.03.2019, Words by Nicola Davies
Reset and ready: Jelani Blackman is returning to his early independence
"I've always put a lot of pressure on a release to solve everything. But now I'm just gassed about what I'm putting out next"
Speaking in a Highbury café, the first topic I broach with Jelani Blackman is how he sounds. On record, Jelani's voice is one of the deepest I've heard, and I was curious to hear it in conversation. The answer: definitely low, but not as low as imagined. He speaks a little higher for people to pick up the frequency, he admits.
Notable for this bassy voice (which he remembers dropping during 'Good King Wenceslas' in church aged 12), Jelani doesn't let genres define him: "I make rap and R&B, which is what I always made. It dips its toe into dancey music and soul, and some grimey stuff, but for me I was always a rapper that loved R&B." Having grown up (and still is) listening to Craig David's 'Born To Do It' and Usher's 'Confessions', Jelani can't help but infuse these formative sounds into his music.
Born and raised in Ladbroke Grove, 27-year-old Jelani is proud of his West London roots, but he's adamant that geographical borders aren't everything. Having moved to secondary school in South and then later to North, he experienced the bigger picture: "I saw how big London was, like why do I feel like I only need to stay in one place? If I stayed in West London, I probably would have just made grime and hip-hop and never broadened my musical horizons."
Jelani reached Grade 8 on the saxophone, then studied Music & Philosophy at Leeds University where he met two producers who would change the course of his artistry: Jake Manson and Fred Gibson. With Gibson he made his first EP in 2016, '1-4', and '5-8' followed a year later. "I knew that the first two EPs weren't going to be me, that's why I gave them numbers. They were just songs to me, it wasn't like, 'this is Jelani'." Distancing himself from these releases uncovers a self-awareness and perhaps self-consciousness, that not many artists show.
Jelani has learned a lot with the help of hindsight since then. "In the UK there's a lack of understanding of how you develop as an artist. You should be able to develop in the public domain without having the business impact so early. If you put one song out, and labels jump on you like, 'How are we going to brand this and make money?' You're just like, 'Well this might not definitely be what I want to do'."
Jelani has been signed before, and although this afforded him creative opportunities, the yield didn't match the effort: "I went through a mad time sessioning two years ago, when I was in the studio almost every other day for a whole year. I worked with over 35 producers, and nothing came of it. If you work with 35 different producers, you're going to come out with a lot of fucking different sounds." But even when he felt good about what he was making, external voices interfered: "I was working with someone and I did feel I was getting something, and I was told, 'We don't know if this is good enough.' It pissed me off at the time, but it really does make me angry now that I let someone tell me that."
Luckily, Jelani's philosophical mind can make sense of it all. "Everything happens for a reason, I'm a massive believer of that. I feel like the person I was may not have been able to deal with the things that come with more exposure." He continues: "I've just come back round to making the music I was making when I was 17." Not only has his situation changed, but so has the musical landscape. For some artists, streaming brings new pressures and problems, but Jelani embraces this behavioural shift: "In the era that we're in where things get playlisted and you have to fit things into categories, genres have been diluted. This is my time now, that's why I'm so excited."
After what seems like a big pause, Jelani released his 'Lockjaw' EP at the end of 2018. Eleven minutes of genre-bending and bass-driven tracks, Jelani made it in a personal record of six months, and he gave it a name. It was when he tested out the first track, 'Go Low', in public that he knew he was onto something: "I played it somewhere just to see how it went down, and it went off, and I was like, 'I've been waiting for a song like this to play.' If you're in the audience, it's more of a voyeuristic thing. Whereas with 'Go Low', you're in, you're there, and it's the same with 'Lockjaw'."
'Go Low' boasts Jelani's only feature on his own work – NewAgeMuzik. The track showcases Jelani's extraordinary voice alongside a bouncy beat and eerie melody. Followed by the single 'Lockjaw', we hear a darker edge with lyrics like: "Fuck her so good made it feel like a timelapse." Vulnerability works in Jelani's favour: "I think that self assurance and confidence and happiness in knowing that it feels whole. Now if someone said to me, 'Why does it sound like this?' I'd say, 'Just because it does'."
Having featured on a wide range of artists' work, from the likes of Brian Eno, to Jarreau Vandal, to Abra Cadabra, Jelani's eclectic musical background is now paying dividends. He's feeling wholly positive about the year ahead, with an extensive bank of music to release, he's seemingly able to handle the industry flux which can often be career-ending. "I've always put a lot of pressure on a release to solve everything. But now I'm just gassed about what I'm putting out next. This music exists, it'll do what it does, people are listening to it and do like it, and I know that it's good. It reflects what I want to be saying and what I want to be doing." Saying all of this with a Cheshire Cat smile on his face, you can tell Jelani means every word.
Today sees the release of Jelani's first release of 2019, 'Nobody's Son'. Premiering the video exclusively on Dummy (see below), Jelani directed it himself, fully embracing his refreshed direction. "'Nobody's Son' makes me feel in control in a way that I haven't many times in the music industry… it's the first track I've put out independently and the feeling is so different. There is something about doing the process raw yourself – I saw Flohio say the other day: 'DIY or DIE', and I fully feel that." He has reflected this "stripped-back" vision in the creative direction: "There have been visuals that have got in the way of who I am and the focus wasn't in the right place. I wanted to go back to square one and just let it be about me."
Success for Jelani is the same as it's ever been: "Being able to live well and make music." For someone who has overcome obstacles while distilling his talents and inspirations into a cohesive sound, he's now cracked it. If patience is a virtue, then Jelani deserves a medal.
Watch Jelani's new 'Nobody's Son' video exclusively now: