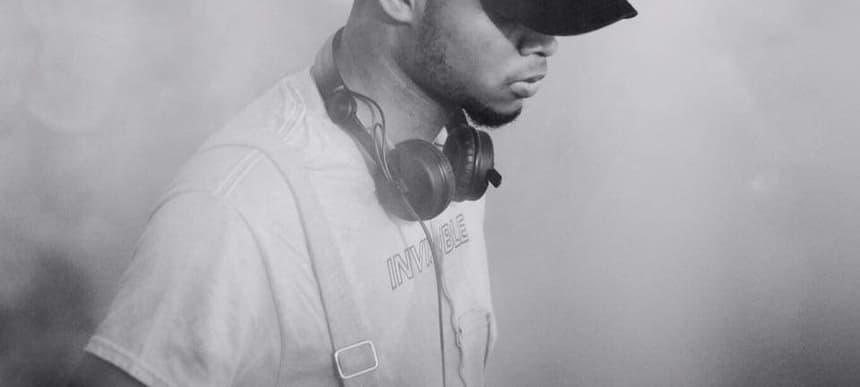 15.05.2019, Words by Nicola Davies
ROMderful is recycling his life experience into musical gold
How a brutally dark period of the Birmingham-born producer's life resulted in the sunshine-soaked 'Press L to Continue'
Back when I trusted SoundCloud to deliver noteworthy new artists, I came across ROMderful, or ROM as he was then known. The track was 'I Just Want You to Know', an edit of Pharrell's vocals on Snoop Dogg's 'Beautiful', and I considered that anyone who can make Pharrell sound even better is worth paying attention to. ROMderful, real name Rommel Donald, steadily built up a following with edits of tracks like 'U Know What's Up', leading to releasing his 'Soulection White Label' playlist in 2016.
Fast forward to 2019, and the Birmingham-born producer has just celebrated his 23rd birthday, and with it the release of his first album, 'Press L to Continue'. A concise eleven-track, 30-minute project, it boasts a woozy R&B sensibility, recalling his SoundCloud days but with a more definitive sound of someone who has converged influences and skills into something fresh.
"We got into a really bad argument, she threw my laptop at the wall and I lost all of my beats from that year and before…"
Between starting the album in 2015 and releasing it now, a bad relationship derailed ROM's progress: "It was the most toxic thing I've ever experienced in my life. It drove me to depression for a year. We got into a really bad argument, she threw my laptop at the wall and I lost all of my beats from that year and before. I had loads of important placements which I can't recover. I had to restart my career basically from square one." What ensued was a dark time: "My parents split up, I had to tour to pay bills, I didn't have a manager for a year and a half… I almost stopped making music entirely."
But there was a happy ending. After meeting a new manager, a new girlfriend, and signing to Sony's joint venture label, Same Plate, the opportunities have been plentiful: "I'm the happiest I've ever been. The album completely changed, my music style completely changed, my mindset completely changed."
The final version of 'Press L to Continue' isn't all sweetness and light, though: "That's one thing I can never get over, that someone would want to intentionally destroy somebody's life like that. I had to let that out on the album, which is why it starts off really happy but gets more dark towards the end."
The saying 'everything happens for a reason' couldn't be more appropriate. The album has been widely acclaimed and prior to its release, ROM met one of his heroes, Musiq Soulchild: "Being able to play him music from my album, have him congratulate me and tell me I'm keeping the soul alive, coming from someone who's been a really heavy influence, that was life-changing."
"He wasn't a dick! We ate crisps, talked about loads of nerdy stuff and love."
Falsifying another well known saying – 'never meet your heroes' – ROM exclaims: "He wasn't a dick! Someone of that status is usually pretty rude but we ate crisps, talked about loads of nerdy stuff and love. Just having that experience because I make some really weird songs in my bedroom by myself." The outcome of this meeting? A track with the man himself dropping soon.
It's not the obvious route for producers to release their own albums, but given ROM's number one inspiration is Pharrell, it's only fitting: "The Neptunes put out 'Present Clones' in 2003 which was entirely produced by them. What if I did original songs with my productions and actual artists, not just remixed vocals from 1994? It's like a compilation album that's cohesive." However, the larger lesson ROM takes from Pharrell is about creative diversification: "I don't think there's an area of the industry where he can't fit in."
This layered creativity is not new to ROM. Having got into guitar through Guitar Hero, as well as picking up many other instruments, he went through a "heavy emo phase" aged 15, playing bass in a death metal band called Rising Struggle. "I felt like that added another weird aspect of my style of guitar and bass playing, and definitely my drum patterns, and I incorporated that into my music."
He also got sucked into the drum 'n' bass era, and absorbed PS1 and PS2 video game music, a passion which holds strong today and inspired the album's title. The artwork showcases this love of gaming, and was created by his friend Milky who studied Photoshop on the job to get it right after a studio cancelled and they had to shoot in ROM's living room.
Using one of his hidden talents, ROM actually sings on four album tracks: "I've heard a few people say, "I love the way Jay Prince sings on the 'Catch Me?' hook" and I'm like, 'Hahaha,' but I don't tell anyone. I know Pharrell did this before he released 'Frontin'. His vocals were on most of his productions but people wouldn't know." On listening, you can hear Pharrell's influence all over. It seems in whichever direction ROM goes, all paths lead back to Skateboard P.
ROM generally prefers working alone but when he collaborates with artists, there is no set formula: "Sometimes I'll have a vocal melody in my head and make a beat over it. I usually end up singing the hook or telling someone I want it to sound like this. There have been times when I've had vocals first and made the beat over that, like 'Kiss and Tell' and 'You Love Em'." Even with this fluidity, ROM knows where to draw the line: "A Migos flow over one of my beats probably won't sound great, but I'm never going to force my opinion on you because music is supposed to be free."
ROM doesn't box himself in, working with artists from multiple scenes, like K-pop artist DEAN and Canadian singer TOBi. His self-awareness has found him working in LA often, knowing that the UK market isn't as naturally suited to his sound. An artist in a similar position is Shakka, which from an initial Twitter exchange came the catchy, summer vibe 'Run Tings'. "That was one track that I didn't lose from my first version of the album. I sent him seven or eight beats, and he picked that one… He added some production to it, so that's why it's a 'ROM & Shakka' track. The songwriting effort was a joint as well, so it was really 50/50." The pair then added Dounia to the mix, and the trio have just wrapped filming ROM's first ever video, which he describes as "showing all of our individual personalities."
ROMderful is on version 2.0. He's already working on his second project, and two others with childhood friend KayFaraway, and Emmavie, as well as developing a live show which he'll tour from August in Asia: "Most people know me as a DJ but I want to come out with five instruments and drum pads." With a sponge-like mind and his effervescent and unabashed personality, ROMderful has what it takes to keep levelling up. Now he just has to meet Pharrell.
Watch ROMderful's 'Let's Get High' video exclusively here:
ROMderful's 'Press L To Continue' is out now – stream it here.