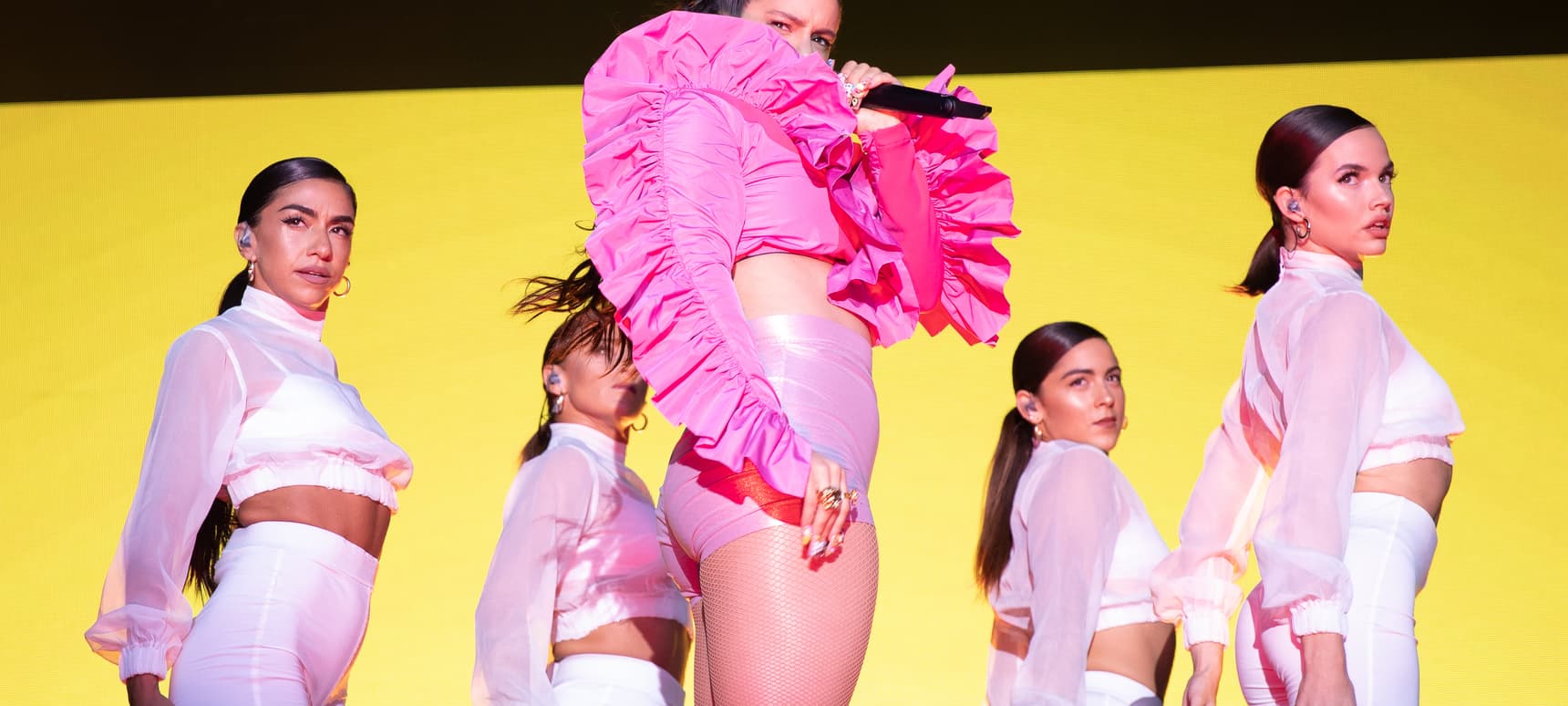 17.07.2019, Words by Felicity Martin
Rosalía brought London to pin-drop silence at her Somerset House show
The Catalan pop icon proved that she's destined for megastardom...
When Rosalía was 16, she tells the crowd at Somerset House, she came to London to study English. While the actual studying part didn't go so well, she spent lots of time in the West End watching musicals like the Lion King. Tonight she's a stone's throw away from the string of theatres she used to hit up on the Strand, hushing a sold-out courtyard to pin-drop silence.
The audience doesn't stay quiet throughout, though: screams of "Reina!" (Queen) come from the heavily Spanish-speaking crowd as Rosalía Vila Tobella, clad in a modern take on flamenco ruffles with cycling shorts, assumes her position on stage.
The Catalan singer has quickly become a global pop icon: 2018 breakthrough album 'El Mal Querer' won the hearts of critics and fans worldwide, while J Balvin collaboration 'Con Altura' currently approaches 550 million Youtube views. Then there's the two Latin Grammys under her belt.
Having cut her teeth in Catalonia's celebrated flamenco community (she studied with a local teacher for eight years), Rosalía puts an 21st century spin on the art form, her performance style theatrical with combative moves and facial dramatics. Flanked by six hyper-mobile niñas, frequent collaborator El Guincho also joins her on stage, drumming live accompaniment to her cuts.
Rosalía's sound and visuals have long expressed elements of Spanish and Catalan iconography, as well as exploring what it means to be a young female in that society. She's updated flamenco's folkloric sound with elements of trap, hip-hop and hyper-futuristic club music, but her voice is always the centrepiece: like a matador's lance, her stop-your-heart vocal pierces into the rapidly darkening sky.
Her voice is processed almost like a Catalan Imogen Heap on tracks like 'De Aquí No Sales', while she quits the autotune and instrumental backing for fiery closer 'Milionària', which she performs completely acapella, flamenco handclapping (palmas) courtesy of the audience.
Though she moves with power and ferocity, Rosalía is equally humble. Before her exit, she repeats: "Thank you so much!", through tears, and at one point she gifts a fan – to a fan – who she noticed was singing all the words.
As the crowd chants "¡Otra, otra, otra!" before her encore, it's fair to say that in the UK, we're fairly spoilt for being able to understand what artists are saying. But Rosalía has the unique skill of transcending language while communicating a unique culture – positioning her as the pop megastar the world needs in 2019.
Check out the rest of the Somerset House Summer Series line-ups here.