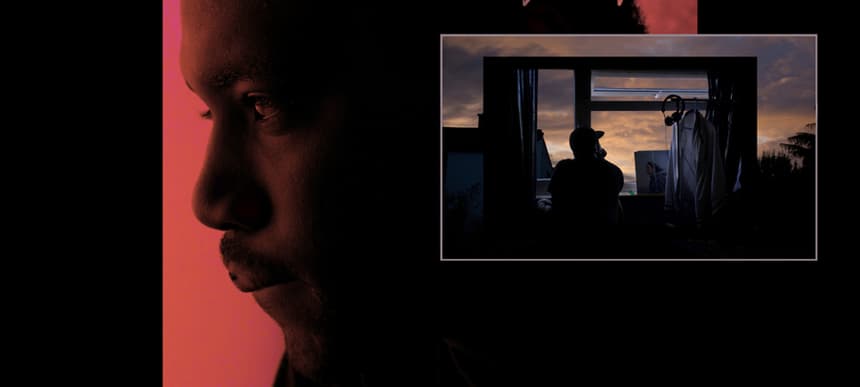 30.07.2013, Words by Aimee Cliff
Album of the Week: Sampha - 'Dual' EP
Sampha's a popular guy, if the BlackBerry alerts that pepper Demons – the opening track to his debut solo record 'Dual' – are anything to go by. On that evidence alone, you could deduce that he's such an in-demand producer and singer that he can't sit down to his piano for a peaceful fifty seconds without being buzzed up. It's true that the very fabric of this EP, in its snatches of brilliance, its hurried sketches and its touching moments of transparency, is the work of a man split between projects and searching for himself.
'Dual' is a fraught and frustratingly short listening experience. Six tracks – two of which are less than a minute long – touch on such a small collection of themes, and in such a cohesively stylistic way, that the record feels like it barely scratches the surface of what it's capable of saying. Yet what it does say is presented in an alarmingly individual style for a debut EP. Not that this is surprising coming from Sampha: a vocalist, pianist and production wizard who has been lending his magic touch to tracks with SBTRKT and Jessie Ware for years now (and more recently Drake), and has never failed to raise smiles or neck-hairs in the Dummy office. This is a debut EP that's been a long time coming, and in its weary voice and breezy production style, its confidence and wisdom is plain to hear.
Sampha – Without
In the aforementioned Demons, a picture of a snatched moment alone and a plea to be left in peace is painted, as Sampha (full name Sampha Sisay) sings "take all these feelings and go" (or what might be "take all these demons and go"). In the second track, Beneath The Tree, he expands on this emotional theme with the refrain "there's a monster inside of here…I wish it would take all its things and go", sung over jangling keys, ominous pulses of bass and hissing maracas. Suspicion of others and their encroachment on the singer's own feelings hangs heavy on the EP. Meanwhile, the musical theme of the opening track is also picked up on in the later interlude Hesitant Oath, which has the same rough, sketchy quality to its recording, presenting a snapshot of creative outburst squeezed between longer works.
Indecision is one of the EP's finest moments, despite having been "out" on the internet for two years now. Floating into being on a powerful bed of piano chords and distorted backing vocals, Sisay's voice is at its most moving here, where its rough-hewn intensity stands out starkly against a backdrop of precision and robotic, pre-programmed emotion. Likewise, on Without, Sisay comes into his own production-wise, building a clatteringly percussive track, which serves only to highlight the power of his voice even more: a pure element that anchors and drives the song despite its chaotic, scattered nature.
Searching for that anchor, for a moment of peace among chaos, seems to be the thread that holds 'Dual' together, and that's what makes it – despite its brevity and its occasional feeling of incompleteness – such a powerful release. It's incredibly fitting that the opening track features the sound of opportunity in the form of BlackBerry alerts bleeping softly in the background, casting their shadow over Sisay's creative process, because this touch gives voice to a feeling that hangs over the rest of the record. It's the feeling of immense expectation placed on an artist who we feel we know so well but who, truly, we barely know yet; the feeling of walking a delicate line between being blessed and being pressured; the feeling of striving for individuality when so many voices want to speak through you and with you. On 'Dual', Sisay rises above the noise to establish a strong and singular voice, and leaves his listeners wanting much more of the same.
9/10
Young Turks released 'Dual' on the 29th July.