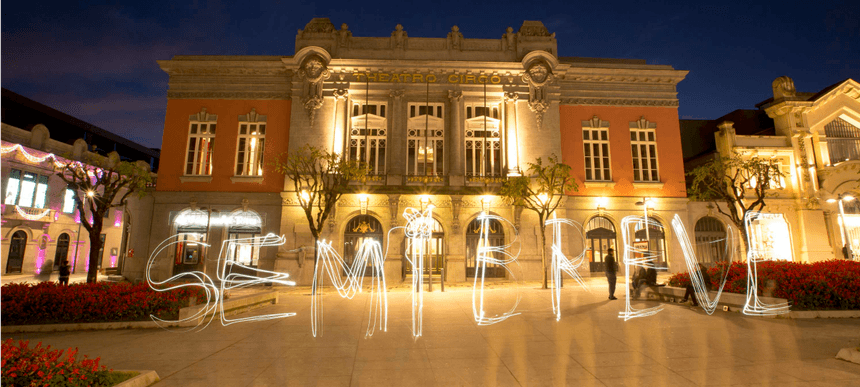 25.11.2013, Words by Aimee Cliff
Semibreve festival report
The programme for the third Semibreve festival of "exploratory music and digital arts" seemed destined to lure the British to Braga. The core of the bill, drawn from the dark side of UK electronica, was formed of Raime, Helm, Forest Swords and Haxan Cloak, repping stand-out labels Blackest Ever Black, PAN and Triangle. Arriving in the city centre under impossibly blue skies, preconceptions built on previous visits to Portugal and media stories about the state of the country's economy immediately begin corroding. This peaceful municipal seat, sleepily dominated by myriad churches, appears to be populated solely by the wealthy. There is remarkable historical breadth to Braga's rich architectural landscape, and these buildings stand proud, some marginally eroded, some significantly worn, but unusually free of graffiti. The impressive, century-old Teatro de Circo – venue for almost all of Semibreve's events – was restored diligently a few years ago, its performance spaces fitted with sound systems and digital screens designed to make arts fans squeal with glee.
Performance art in an array of forms is the lifeblood of the Semibreve concert series and art exhibit. This year the curators blended the collection of mostly bearded, young, white male musicians together with local students' digital art works, and the audiovisual art performance works of another Brit, Janek Schaefer. His 'Love Song', the central installation of the festival, stood at a peculiar angle to the booming sounds created in the venues beneath. Schaefer, having been inspired whilst on honeymoon, recorded an array of female family members repeating the word "love" in different tones, arranged, looped and then emitted through headphones hung from a bunch of giant heart-shaped helium balloons, which spectators were invited to listen to. It struck me as a private party-piece exposed for a crowd to fawn over, and perhaps that was his intent.
The festival opener 'Vinyl Requiem Resurrection', by the musician Philip Jeck and visual artist collaborator Lol Sargent, presented a testament to their 1993 "Vinyl Requiem" performance, wherein Jeck, aided by three technicians, played a giant wall of sound composed of 180 dansette players simultaneously under Sargent's visuals, beamed through 35mm slide carousels and 16mm film projectors. This piece, at the time a swan song to the unpredictably resilient vinyl medium, was recorded on Betamax, the sound on DAT tapes. The recordings – recently edited down to the 45' digital film version – were broadcast on the vast, crystalline HD screen for us to observe, with Jeck occasionally dueting live on turntables with his 20 years younger self. The musical dialogue was hard to discern, but Jeck's presence gave a personal focus to the performance, which didn't stray away from its function as a memorial to a requiem to a mode of listening that has since begun to resurrect itself.
The Haxan Cloak
The first act to come close to testing the technical capabilities of the ornate main theatre space's sound system were Raime. Joe Andrews and Tom Halstead slowly commandeered the souls of their audience through their ponderous, blooming industrial compositions. Raime's grand, romantic visuals instigated further dissolution of the bounds of reality. These snapped back into place sharply enough as the audience flowed out into the Braga night to scope out its after-party potential; Semibreve's musical performances hold sway over evenings alone, so much time remains for wandering Braga's sculpture-bedecked, undulating avenues and warrens of side-streets. The affordability of drinks in Braga is a huge bonus, and each bar held its own vagaries of charm even if none quite proffered the needed sugary hit of adrenaline a jumping club venue might have.
Saturday night held the allure of the Haxan Cloak and Forest Swords, removed from the industrial club circuit and swept into the opulence of Teatro Circo. The glossy, demographically diverse crowd filled the ground floor, swarming politely amongst the red velvet furnishings under glinting chandeliers. Having been slowly mesmerised by the Haxan Cloak's 'Excavation' during repeated listens privately I wasn't entirely sure what a public show would evoke. Turns out it was to be the highlight of the weekend, the room exponentially reinforcing each tragic beat, note and delay, and every profound effect, loop, skitter and thud. Any perceived menace from the recorded music shed, and sheer power reigned. The cavernous, grand ballroom bled of all luminescence bar the spotlight shrouding Bobby Krlic, creator of this all-encompassing black hole we were drawn ever further into.
Forest Swords' glittering, mineral realm occupied the other side of the vacuum. Matthew Barnes, accompanied by his barefoot bassist, breathed colour back into our world. As giant ghostly figures tripped behind the pair on screen, they brought cuts from first 'Dagger Paths' then the magnificent 'Engravings' swirling into the auditorium. The earthiness of this music, its evocations of lived experiences as instilled in digital form and played back oozing with a very human warmth, felt a little odd at first, a reminder of how much until now this feeling had been missing. Barnes's compositions prove even more ephemeral live. Their fragility is underscored by manual reinterpretation even via so much technology. Forest Swords' set was palpably the biggest crowd-pleaser of Semibreve, perhaps indicating that even those lured to experimental arts concerts long for music in song form more than they might care to admit.
Forest Swords
The following evening, a little withered, after further exploration of the city and continued over-indulgence in its affordable restaurants, we sank our slightly plumper bottoms into the equally portly seats for the final time. ATOM and Sculpture were to close the festival. The former showed us just how serious he is as an artist through occasionally misguided attempts at appearing droll. Some of ATOM's points, such as his railing against commodified pop music, were agreeable and the pounding bass lines almost enticed movement, but it all felt rather empty – my stand-out impression being of what a keen sense of personal branding he has.
Sculpture, meanwhile, promptly burst the residual cloud of self-importance with a lush, organic sample. Their techno-inflected music is founded on physically manipulated loops of tape, and these artefacts hung glistening on a rail by the stage till the audio half of the duo, Dan Hayhurst, yanked them into the live compositions. Cuts from pieces across multiple decades were locked in via an array of machines and software, whilst Reuben Sutherland conjured animated visuals by spinning self-created picture disks on a turntable. The show, more installation than gig, occasionally flirted with kitsch, yet the earnestness compounded by Hayhurst's intermittent bouncing spates restored vitality to the space.
Semibreve is a festival like no other, and the curators who annually will this spectacle into existence should be lauded for their mostly forward-thinking programming and hitch-free organisation. This celebration of men – no women at all on this bill – who craft their musical artistic wares on machines could perhaps benefit from one venue which allows free movement in future, though the experience of the 2013 event was, on the whole, a wonderful thing.
Semibreve festival took place from 15th – 17th November 2013.