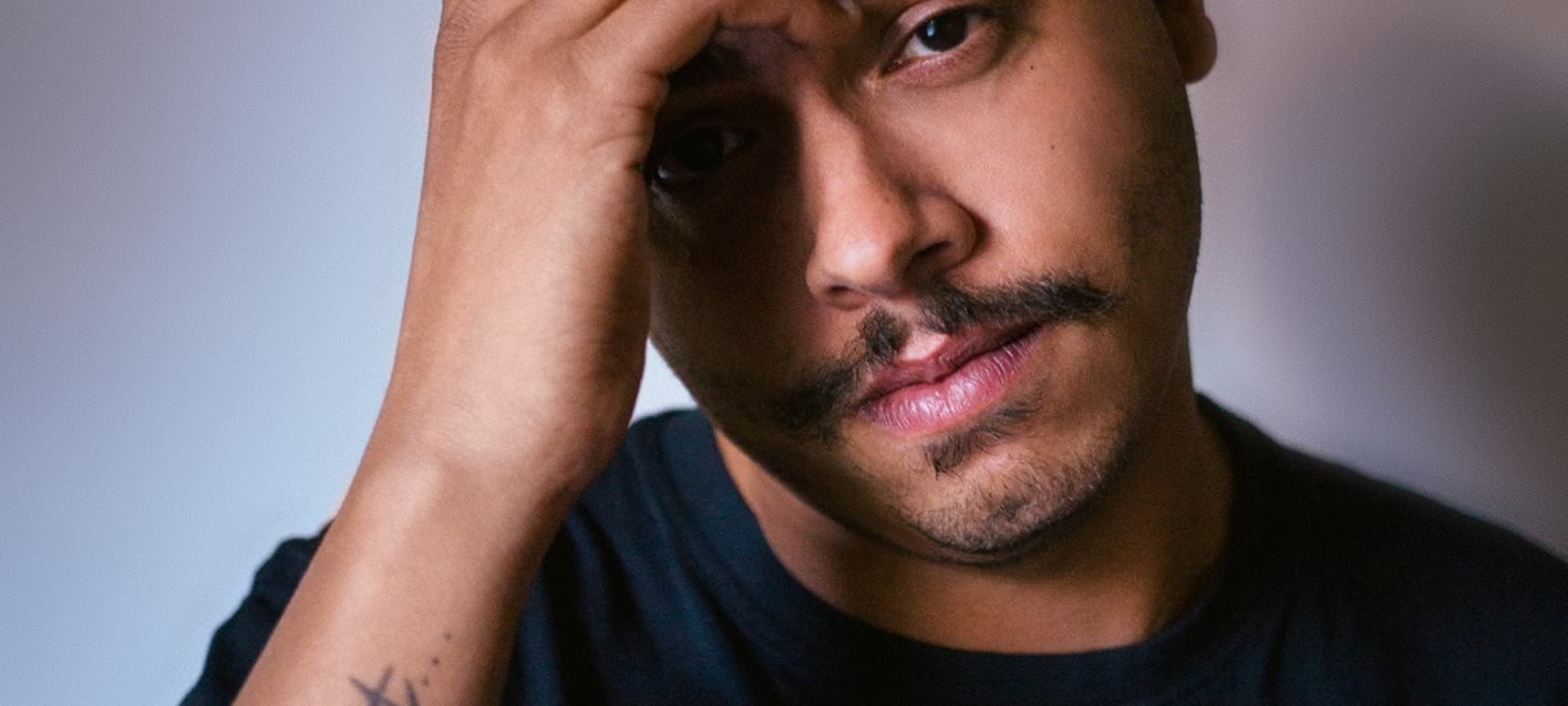 08.10.2015, Words by Natalie /
Seth Troxler: "Seth, you're like a 35 year old black divorcee."
The first thing I saw when I walked onto the sleepy street that Seth Troxler currently calls home in London was a multi-coloured house. Some windows were blue, some zesty orange, some green and others red. The bay window was pink and the gate was blue. From what I'd previously seen and heard about Seth, most notably when he calls the sound emitting from Tomorrowland's main stage "sonic ear rape", I knew he wasn't a staid DJ. His revered 'cowboy antics' have giving him a cred on the circuit for having a larger-than-life personality – but was he playing it out IRL by staying in a house that looked like the inside of a crazy Bag Lady's purse? I wasn't so sure he'd go that far but the stupid streak in me wished it was his wily way to piss the neighbours off – to the point I went and knocked on the door – only to find out I wasn't anywhere near where Seth was.
After a slight re-route, I found where Seth was lodged up and to my surprise, it was the exact opposite: modest, minimal, and almost like a family home. As he mentions in his interview, he isn't known as 'Old Man Troxler' to his friends for nothing. He wears flannel shirts and is starting to find weekends just as painful as the rest of us, only Seth is probably sat on a plane by Sunday morning, three DJ sets ticked off his weekend itinerary, drinking a glass of slightly chilled OJ. Age related mishaps aside, we settle into Seth's sofa, right beneath a slightly less modest neon-lit 'Fuck It' sign and restored Warhol, which took pride and place above the fireplace. The subject was his forthcoming contribution to !K7's revered DJ Kicks series, and gathering it's already a household name in the dance music community, we came to a subconscious mutual agreement that we would digger a little deeper, avoiding the pitfalls of an interview that resembled a packet of Salt n Shake without the salt sachet.
Seth's contribution is something different. Kicking off with a folk-tinged ballad from close friend and future Soft Touch signing Niki Nakazawa, his DJ Kicks mix maybe isn't what you expect. It isn't wall to wall bangers or b2b chuggers, nor is it a bunch of hyped up and hollow sounds of 'right this second'. As he explains in the interview, his selection isn't necessarily "all what people like right now". DJ Kicks may well be one of the world's most prestigious mix series with all eyes and ears engaged, but recording it in the living room micro-dosed after running a few errands, Seth made it work for him.
Seth calls his DJ Kicks mix "a gay man called Rodney, or a big black woman named Birtha". The kind of characters Seth tells me I would find in an episode of '70s Detroit public access television show The Scene: unbelievably fun and sassy people that dance on podiums all night long and live for the moment. Embodying this within the mix, it's not designed for meticulous 'edge-to-edge' listening. It's a mix for 'doing stuff' to; driving home in the car or riding the tube at 6pm on a Friday evening, building up for the night ahead and maybe stopping at the shop for a bottle of something-something, then getting ready and trying not to choke on your hairspray. Obsessive track ID'ing not permitted, Seth made the mix with people who actually go to clubs in mind; not people who sit at home, a poster of Lara Croft next to their desktop computer, hanging on message boards asking for track names with x20 question marks after it at quarter past midnight, stonk on when they find out it's a rare MAW edit. Put that mouse down, and get your fucking arse down to the club.
Less from me and more from Seth, as he explains it all with a bit more pizzaz. His love for baked peaches and vanilla ice-cream, how he has the air of black divorcee, why his friends call him 'Old Man Troxler', and something we could both relate to – age pain.
I left my interview with Seth wanting to be his friend and I reckon after reading this, you probably will too.
How's it going Seth? How's your summer been?
Seth: "Pretty cool. I just got back from a festival, chilling."
Seth takes some time out to admire my do-it-yourself bleach splattered sweater, saying he might copy the technique himself.
Seth: "Really cool though, I've just been grinding. I just got back from Burning Man a couple of days ago. It's always funny when people talk about how have you been, because I guess at some point playing festivals and raves just got so normal to me."
Does it ever make you ill, being constantly at it?
Seth: "I don't get sick often…somehow. It does mess with my body quite a bit though. I get some weird thing with my legs just from sitting and travelling so much. I'm about to turn 30 so entering this period of physical age pain and the weekends are not as easy to bounce back from. Before I used to be able to go out all weekend, pop down for couple of hours then go out again on Sunday – but now I've really got to make an effort. It's like going to a friends wedding when you're a bit older. "Ok, here we go!" Wind up the bell, let's get the gears going. I used to make fun of people like that but now I just wanna sit on my couch."
You grew up in Detroit and have a London base. Have you moved around a lot?
Seth: "Not really, I grew up in a city called Kalamazoo, Michigan and when I was 13 we moved to a suburb of Detroit. I stayed there until I was 21 and then moved to Berlin before coming over to spend some time in London for a while. I travel constantly but as far as calling a place home, it has always been a handful of places."
What was clubbing like growing up?
Seth: "It was amazing, I was so fortunate to have my formative clubbing experiences in Detroit. I was in my freshman year of high school when I went to my first rave, so around 13 or 14 years old. We took ecstasy after Homecoming and our friend drove us to Detroit to a rave with Frankie Bones and Adam X playing. I've been to a rave almost every weekend since. Not long after I begged my parents for turntables for Christmas. My dad is a DJ so they let me get into it and I played music really loud all of the time."
So DJ Kicks – I guess after putting your own music out and DJing for so long, it's one of the most prestigious mix series to be involved with. How does it feel to be part of it?
Seth: "After Bestival we came out in Portsmouth and all I wanted was a McDonalds breakfast. On the way out I saw a pound shop and we were going to the Social Festival to see Nic Fanciulli so thought we would get him a gift. I always find it funny to get your friend a shitty pound shop gift. We found all these old house mix CDs in there, including Carl Craig's DJ Kicks from '99 or something like that. The reason I'm bringing it up is because I remember listening to those mixes when I was younger. What's funny with the Carl Craig one though is none of the tracks are really mixed, in the way people perceive a 'mix' today. He does fast cuts and there's no points where the two tracks blend. I found it interesting because it's a classic mix and really reflective of his musical taste and style – and at that point he wasn't really a DJ – he was just known as a producer. Myself and my tour manager Alex were like, "this mix is sick" but at the same time it wasn't 'mixed'. Today kids put so much effort in sitting at a computer. They don't go to clubs, they go on message boards and critique dance music. I had one of the better listening experiences of recent times just listening to this compilation of stuff where Carl Craig was just dropping in tracks, maybe there's like four bars of mixing but then it switches again. I mixed my DJ Kicks live and there's a couple of times where I push the record, because I'm actually doing it on turntables. There's probably some kids on the Internet who are gonna wonder if it's good enough or if it represents the DJ Kicks mixes, which are now often made by DJs on their computer and totally 'perfect'. I just went on a tangent examining old DJ culture and DJ Kicks as a series but to me a mix is a presentation of tracks. It's nice to have a little surprise now and again…whoop there it is."
"Today kids put so much effort in sitting at a computer. They don't go to clubs, they go on message boards and critique dance music." – Seth Troxler
I agree though, music is getting so polished and sometimes you just want a bit of 'graininess'.
Seth: "The polishing of music is my whole point. It takes out that human, rebel feel. I remember back in the day, going out was rebellious. I wanted to make a mix for people who go out and listen to dance music at clubs. I'm looking forward to seeing how people react to the mix, because it's not at all what people like right now. Have you listened to the mix?"
I haven't had an edge-to-edge listen but have dipped in and out so far. I love the K-Alexi track and the somewhat ambient, soft start. It's definitely a mix that takes you on a journey.
Seth: "It's kind of good you didn't have that 'edge-to-edge' listen because that's not what I intended. I wanted people to put it on and do some shit around the house, listen in the car, or whilst getting ready to go out and feeling like, "Fuck I'm in the vibe!" It's Friday, you're walking through London or on the tube…you're doing stuff whilst listening to this mix."
I liked in the blurb where you said the mix would be a black man called Rodney or a black woman named Birtha. I was trying to work out, what is Bertha like?
Seth: "She's a sassy black lady. My friends used to always make fun of me and say, "Seth, you're like a 35 year old black divorcee." I was kind of thinking of that quote specifically when I was describing of the mix. Birtha is wearing big gold earrings, and she is going OUT."
I was imagining on the old dance show from the '80s but I can't remember the name of it…
Seth: "Soul Train. There's one from Detroit called The Scene. The Scene is the one. It was a Detroit only public access show in the '70s and early '80s. You can definitely find both Bertha and Rodney's characters there."
And I also read in the blurb that you tried to be honest and normal in the recording of it?
Seth: "I literally recorded it in my dining room. I woke up in the morning, went around London and did a bunch of errands. I went and bought some art actually, had a bunch of meetings as well. My roommates were away and I very seldom have complete solitude with nobody around me – I always have a friend or somebody works with me or groups of people doing stuff – but the day of recording it was just me. I came home, was like "OK, let's do this." I put on my nightshirt and bought the turntables from downstairs to set them up in the dining room, against the window. I stood there and just did it in one take. I tried a couple of things first and changed a couple things last minute. When I mix, I really feed off people in a club, in the vibe of that situation so for a mix to be really good or tight you have to feel the vibe. If you're not in the vibe, then how can you make the vibe? That sounds very jazz [slips into jazzy voice]: "If you're not in the vibe, then how can you make the vibe? You know what I'm sayin?" It's true, a few times I've tried to record a mix in an empty club and it didn't feel right. At the end I did it right there at that table. I created the vibe and got in the mood for the day ahead. I went to the pound shop on Kingsland Road beforehand too. I once bought my friend a photo of a dog there. There's some good ones around here."
[Slips into jazzy voice]: "If you're not in the vibe, then how can you make the vibe? You know what I'm sayin?" – Seth Troxler
What about your eclectic taste as well – what's the biggest thing in your life outside of dance music?
Seth: "Food and art. If you look around here, I've amassed so much art. That's an original Warhol and that's an original Keith Haring. This one is part of this series called Ladies and Gentleman, and it's a transgender person actually, really legendary. You see the edges? How it's really dirty? The whole thing used to be like that, so I got it really cheap on an Internet auction and had it restored."
You run Smokey Tails right?
Seth: "Yeah we've been trying to do that forever – failing, figuring it out, you know, but now we're in a really good place. We're constructing the business and brought in some people who actually know what they're doing. It's funny, because my whole life I've just renegaded things. "Oh whatever, I'm just gonna do it" – bosh, and it works. That attitude has taught me that it can work that way but also if you don't know what you're doing maybe sometimes it's better to step back and find some people who are really good at it, especially when you're trying to roll out larger projects. I wanna do bigger things. It started in Hackney Wick but since then we've been trying to move into a restaurant location. We're really good at being renegades and bringing it go a festival or just doing a pop up because there's not a lot of rules and laws around that, but when you try to move to permanent locations sometimes there's a lot of red tape. I'm a creative so I have the ideas. I had this big epiphany and think now that everything is about idea. The product is also important and the execution, but that's in the idea too. Everything in this room, everything in life, was an idea. Somebody took it from idea space and put it into the physical world, and that's the eureka! How do you take it from here to be real? Then you can start to play with that and you can do some really crazy things, come up with some really out there ideologies, but they're as real as anything else because they're happening. What is reality? It's all this lucid concept of ideas that people create. So it's weird, you can really accomplish a lot of things if you understand that's all it is. "Oh I've got an idea – let's make it". It's just training your mind to come up with ideas, constantly, percolating.
You have to come to this point, how real or not it may be, you're still living it therefore it is real. Even if it's a crazy lucid dream, digital recreation or hologram – you're still in this realm, so no matter what, you've just gotta get on with it. But if it isn't real, and it is just a projection, that makes it even more fun for our mind to get really out there and create some crazy stuff. Just say it's a hologram and I can really mold that hologram. Everyone's perception of life is different, this is the craziest thing. Even how people see colour. My friend Alex was there the other day and that thing came up about that dress – is it gold and white or blue? I was sure it was white and gold, and he says it's blue."
I see it as blue.
Seth: "It's like bright white to me. [Laughs] I can see there's maybe a shadowy blue or light blue but for him it was dark blue. It's fucking white man."
It makes me feel sick but it's kind of cool at the same time.
Seth: "It's amazing. It just goes deeper into that idea of what's real and what's perceived."
Back to the barbecue…do you have a BBQ dad outfit?
Seth: "I think I generally dress like a dad. My friends call me 'Old Man Troxler'. You'll see me in a flannel shirt. We had a barbecue last night, it was so sick. I've got this new thing where I'm cooking all my meat directly on the coals, so you don't use the grill, you just throw it directly on. It chars the outside and comes out perfect. We did it with cauliflower and made baked peaches too. You put them in tinfoil and throw them on the coals, let 'em melt. Afterwards you take them out with some ice cream…mmmm. Baked fruit, any time you got a grill or barbecue going just throw a couple of pieces of fruit in foil on there. Every now and again put a stick in there to move them around then at the end you pull them out and you've got this perfect dessert, like super baked apple, pear, whatever. It just falls apart. You can add extras in there too: a little alcohol, cinnamon or sugar inside the package and throw it on the fire. It's a cool party trick. Trust me – BOOM!"
"I think I generally dress like a dad. My friends call me 'Old Man Troxler'." – Seth Troxler
Are you a ribs or a wing guy? Or is it just full on steak on your plate?
Seth: "I like wings and ribs more than anything. I'm trying to get off having red meat as much."
We get a call to wrap things up and slowly rein our tangents in.
If you were on death row, what would your crime be and what would your last meal be?
Seth: "I often do often fantasise about murdering politicians, the world could use a really good vigilante killer. Can we just get rid of ten people, then maybe some other people would get the hint? The world would be a much better place. Most of them are Republicans and American politicians but they're evil people who really bring the world down. The world is in a period of stress right now and the tension is crazy. I think that would be my crime, or political exile, some shit like that. Last meal would be…[Seth ponders] baked peach with vanilla ice cream and pumpkin sauce! I would probably add some other food too but baked peach would definitely be the finale. Let's do this!"
Seth Troxler: DJ Kicks is out on October 16th (pre-order).