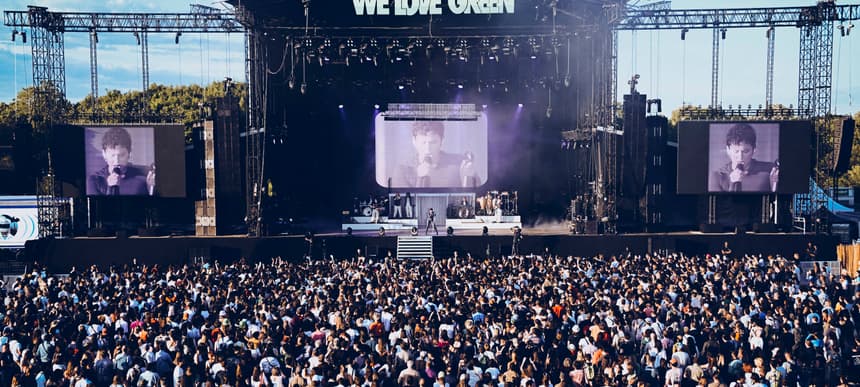 31.05.2023, Words by Ben Jolley
Seven things to look forward to at We Love Green 2023
The French festival returns this weekend...
DMY is heading to Paris this weekend for the return of one of the world's leading sustainable festivals, We Love Green. As well as shows from the biggest names in music, there will be art installations, live comedy, talks and debates at Bois de Vincennes.
Here, Ben Jolley picks 7 things to look forward to at this year's edition, which takes place from Friday 2 to Sunday June 4.
1. Live shows from the world's biggest artists
Thanks to a plethora of headline-worthy international names - Caroline Polachek, Pusha T, Bon Iver and Yung Lean are all set to perform on the festival's biggest stages - WLG's organisers have certainly made sure there's something for every music fan.
2. Dancing the night away
With many of Europe's biggest DJs booked to play across the weekend, get ready to groove to genre-spanning sets from top selectors including Eliza Rose, Jayda G, Honey Dijon and Channel Tres. House heads unite.
3. Exploring a range of genres
The WLG team have always booked artists across virtually every genre, and from all corners of the globe. This year is no different, as there'll be futuristic rap, lyrical pop, sensual house, psychedelic rock and electro-folk.
4. Celebrating Ed Banger's 20th birthday
To celebrate its 20th anniversary, Pedro Winter and the Ed Banger label will be hosting the Playground's 'Block Party' with old friends and the hottest collectives of the moment.
5. Listening to talks on a range of topics
As ever the Think Tank stage will host stories, rants and big names including adventurers, activists, passionate intellectuals and experienced speakers. From climate change to going green, rest assured there will be plenty to think about.
After comedian Fary had his premiere at the festival and his band had carte blanche last year to import an American-style Comedy Club in the heart of the Bois de Vincennes, a stand-up programme mixing headliners and young spirits has been planned for the 2023 edition.
"What are my resources, what can I produce?" Those were just two of the questions that the WLG team asked architectural collectives to rethink when coming up with the festival's major structures, which this year included installations created by students at the Ecole des Beaux Arts and the Ecole des Arts Décoratifs.
Find out more about We Love Green 2023 and buy tickets HERE.