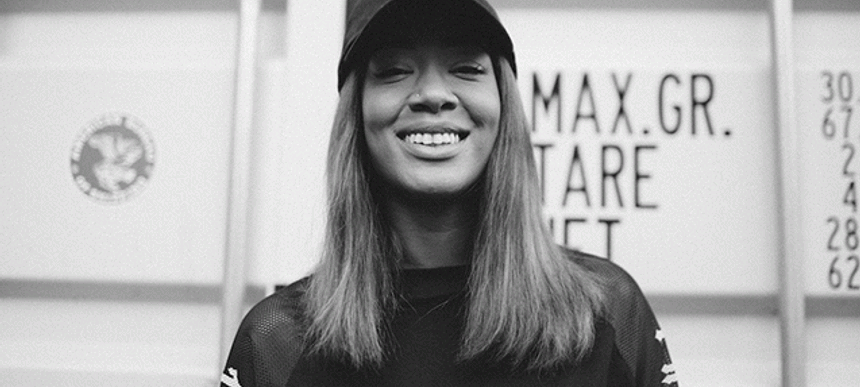 30.05.2017, Words by dummymag
Doing It For The (Grime) Kids
Now, radio DJs are known to be chatty. But Sian Anderson can really talk.
Prompted by a simple question – "what is Floor Sixx, and how did it come about?" – she's off and, presumably were it not for the fact she was due in the Radio 1Xtra studio for her weekly Wednesday night show, could carry on chatting for hours.
It's arguably this unbridled passion for music (grime in particular) and the industry that chugs around it, that's got her to where she is today. She's 26 years old and, as well as holding down her regular 1Xtra slot, contributes columns to outlets including The Fader and Noisey, runs a PR and marketing consultancy and, as of this year, a self-described "music hub" called Floor Sixx. Oh, and she's also mum to the painfully cute Elijah – but more on him later.
The story behind Floor Sixx starts with One True Calling – a mentorship programme launched by Anderson and fellow DJ Julie Adenuga, with whom she began her own radio career back in 2010 on Rinse FM. "One True Calling was all about the fact that people tell you to just do one thing – 'don't be a Jack of all trades and a master of none' – but actually that's not how Julie and I have lived our lives," she explains.
"I feel like we're in a generation of people who, because they've got the Internet and everything available at the click of a finger, they forget to master one thing before they move on to the next"
It's about mastering a craft. "I feel like we're in a generation of people who, because they've got the Internet and everything available at the click of a finger, they forget to master one thing before they move on to the next," she says. While her own CV attests to her skills across multiple trades – just as Adenuga's does – she emphasises that for both her and Julie the attitude that has always underpinned this is one of "becoming the best you can be at any one thing before trying to do something else."
One True Calling offered 46 young people from all over the UK experience of a number of roles in the creative industries over the course of an eight-week mentoring programme. As with anything like this, however, it wasn't long until the issue of funding presented itself.
Anderson says they received plenty of offers from various brands wanting to tap into the elusive 'millennial' market she and Adenuga had effectively captured, but sharing information on their mentees (as these investors requested) wasn't something the pair were willing to do. So they funded it themselves (with a little help from Nando's on the food front and Ace Hotel on the location).
But with no way of making money from the initiative directly, without giving up on their ideals at least, and with Adenuga's new role at Beats 1 and Anderson's time increasingly being taken up by 1Xtra shows, the prospect of jumping through the hoops needed to register the project as a charity and seek funding that way became less of a possibility. Instead, Anderson thought, "there must be a way for us to make money from music to plug back into the next generation of Sians and Julies."
Making money from music? In 2017? Surely she's not serious? It's not as if the world hasn't been ringing in the demise of the self-sustaining musician for the past ten years.
"You know it's crazy," she says, tucking a laugh under her snapback cap, "people always say these things to us, and we're like 'that's not our lives.' There is money to be made from it. People are charting and buying houses from music money – why is no one plugging that back into the next generation of artists?"
"There is money to be made (from the music industry). People are charting and buying houses from music money – why is no one plugging that back into the next generation of artists?"
For Anderson this is particularly personal, for two reasons.
Firstly, and she comes back to this as an example throughout our discussion, there's Live Magazine. The magazine was part of a social enterprise for young people, and was where Anderson first cut her teeth as a journalist at the age of 15 – an experience that subsequently led her to PR and A&R roles in the industry and, she says, ultimately to where she is today.
"If we didn't have Live Magazine, we wouldn't be where we are today," says Anderson. "But we did." Live Magazine shut down last year.
Secondly, she says candidly, giving birth to her son changed everything. Not in a 'no more lie-ins' way (Anderson doesn't' seem the type to take a lie-in anyway), but in the sense that it gave her a whole new perspective on the importance of building something for the future – for his future.
Floor Sixx is, in many ways, the organisational version of the Jack of all trades. Anderson calls it a hub, somewhere that people can go to listen to and discover great music from across the UK's (for want of a better term) urban music landscape. In reality, it's quite a few things.
It's a label that puts out a new track each month; this year has seen tunes from the likes of Jammz and Capo Lee, although it seems the 'one a month' serving has slipped already. The idea is that by the end of the year, there'll be enough material to put out a full album's worth. It's a pretty smart move in a scene that's previously suffered from opportunistic genre compilations that are rushed out onto little or no foundations. This year's grime album will be followed by an afrobeats comp curated by P Montana. A drill album with Kenny Allstar at the helm was due, but Allstar has since decided to put it out himself.
As well as the label arm, there's clothing. Building on the original idea of a slogan generator that allows people to print their own t-shirts, Anderson teamed up with Jason Black – AKA Roll Deep's J2K and the founder of the self-explanatory Crep Protect hydrophobic shoe spray brand – to bring the merchandise arm into the Floor Sixx fold. There are, as ever, events too, the first of which was held just over a month ago.
Photo: Ashley Verse
"By the time you find out that the money (from the music releases or parties or clothing) is going into this programme," says Anderson, "you feel extra good about it. It's about not forcing giving into people's faces, it's about normalising it." She describes what Floor Sixx is selling as "a lifestyle" – something that ageing marketers will rush to tell you is an ideal proposition for so-called millennials. But Anderson doesn't need to be told that: to her it's intuitive, because she exists largely within the same milieu that Floor Sixx aims to interact with.
In this sense, the hub extends beyond just an online platform for t-shirts and music releases and becomes something like a community. "Everything we do," she explains, "goes back into the organisation." (Floor Sixx is currently registered as a Private Limited Company, but Anderson says she and Black are in the process of legitimising the project with Non-Profit status.)
"Everything we do goes back into the organisation."
And at the centre of this community is the mentoring programme – a direct descendant, as it were, of the original One True Calling sessions, but this time with the financial stability to provide the longevity and sustainability that such ventures often struggle to achieve.
"It was like we can do One True Calling all over again," explains Anderson, "but then it was like 'shit, how are we going to make money to fund the people who need to get the bus to our sessions?'" This little quip about catching the bus stems directly, she says, from being on the receiving end of a bit of forced perspective when she called up a One True Calling alum with an opportunity to do some filming, but he couldn't afford the £1.50 fare to the shoot. With its own financial backbone, the Floor Sixx Academy won't be under the same pressure.
Running over ten weeks from August to September at Red Bull Studios, the Academy, Anderson says, will give budding young DJs, artists, presenters, videographers, producers, journalists, businesspeople the chance to learn from the people already working in the creative industries they're aspiring to follow in the footsteps of.
The idea is that mentees will grow to be future mentors, working on Floor Sixx projects and coming back to help run the programme when it returns next year. In ephemeral times, there's certainly something noble about a project that aims for this kind of sustainability.
And who knows, if it all works out as Anderson envisions, you might be seeing Floor Sixx Academy grads gracing these pages in the not-too-distant future…
The next academy will run from 10th August – 12th October and will cover the following 10 areas:
ARTIST
SONGWRITER
PRODUCER
DJ
PRESENTER
PHOTOGRAPHER
VIDEOGRAPHER
JOURNALIST
PROJECT MANAGER
PR
Applications will open officially at the end of June, but in the meantime applicants can send an email to sian@floorsixx.co.uk with the name of the course they're interested in. You'll then be contacted with more information when the application process opens.
Watch, exclusively, Floor Sixx's latest video for Killa P & Last Japan 'Dead Em' below: