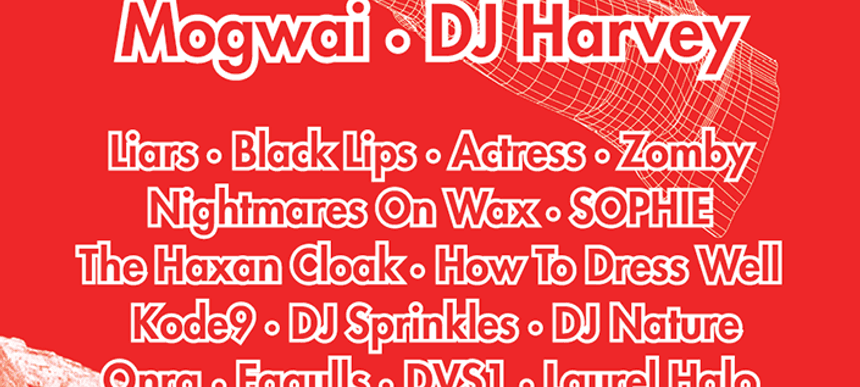 04.09.2014, Words by dummymag
Bristol fest Simple Things adds Death From Above 1979, SOPHIE, Actress & more to its great lineup
Bristol's Simple Things festival has got a really excellent lineup.
The lineup so far features artists ranging from experimental club DJs/producers (Kode9, Zomby, Laurel Halo, etc.) to leftfield live bands (Jaakko Eino Kalevi, Eaux, Mogwai, etc.). Today, they've added headliners Death From Above 1979, ready to release new album 'The Physical World', Actress, recent Dummy mixers Dark Sky, SOPHIE, Redinho and more to the bill.
The festival takes place on Saturday October 25th, with a launch party happening at Motion on Friday October 24th, featuring Caribou (paying live) and Jessy Lanza.
Simple Things 2014 lineup:
Death From Above 1979
Mogwai / DJ Harvey
Liars / Black Lips / Zomby / Kode9
Nightmares On Wax / How To Dress Well / DJ Sprinkles / Eagulls
Actress (3hrs) / DJ Nature / SOPHIE / DVS1 / The Haxan Cloak
Onra / Rejjie Snow / Amazing Snakeheads
Turbowolf / Dark Sky / Laurel Halo / Redinho
Happa / Greys / Hidden Orchestra / Damiano von Erckert / Max Graef
Scratcha DVA / Jaakko Eino Kalevi / Ron Morelli / Thought Forms / Cooly G / Svengalisghost / God Damn / Lovepark / Cuts / Bad Breeding
The Fauns / Esben & The Witch / Mirel Wagner / Pardon My French
Seven Davis Jr / Oliver Wilde / Futureboogie / Impey
October / Eaux / Menace Beach / The Kelly Twins / Terekke
Eugene Quell / Volte-Face / Scarlet Rascal / Gramrcy
Simple Things takes place at various venues around Bristol on Saturday October 25th 2014 (buy tickets).