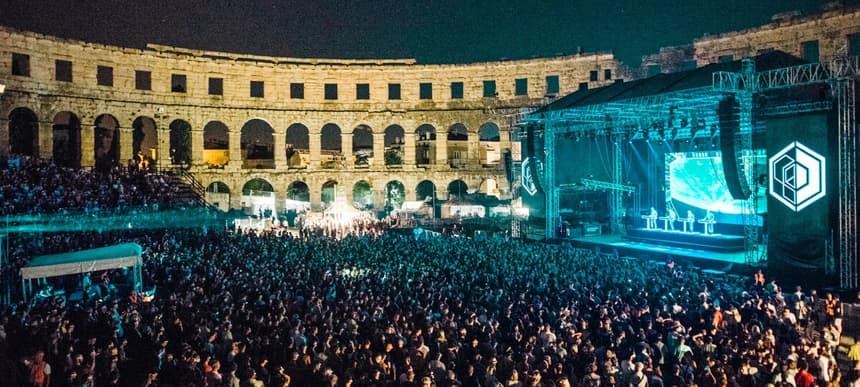 07.09.2018, Words by dummymag
Six tracks that ruled Dimensions Festival 2018
The ordinarily unassuming town of Pula in Croatia is, once a year, invaded by a host of house and techno fans with ears itching to hear some of the best DJs that the world has coughed up. Centred in an Austro-Hungarian fortress, Dimensions lets you party in the only remaining Roman amphitheatre to have its architectural orders entirely preserved, an actual dungeon, a moat and a subterranean war tunnel. While, musically, the festival is unparalleled for its gold standard bookings – predominantly but not limited to house and techno – that satisfies even the most voracious crate-diggers and Boomkat-scourers.
Here are the six tracks that made Dimensions 2018 what it was; something that fully lived up to the hype.
–
1. Jlin – '1%'
Watching footwork warrior Jlin deep in the belly of a 19th Century moat with lightning striking above, rain piercing the lazers, was the kind of experience you're unlikely to forget. When she dropped her 'Black Origami' cut '1%' and 'Dark Energy's 'Guantanamo', the horror movie screams and hair-raising samples made us very aware of our own mortality… in the best possible way.
2. Avalon Emerson – 'One More Fluorescent Rush'
This year, the festival was completely bossed by women, with sets from Umfang, Volvox, Imogen, Josey Rebelle, K-HAND, Jlin and Helena Hauff being the ones everyone was raving about. Also killing it was Berlin via San Fran's Avalon Emerson, who slayed her Clearing set with a selection that'd make any peak-time DJ weep with envy.
3. DJ Lag – '3 Step Culo'
Electrical storms struck Pula at around 3am on Thursday – unluckily for the Dimensions team – and all the stages got quickly shut down for safety. This caused a mass exodus to the campsite and airbnbs for shelter, meaning that by the time DJ Lag took to the decks, half the festival had already left the site. Despite not being able to play to what should've been a heaving crowd, the Serbian-born gqom king delivered a breathtaking set of his characteristically icy drops, using Cardi B and Migos vocals to break up the instrumentals before plunging us into a 0-degree bath of the Durban style of house music, such as his recent '3 Step Culo'.
4. Poppy Ajudha – 'She Is The Sum'
Where Dimensions succeeds in banging out techno in a pitch-black fort by night, it also does with its daytime programming by the beach. Fatima, Ezra Collective and Sons of Kemet all provided luxurious seaside vibes to sip grapefruit-flavoured beer to, while South London jazz sensation Poppy Ajudha stunned by wrapping her velvet voice around cuts like 'She Is The Sum', 'Tepid Soul' and the Kojey Radical collab 'Spilling Into You'.
5. Bok Bok – 'Look (Dub)'
Skee Mask dropped one of the best albums of 2018 so far with 'Compro', and sometimes an artist is so good you've got to watch them twice in one festival, which many made the pilgrimage to do. Catching him spin a dub set at the Subdub Arena where he spun Bok Bok's seminal 'Look (Dub)', he also took to the Stables venue where he drew a hungry crowd of fans, whipping through DJ Taye, RP Boo and tech-y grime instrumentals at breakneck speed.
6. Kraftwerk – 'Neon Lights'
"Who were those old men DJing last night?" "It was like Blue Man Group…" is an actual conversation I overheard the morning after seeing the legendary Kraftwerk perform live at the festival's opening concert. The pioneering German quartet brought their podiums to the stone-walled Pula arena, handing out a pair of 3-D glasses to each lucky concertgoer. Seeing words and angular shapes float around the machine-men while they played classics like 'The Robots', 'Tour De France' and 'Computer Love' was mindblowing (trust us, that's not hyperbole).
Find out more about Dimensions, as well as updates on the 2019 edition, here.