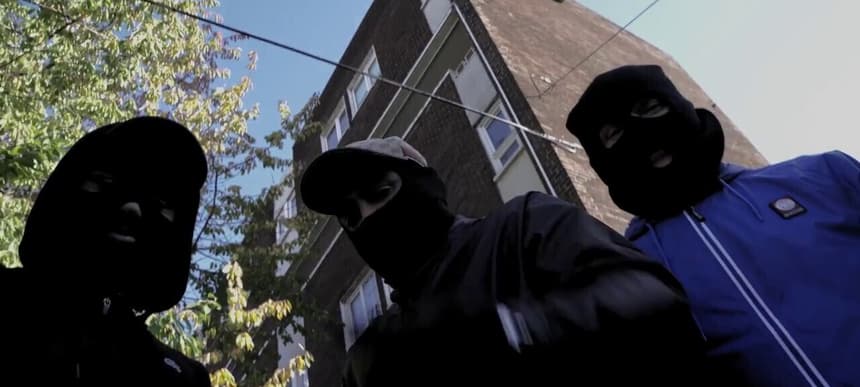 19.03.2019, Words by Ian McQuaid
Slated to rated: How Ireland's changing demographic has facilitated the explosion of Irish drill
We meet the head of Dearfach TV to find out more about the Irish scene reaching tipping point...
Ireland punches way above its weight on the international stage. Currently this little country on the edge of Europe has produced one of the world's most famous rock bands in U2, a slew of Hollywood icons (Colin Farrell, Martin McDonagh, Cillian Murphy, Ruth Negga), and – taking the punching metaphor to its inevitable conclusion – pint-size raging scrapper Conor McGregor. But one thing the country hasn't ever been known for is rap music. Now, almost overnight, that has started to change.
While there have been isolated Irish rappers such as Rejjie Snow or Hare Squead finding international success in recent years, a major demographic shift in the country has produced a sudden groundswell of artists breaking through simultaneously. The children of West African immigrants who flocked to the country in the early '90s, this generation have come of age at roughly the same time, and are now working their own way through a similar route that their peers in the UK are taking.
In Dublin there's a nexus of artists, producers, entrepreneurs and promoters rapidly creating a scene; running their own music studios and record labels, filming their own videos and putting them on their own channels. The result is hyper-localised content that is formed from a pick 'n' mix of international influences: the dark nihilism of drill, the day-glo narcosis of current trap and the dance-craze riddims of afrobeats all get thrown into the blender. In a single song you might hear the Gaelic language rubbing against UK and Yoruba slang – it's a hybrid culture that is having an appeal far beyond the five million or so people who live in Ireland.
The first real breakthrough for the scene (as viewed from the UK, anyway) was the emergence of J.B2, a rapper with a flow that was truly unique – his West African inflection bopping, staccato on the beat like an Irish jig. His performance for leading Irish channel Dearfach TV in their Bars At the Sesh series was shared around UK blogs. At first, people took the piss – then as they kept replaying the track this mutated into a grudging respect, before turning into outright fandom. J.B2 followed up by joining with UK driller Russ and fellow Dubliner Chuks on the tune 'Link Up', which blew the whole scene wide open – it's currently on somewhere round five million views, and laid the foundation for Russ to hit the charts with 'Gun Lean'.
Meanwhile Dearfach kept on releasing music, covering drill, trap, rap, R&B and more, and it became apparent that there was more than just J.B2 breaking through. We wanted to learn more, so went over to Dublin to catch up with Solomon, 22-year-old head of the Dearfach group, to find out about the history of a scene hitting tipping point.
How would you describe the Irish scene to an outsider?
The scene is like a four-year-old child going to primary school, having to leave its parents and go find out what it likes and how it wants to play. We're an industry that has been a baby for the longest time… Our music has dealt with people being, "oh are you UK? Are you America?" but now we have a sound, and we have a point to prove to the world that our creativity is as good as anywhere else. The world will be shocked with what we're about to show them – a lot of people don't even know there's black people in Ireland, but we're making quality music that could compete with any country. From producers making beats to the artists performing on stage, I think we can do it.
Is this down to a generation of immigrants kids coming of age at roughly the same time?
Yeah, I think it's the same as when the children of black Jamaicans came of age in the '70s and '80s in the UK. It used to be that it was really hard for refugees in the UK to get European passports, and in the '90s in Ireland, the law was that once you moved here and had a child you got a passport like that (snaps fingers), so people like my parents they moved over. A subculture came from the UK. Most people in Ireland are Nigerian, Ghanaian and Congolese, there's barely any Jamaicans.
It's interesting that you seem to draw influence as much from the UK as you do America…
The UK scene is more relatable for us on a day-to-day basis. I grew up in County Clare [in Ireland's mid-West] where there's barely any black people, and I use UK slang, even today. A lot of my friends that came here were from the UK – we didn't want to use the Irish accent. In Dublin, thank God, they use the Irish accent, but outside Dublin you barely use it. We had a lot of the UK culture in us. More than America really. It's just the TV shows from there. We don't actually know that much about America.
Take us through how Dearfach started.
Dearfach first started in 2016, in summer after my first year of college. I'm a guy from Clare who came to college to pursue a career in drumming and performance. Within the course I was learning music business – and I realised I liked the business side of it so over the summer I opened a studio to keep me in Dublin. I didn't want to go back to Clare. So I opened my studio and started recording for the whole summer.
Because my drumming was gospel and hip-hop based, I knew the whole scene, and got them all in. When college started again, my dad told me you either pay for rent for your studio and live with your uncle for free, or get your own place and pay your rent for it – I didn't want to live with my uncle, so I moved into my own place and built a studio in there. Then I started working with some young artists, guys like Evans Junior. We started dropping music on Soundcloud, then on Spotify. Then I started getting visuals made by my friend Sequence – he was a cameraman from Galway, we'd been friends for years. Together we set up the channel and started uploading videos.
Where does the name come from?
I went to an Irish-speaking secondary school – I speak Irish fluently. I originally wanted to call the company Positive Records, but when I couldn't purchase the name Positive Records 'cos it was like £20k, I resolved it by putting it in Irish – Dearfach means "positive".
At first the page wasn't really popping. Then out of nowhere a group in the county Sequence was staying in, they had made a music video – this was the first drill group, 090. We dropped it on the channel and it got a lot of traction. 090, they weren't resting, back to back every two weeks they'd drop a song. These guys were coming out with heat. 090 was Reggie, Cubez, N9, Julius – J.B2, that was the main four. They were dropping songs on songs through the first half year. Then when of the guys I was running the page with opened his own channel which he called New Eire, so it was spreading. At Dearfach we started our own freestyle series, Bars at the Sesh – Sequence did the first one. We didn't want to call our freestyle series anything that sounded like Behind Bars, or Next Up, we wanted it to be Irish, and the sesh is a real Irish thing.
Bars at the Sesh was what really bought you attention over in the UK. People in the UK paid attention when there were artists who started sounding more obviously Irish. Do you feel like artists here now are using more of their accent?
Some of the artists have an American accent – those of us who grew up outside of Dublin aren't really trying to take an Irish accent – I have a Nigerian accent. Different artists are doing different things, like Reggie's putting Nigerian slang in his tunes, and Offica is using Yoruba. Ireland is a new country in the urban scene so we're trying to find our feet – if we do take a bit from the UK or America, forgive us for now..!
Has the attention you've had over in London been matched in Ireland? How are people outside of Dublin taking to the sound?
The problem with Ireland is that it is very disconnected. People outside of Dublin don't know what's going on in Dublin, people in Dublin don't know what's going on outside it. It was easier for us to get attention outside of Ireland – that's what happened with Dearfach. We've been trying to bring the whole music scene together as a whole, because the people who have made it like Rejjie Snow, he didn't rep us.
But, realistically it's quite likely that a lot of the drill fans in the UK have no idea who Rejjie Snow is…
But everyone in Ireland does – he should have repped us. Hare Squead, to be fair, they did. So I'm like, OK, we still have a point to prove. If I was trying to appeal to major labels, it's all conditional tenses, there's no solid backing yet. Getting money and people to believe in us, from a point of having not proved ourselves, it's very hard. I feel like right now we're trying to push the whole scene, trying to work with brands like Spotify or GRM Daily that can push us in the UK markets – UK and America will notice us before Ireland does.
We have lots of issues with drill and the law in the UK – is that something that you deal with?
We do. I was being told that we shouldn't make drill the face of Dearfach. I feel like there's always been music that's been frowned upon at the time but still blew up – punk was the same. But in the corporate scene it's going to take them a while to accept the music. 'Gun Lean' has proved that you can make drill commercial though – the genre is music is down to the beat, you can say what you like on it. I feel like the authorities should accept it.
We have a problem in the UK that there is a perception that knife crime is somehow tied to drill. Do you think that the way the media presented drill in the UK has influenced how Irish people have responded to it, even if there isn't a similar crime situation going on? Or is there?
Ireland doesn't have that sort of crime. Ireland is a small country… and crime, it's not down to drill. Until that J.B2 song came out, none of my friends, people who are my age had heard drill. All the fights they had, or the things they were up to, have nothing to do with drill – so for people to tag the music as causing trouble..? It's way deeper than drill – stopping the music won't change anything; community centres, more jobs, that changes stuff. It's a government problem, not a music problem.
In Ireland when people see any one black person doing anything wrong, they say, oh it's all of them. They can split white people into categories, like see how some white people are junkies, and some white people are businessmen, lawyers, whatever, but they don't with us.
So has there been any acceptance of what you're doing?
Well, most of us started rapping in secondary school to a bunch of white kids who thought we were really, really cool (laughs) now urban music has taken over the whole world – even Ireland's switched up to having urban tents at the festivals. But they can't be paying £50k to be bringing artists over every week, so on a night out, the local urban acts play, and by being the best you get fans. We've just kept on doing our thing and building fans. Now in Ireland, this is the music people like, they listen to hip-hop more than rock, so we're getting there.
What's going to make you guys stand out?
We're blessed with diversity. I can say this with my chest. I can give an average Irish artist a drill beat, an afro beat, a trap beat and they'll be able to switch up their flow to match it. My artists are very lyrical. We're not about mumble rap – we spit storylines. Because we're a new scene we can take the best bits from around the world, we take from here, from there, to make a diverse, beautiful sound.
Four tracks that charted Dearfach's growth:
1. Cubez x Reggie – 'Fix My Ring'
"That really did numbers, it was one of the best drill songs at that time."
2. Evans Junior x Sam Ojo – 'Borderline'
"Borderline was the first proper trap song we dropped on the channel."
3. J.B2 – 'Liability to Thief'
"For 'Liability to Thief' we made a very bright daytime video – we didn't do a typically dark drill video."
4. AV9 – 'Bars At The Sesh'
"The Mr Affiliate [J.B2] is the most popular Bars at the Sesh, the AV9 is my favourite one."
Related: Read 'Behind Bars: After years of the UK banning music, attempts to censor drill break alarming new ground'.