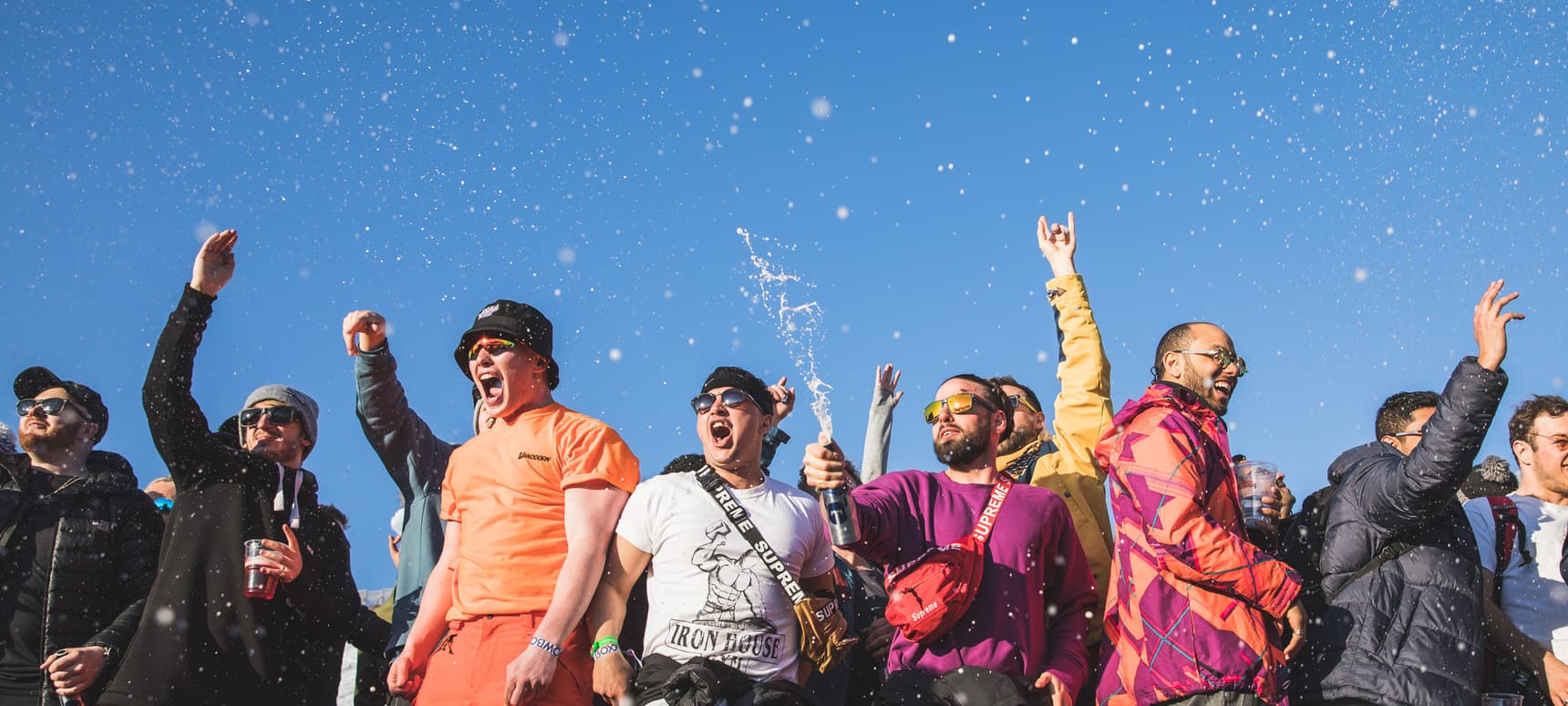 03.04.2019, Words by Felicity Martin
Snowboxx festival 2019 nailed the balance between snowsports and music
Dummy hit the slopes for a week of fast drops at the most affordable snow festival going...
It's not every day you see a man in a full gimp suit trying to get his money's worth of mimosas at a bottomless brunch, but at Snowboxx festival this can be your reality on a Tuesday morning. The French town of Avoriaz is playing host to the festival for its seventh run, embracing the tried and tested formula of top-tier snowsports by day, world-class dance acts by night.
Since launching in Andorra seven years ago, Snowboxx has offered a smaller but more affordable alternative to snow festivals like Austria's Snowbombing, and while the line-up might not be quite as top-of-the-range, the acts it does bill are globally renowned. Musically, the emphasis is on DJs rather than live acts – Yungen and Rude Kid head up the mic quotient, while artist like Rudimental and Mike Skinner perform DJ sets. At seven days in total, it's much longer than most other festivals, meaning there's ample time to hit the powder.
Part of France's Port du Soleil ski area, Avoriaz is a total cliche of a luxe, purpose-built ski resort – tall 1960s wooden chalets loom over perfect, marshmallow-topped mountains. As an eco-friendly move, cars are banned in the town – the alternative to Uber being a horse and cart – and the streets are lined with cute restaurants serving quantities of lactose that don't kill you only because you're skiing off the calories by day.
As one of the most coveted winter sport locations in the world, there's some breathtaking runs – and you can even head into Switzerland if you fancy tackling the Swiss Wall: one of the most difficult slopes in the world. But that doesn't mean the music comes secondary – the unmissable après kicks off at around 4pm.
The Menendez Brothers are a staple throughout the festival – we catch the twin brothers spinning Objekt and Bicep at designated après-ski bar La Folie Douce, which also puts on novelty acts like Hip-Hop Karaoke followed by an hour of power ballads which somehow happens to be one of the most fun parts of the week (but maybe that's the vodka-infused beer talking).
The main stage is where best-known dance acts like Wilkinson, Jax Jones and Craig David fire things up – pyrotechnics and all – but it's at the after-hours venues where things really go down. LRO, Madam X and Rinse FM's Emerald usher in a coveted selection of bass to XX, a club which is – as festival director Alan Crofton explains to me – a church during the day. Hymns are replaced with 'Gash By The Hour', Heartless Crew's 'The Heartless Theme', and gqom edits of Rihanna tracks. Watching from the backstage area, Bez seems to be enjoying 'Bring In The Katz'.
As well as churches, the festival makes use of visually appealing locations including a drum 'n' bass-soundtracked igloo – which you need to take a snow plough up the mountain to get to, as well as forest raves. During the day, we test out some electric mountain bikes which are fitted with fat tires and pedal assistance meaning you can tear up (and down) slopes and – most importantly – head to a roadside farm shop to pick up a slab of raclette.
While there's an undeniable Brits-abroad vibe throughout the festival, this doesn't affect the overall enjoyment of what is a matrimony of some of the best things in life. From piste to pissed, Snowboxx really has everything you could dream of in a snow festival. With some seriously affordable packages and a packed seven-day programme, it's a festival with everything rolled into one: picture postcard views, bleeding-edge music and vistas that'll be etched into your memory.
Find out more about Snowboxx including their 2020 edition here.