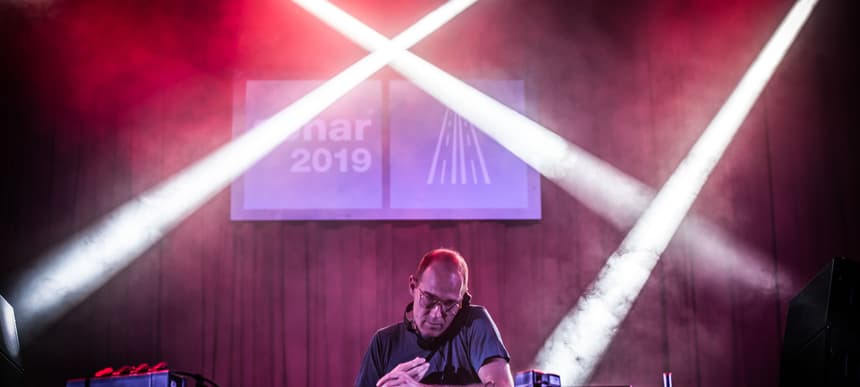 29.07.2019, Words by Gemma Ross
Sónar 2019 lived up to its ethos of 'music, creativity & technology'
As impressive as the musical bookings were the festival's inventive use of technology across the weekend...
Somewhere between grabbing a G&T and returning to Carl Craig's set, I noticed Gaudi's masterwork, La Sagrada Familia, standing tall behind the stage. It's a rarity to find anything other than drunk festivalgoers coated in mud and beer as the backdrop for a festival but Sónar, a three-day, three-venue inner-city weekender, couldn't have been hosted in a more transcendental place.
Barcelona has been a sanctuary of Spanish hedonists, British holidaymakers and Catalan party animals for years given its immense nightlife scene. It's a mecca for anyone seeking indulgence in great music, food, and six-month summers.
It seems blatantly obvious why Sónar has made Barcelona its permanent home, and after returning for its 26th year, the festival shows no signs of stopping. All three venues gave completely different flavours of Barcelona. We were spoilt for choice in the daytime with OffSónar and Sónar by Day (or Sónar Día if you prefer) which lured in 46,000 people with its impressive line-up and promise of a futuristic setting amongst the cobbled streets. The venue seemed out of place: a dark industrial building without a single window in sight, but when lit up, turned into a magical fairground riddled with colour, light, and a hell of a lot of Estrella.
But it was Sónar by Night that was the favourite. Thousands flooded to the venue which transformed into an adult playground after the sun went down over the city. Bad Gyal (off the back of her new tracks 'Santa Maria' and 'Hookah') commanded the stage from the second she walked on to it. She made it look easy, standing in front of about 2,000 people wearing nothing but a hot pink bikini and stripper heels (an outfit which has never made more sense considering the Spanish heat).
All the while, Lyzza brought her Latin-inspired rave music to the people side-stepping on the fake grass at Sónar by Day, forcing a crowd of impressively fashionable people to get sweaty in the 30-degree sun. Something even more exciting than the fact that she can produce such a large crowd is that she's merely 19 years old. Her DJ persona is a far cry from the flowery Kali Uchis-sounding girl we thought we knew, sporting a leather beret while playing fist-pumping mashups of Britney Spears' 'Toxic'.
Just a ten-minute stroll down the road was OffSónar, a separate party originally exiled from the main event when set up by dedicated Sónar fans, appeared on the scene just a handful of years ago. Understanding the potential, the Spanish organisers joined forces with the festival team this year to create a series of enormous (and 'official') daytime parties on the grounds of Playa Major and Poble Espanyol; which boasts panoramic views over Barcelona.
From men dad-dancing to tech house in 2006 Glasto tees to drunk girls strewn in glitter slurring the words to 'Gypsy Woman', it captured the diversity of the modern electronic music lover with a contrasting mix of stages that doubled up as a sun trap throughout the weekend.
Virgil Abloh was one of the first DJs to christen the OffSónar 'Circoloco' stage (taking a road trip from their Ibizan home, DC-10), sitting amongst a parade of century-old Spanish buildings which put Boomtown's village to shame. He played a mix of tech-house before his good pal and previous collaborator Octavian jumped out on to the stage for a 45-second rendition of 'Party Here' prior to the rappers' full-length set the next day.
Hidden among the British teens getting their fix of techno-party-come-summer-holiday is OffSónar's second room. Volvox played an acid-heavy set while fans paced around on the checkerboard floor in a trance, clad in neon colours and platform shoes. There was more where this came from – the teeny room was soon hijacked by more DJs ready to keep the party alive until the early hours.
OffSónar also saw the likes of Moodymann, Hunnee and DJ Stingray take to the stage, switching up classic '80s Detroit techno with breakbeats long after the sun had set behind the grounds of Poble Espanyol. At this moment, the only people who had their phones in the air were the security guards snapping pics of the enormous crowds to Whatsapp to their partners, with the rest of the crowd fully in the moment.
Daphni topped the bill for Sónar by Day (and deservedly so) – the 40-something never fails to gather a 1000+ crowd no matter which alias he's playing under. He pulled out all the stops with his eclectic mix jumping back and forth between disco, techno and breaks. Some absolute classic tracks made an appearance; serving as a nice break from the forward-thinking electronic music that was so present for the rest of the weekend. He ended with Thelma Houston's '70s hit 'Don't Know Why I Love You' (oh Daphni, we know exactly why we love you).
Accompanying Sónar by Day was Sónar+D, an interactive zone carving itself out as a 'summer school' whose focus was innovative technology. Walking in, you might have been a little surprised about the fact that someone was playing a beat on a drum kit made of plants or conducting an orchestra of mini versions of themselves, but it's all in the name of… well, science, I guess.
Three floors of interactive technology held everything from a 'chair quartet' (four chairs facing each other which, when sat on, made some beautiful harmonised music), to AI that could quite literally read your mind. For a festival that prides itself on being equal parts music and technology, this exhibition certainly didn't feel like an afterthought.
A$AP Rocky could no longer play his Friday night slot due to his (hopefully momentary) incarceration in Sweden. Stormzy, however, was big enough to fill his boots, and Sónar by Night was the perfect location given its overwhelming size. Even without Rocky's presence, he still managed to make an appearance in spirit when Octavian had his crowd chanting "FREE ASAP!" during his late-night performance. The rapper spent his entire hour-long set throwing water over the crowd while busting some moves which were almost too perfect to have not been practised at home. Songs like 'Little' and 'Bet' urged the crowd in to uncontrollable pits, all while the 23-year-old had his Louis Vuitton pants around his knees.
Undoubtedly the most jaw-dropping set of the weekend was Murlo's self-crafted A/V performance. His narrative animations were the backdrop for the show, meshing cartoon visuals with emotive synths. The 3D animations moved toward the crowd in a hologram, complimented by his neon-coloured beats. It seemed perfectly at home at Sónar, all while taking place inside an enormous venue which resembles an aircraft hangar.
'Sónar 360' was the pinnacle of all things technological over the weekend. A dome-shaped room, created as an immersive experience as part of Sónar by Day, squeezed in around 200 people who lay on the floor, watching a spectacle of an animation move across the screen. A DJ aided the visuals from the corner, providing eerie, brain-hacking frequencies.
The inventive use of technology throughout the weekend, from huge soundsystems to immersive meditation, proves that Sónar, with its ethos of 'Music, Creativity & Technology', goes beyond just being festival – it's an insight into the future. With a pretty great soundtrack.
Find out more about Sónar here.