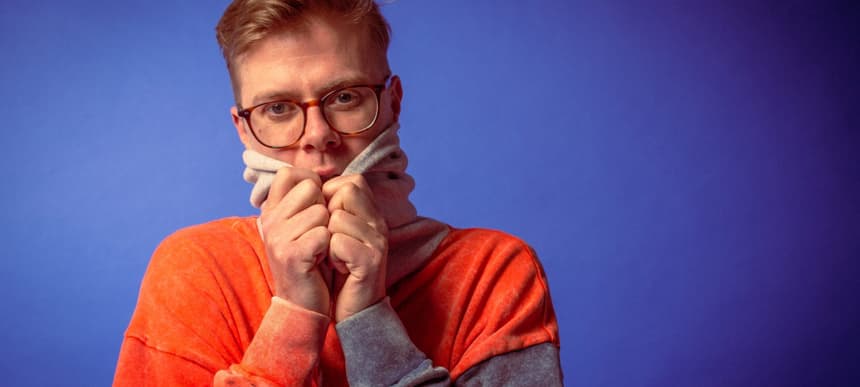 15.08.2022, Words by Billy Ward
Sound of Fractures' effervescent dance EP 'IRL' spearheads his web3 ambitions
The London-based artist and producer is building a synergy of web2 and web3 worlds with his visceral electronic music
Sound of Fractures is the moniker of UK-based electronic producer, DJ and artist Jamie Reddington.
Drawing from the culture of UK dance music, hip-hop and soul, the Londoner's musical ethos, based around the concept of finding beauty in imperfection, takes inspiration from the likes of Massive Attack, Jamie XX, Burial and Frank Ocean.
His brand new 4-track EP 'IRL' arrives off the back of a successful string of singles, including the floaty summertime track 'Dream' and the club-life infused 'Your Touch'. Combining sound and imagery to form one synoptic and emotional musical expression, Jamie's latest offering pulls together his love of films and stories with the visceral nature of the human experience itself.
"The concept of the second EP is focused on people," he says. "It's inspired by the idea that even something or someone who is seen as ordinary can be deeply complex and beautiful if you look deeper. The idea came from watching people as I travelled and would find myself wondering what they were really like.
"The artwork and visuals for the project are focused on individual people, and the idea of when you dive deeper, how complex they may be… or perhaps as you get to really know them and they let you in."
As well as dropping across streaming platforms last week, the new EP was also released in web3 and NFT formats – an element of Jamie's music that has set him apart from the pack in recent times and one he hopes will allow him to develop new forms of community and experiences between himself and his fans.
Since forming the Sound of Fractures project, Jamie has emerged as one of the trailblazers in the music NFT space, both in the UK and further afield, incorporating blockchain mechanisms within the roll-out of his work while simultaneously making sure not to reduce accessibility for the music fans yet to be introduced to or swayed by web3.
"The 'IRL' EP is the first project where I've built a synergy between my web2 and web3 worlds at the same time," he says. "For me they feed off each other and compliment each other in a really unique way, while allowing me to experiment with new ways of releasing my work into the world."
"A great example of this has been the 'Your Touch' video, which is now available on Glass.xyz, where I've been able to share my visuals and music as one entity that can be both collected, owned and viewed for free. This allows me to connect with all the different types of fans and music lovers who want to support and engage with my music in different ways."
So far for the EP, Jamie has released 20 editions of the song 'Ultraviolet' on opensea, 20 editions of the recently released 'Your Touch' music video on Glass.xyz, and also put out a special 1/1 edition of 'Dream', aimed at his more specialist collectors. Despite his voyage into the world of NFTs, Jamie is keen to break down the stigma that suggests artists and fans must pick and choose between web2 and web3 methods.
"The beauty of web3 technology is that it is not an 'or', it offers us an 'and', the misconception is that using new technology to build a career is limiting artists, when it's really offering us a new dimension of creative freedom and allows us to build direct relationships with our fans that we can own instead of being controlled by the big tech companies.
"Beyond the technological possibilities the most important things are the sense of community among the artists building in that space and the fans, and the feeling of freedom from doing the same things the same ways when releasing music."
All of Jamie's NFT collectors receive access to a gated behind-the-scenes chat group and Discord channel where he reveals exclusive Sound of Fractures content like demos, works in progress, early edits of videos, previews of collaborations and more. Though the NFT model may not be for everyone at this moment in time, the option of web3 allows his more ardent supporters the chance to support his work while receiving benefits of their own.
Sound of Fractures will be hosting a community Twitter Space conversation on Dummy's account on Thursday August 18 at 5pm, talking about the new EP as well as the convergence of web2 and web3 in the music industry. Make sure to tune in and follow Dummy and Sound of Fractures on Twitter to keep updated.
Stream the 'IRL' EP below and check out the rest of Sound of Fracture's work here.