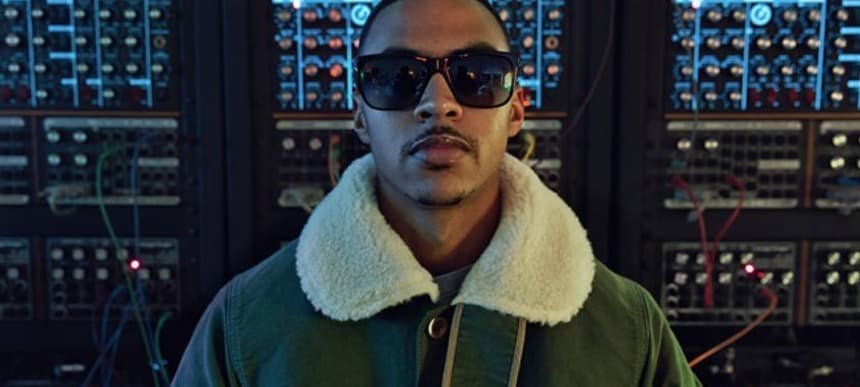 19.01.2017, Words by dummymag
Swindle: "There's only so much inspiration you can get from your usual surroundings."
Swindle is one of the most intrepid explorers and musicians on the planet. Constantly re-invigorating his sound with fresh melodies and instrumentation comes directly as a result of traveling and producing all around the world. Swindle's mantra, with both his production and life, is to take inspiration from your surroundings and constantly look to experiment with new sounds in different environments. On the return to his native South London this weekend, where he plays at Tuckshop's event at Brixton Jamm, we caught up with Swindle to talk about his international sound, foundations in the scene and his creative process.
So it's been a few years since your Dummy Mix back in 2010…
7 years! I ain't that old! (Laughs)
On to newer stuff, we've been checking out Purple Walls, which is sounding Fresh. How much did LA influence that track?
Everything – it is everything. If I hadn't have gone there, I wouldn't have made it. I felt I had to go out there to make music different from the sort of stuff I was producing at the start of my career. When I started DJ'ing, it was just about making dubs for your sets, and the best of those dubs become your tunes.
Now I just wanna make music for making music's sake and see what happens. And when ganja is lively and the sun's shining, it's hard not to make music like that! That and the studio walls where I recorded it in being purple.
Travel is such an instrumental part of your sound.
It's become a bit of an addiction. I'm totally obsessed with making music in different environments. There's only so much inspiration you can get from your usual surroundings.
Is your creative process the same from place to place or is there a different protocol for everywhere you visit?
The first rule is no rules! (Laughs) As long as the music's honest then I'm happy. I'm happy to be directed by different musicians and their different instruments. I keep an open mind with it.
It's clear in Trilogy that you've experimented with various different instruments. How many do you actually play?
I don't have any formal training – everything is me just picking something up and having a go. I've just always played around with drums, guitars and keyboards… but I'm not classically trained in anything.
So you're one of those guys who can just pick up an instrument and know instantly how to jam with it…
Well I'm not saying I've just got it… I'm saying everyone has. If you pluck a string, it's gonna make a noise. If you spend enough hours doing that, you're gonna find a way to pluck it your way.
"There's only so much inspiration you can get from your usual surroundings."
Have you always been that way with music since you were young?
Yeah since my teens, early teens. Seeing my dad play guitar when I was younger was a massive influence growing up.
What would you say to other musicians starting out trying to make their own music?
Don't stop, and just do your own anything. You don't have to do what other people ae doing. You can be in a car and hear the same production tips on 10 songs you hear in a row on radio. There comes a point where you have to ignore that – IF you want to be out there and doing something different. Maybe your goal is to be popular so do that! (Laughs) But yeah man just mix it up.
Closer to home, how did South London influence you?
The story that we all know – Pirate Radio and Jungle was a massive part of growing up with music for anyone in London. Growing up as young as 8 listening to it with my older brother. Selling mixtapes in the ends. I was someone in my area, then that gave me the confidence to go further afield.
Was there anyone there that gave you particular motivation?
Honestly, I've always felt I was a bit of a lone ranger when it comes to that. I started making tunes with 2 of my best friends – and this sounds like the biggest cliche, but one's dead and one's in jail. And to be real, people have helped me out along the way. I met Nyke (From Nykki S & Nyke) who put me on to an engineer that I could go and use, and that's how I met Ghetts, Big Narstie and all back in 2007.
But then when I started branching out, working with Elijah and Skilliam in East… this was the first time I'd ever been to East! There was a part of my life when I didn't know there was a world outside South. But before the internet, there was no real reason to go anywhere else.
But it doesn't really matter where I'm at – as long as I'm making music. It's not about where you're from it's about where you're going.
"There was a part of my life when I didn't know there was a world outside South"
True say. So where you've been going on your tours and been producing, you must have met some incredible people along the way. Do you have any tips from around the world from people you've met?
There's too many! Some of the most amazing people I've met have been in the smoking area in Brazil, or backstage in Switzerland. But special shout outs to DBS in Japan, Nicole in Colorado, Mungo's Hifi in Scotland. I don't wanna miss anyone out – but there's people all over the world who are just family to me man.
You're definitely not the type who wouldn't just say "yeah let's work together" for the sake of it, and not stick to it…
Yeah man so 'London to LA' came about cos Ash Rise recognised me off the street in LA! He said let's work together, and I said sure let's go then. Then the same day, we went to the studio, and went and recorded the track.
Finally, what are your plans for the rest of the year? You play Tuckshop in South this weekend. You looking forward to it?
With my music, I'm not playing around – I'm just gonna get as much stuff out there as I can. I've got a new project in my head, and here on out just getting it out there… I'll always upload it onto my Bandcamp before anywhere else.
And yeah man this is my first show since December – I've taken a bit of a break from gigging so this is my first one back, so really looking forward to it!
See Swindle perform this weekend at Tuckshop x Brick City Funk: Riot Jazz Brass Band, Swindle & Guests is at Brixton Jamm, this Saturday, (21 Jan).