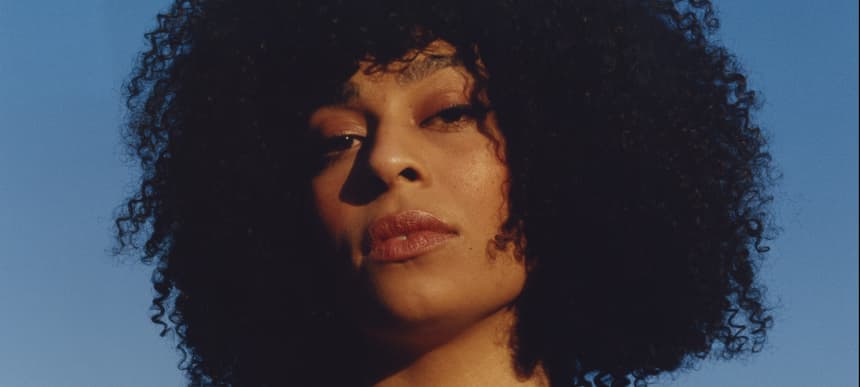 04.02.2019, Words by Felicity Martin
Taking Off: Celeste
We meet the Brighton singer-songwriter crafting jazz-tinged soul at its most heart-wrenching...
When I turn up for dinner with Celeste, she's in her pyjamas. Her floral PJs aren't a fashion statement: we're at Laylow, a bougie Notting Hill-based venue that's part member's club, pub and basement disco. Celeste is the month-long artist in residence – literally, and she's just popped out of her bedroom to say hi.
We've been invited to a dinner that evening, but the singer-songwriter isn't cooking. Instead a St. John sous chef is taking a knife to a giant turbot in the kitchen. It's the kind of glitzy venue – the brainchild of artist Taz Fustok and fashion designer Bella Freud – that would feel impenetrable unless you're an established figure in music. But it was built to support emerging artists, and Celeste's residency is as one of these, hand-selected as someone whose talents should be amplified.
Throughout her stay she'll throw writing sessions, workshops, screenings, and perform live with her jazz-rooted band, Gotts Street Park. People like Dave Chapelle, Edward Enninful and Michaela Coel will roll through to see her – something she talks about incredulously when we meet for coffee a few weeks later.
After dinner that evening, we move to the basement venue where Celeste performs blues and soul-inflected songs 'Lately' and 'Both Sides of the Moon', her vocal cutting like a knife through the wine-soaked crowd. We have to do a double take when Idris Elba walks in, pitching up by the bar and watching her performance intently.
Celeste Waite was born in LA, where she lived with her Essex-born mum and Jamaican dad until the age of three, when her parents split and she moved to Dagenham with her mum. "Apparently I had an American accent when I was two, then moved to Dagenham where everyone's really cockney!" she laughs. In the UK, her grandparents helped look after her, giving her a grounding in old soul and jazz – and lots of Aretha Franklin – in the process.
While her mum's friends – who were like extended family – educated her in more modern forms of music: "My mum's friend loved garage, and had this big jeep and me and my friend would be at the back on these tiny booster seats and she'd be like, 'I fucking love this one!' I remember going down the motorway to my grandparents' and you could dial in to pirate radio. I didn't know why I liked it then, but now I know it was just that it was really raw. That stays the same in the music I listen to, whether it's jazz or classical or even techno – I love Theo Parrish. It's because it has this element of feeling unfinished but it's just really honest about what it is."
Celeste relocated to Brighton after her mum got asked to manage a salon there. She found it to be not only a place that encouraged creativity, but somewhere that people could express their true selves: "I used to go and play rugby with the boys in the mud but have these really girly shoes on." She knew she could sing, but didn't instantly take to performing. "When I realised I could sing and I wanted to sing in front of people, I remember saying to my mum in my bedroom, 'I think I can sing, by the way, and I want you to listen but I'm going to turn off the light and I need you to turn around."
Surrounded by musical peers in the English seaside town, she was increasingly reluctant to perform. "I was quite shy about singing when I was a teenager but I think people just knew I could," she says. A boy approached her in the school corridor, saying, 'I heard you can sing.' "It was so silly, I probably denied it," she says, but ended up going to his house for songwriting sessions. She wrote her first song, 'Sirens', about the death of her dad when she was 16, and it caught the attention of a prospective manager after she posted it on YouTube. They met up in a Costa, and Celeste promised to send him some demos. "Four months went by and I hadn't sent him any demos!" she says. "I was just singing 'cos I liked singing. I knew I wanted to do it, I just didn't know how to go about doing everything."
Eventually he just booked her in for a studio session. "It was only five years ago but mobiles weren't such a necessity – I remember looking at Google Maps and drawing the route with a pink felt tip," she says. The people at the famed Sarm Studios – owned and run by Trevor Horn – were so impressed with her writing that they kept giving her more time there. "It was a place that had so much history, you could just feel it in the walls," she says. "I remember once seeing Seal at the top of the stairs. I need to wear glasses and never wear them, and there are these massive open doors into Studio 1, but I'd never seen it before, so I was peeking in. Then I see him standing outside with a sandwich in cling film, and he's like, 'Hello!' I'm like, 'Alright mate?' He found it really funny that I seemed so unfazed by him."
Linking up with Leeds outfit Gotts Street Park for a live session, they quickly hit it off, finding Celeste's stream-of-consciousness-style singing a perfect match for the band's free-form jamming. The end results, 2018's 'Both Sides of the Moon' and 'Lately' are the kinds of stirring tracks that have you automatically making Amy Winehouse comparisons (and strangely enough she's performed with Sam Beste, Amy's pianist of choice). Lyrically, 'Both Sides of the Moon' was inspired by Frank Ocean's 'Chanel': "I'd been quite infatuated with the concept for about a year before I wrote that song – when I realised what it was about, this boy or Frank himself being bisexual and how clever it was, using a brand name that everyone knows."
The Laylow residency allowed Celeste to invite people whose work she admired, as well as creative friends of hers, from videographers to designers. She even got to give Spike Lee a tour of her apartment, after she performed at a Vogue dinner thrown in honour of the BlacKkKlansman director. "I showed him my trainers! It was quite funny 'cos I'd planted one of my vinyls on the wall and he came up to me like, 'Yo I need to take some of your music home, what you got?' I was like 'Uhhh, there's actually one right there!'"
Having ticked off a few bucket list items throughout her stay, Celeste is now eyeing up an album for 2020 ("it feels like a good number"). She explains how, aged 18, she'd play Kanye's 'My Beautiful Twisted Dark Fantasy' three times each night. "I'd listen to every single part – all of the voices that have their own story on it. It was the first modern album I'd heard where it didn't stop from track to track – I'd only ever heard that in '70s experimental jazz, like Sun Ra or something. It felt very free and experimental, but there were still songs I could play at a party, or on the bus. That's something that's stuck in my head for how I would want a body of work."
With this in mind, her objective is to "be able to make music for a long time, and music that actually matters to people. We're in a world where there's so much music, and I think that's amazing, but it does mean you have to try harder. It's like what my friend was saying: in Internet years, a year is like ten years!"
Watch 'Father's Son':
Celeste plays The Lexington on February 7th – find tickets here.