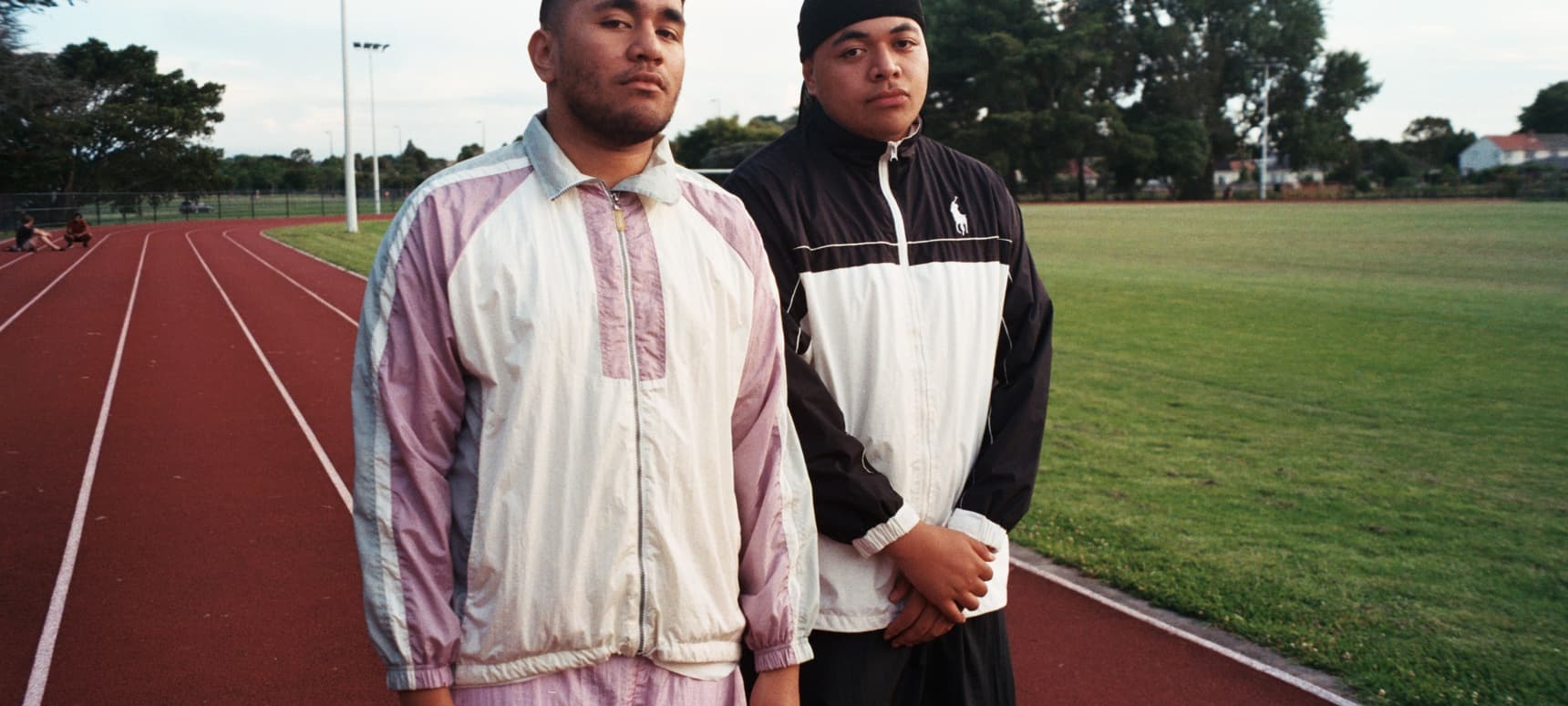 04.01.2019, Words by Felicity Martin
Taking Off: Church & AP
The Kiwi rap freshmen are on the brink of a breakthrough...
"The UK scene is why we are able to be who we are," explains Church, one half of Auckland, New Zealand-based rap duo Church & AP. "When I first listened to 'Konnichiwa' [by Skepta], I had to play it back twice," continues AP: "I thought, wow, this guy is using his own accent, being himself, and getting results."
You can hear the freedom and confidence that comes from living in your truth in Church & AP's breakout single, 'Ready Or Not'. Equal parts nonchalant falsetto R&B, humid drum machine funk, and confident, clear-eyed punchlines, it's an earworm sing-along with moody undertones. These rap freshmen aren't looking for no problems, but don't get it fucked up; they're ready to go.
Early on a Wednesday evening, the two teenagers are chilling at a hotel just off Karangahape Road, a notorious arts and culture hub in the central city, before heading off to a video shoot. The week we speak, 'Ready Or Not' made its way from heavy rotation on Mai FM, New Zealand's biggest hip-hop and R&B radio station, all the way to the UK. On arrival, it stopped off in news entries from influential UK music sites (including Dummy's Next Hype playlist) before beaming through BBC Radio 1xtra's airwaves via tastemaking presenter Jamz Supernova. Understandably, given their enthusiasm for UK grime and rap artists like Smoke Boys (formerly Section Boyz), Giggs, Dave, and Skepta, it's been an exciting few days.
While Church got his start recording music while visiting family on school holiday trips to Wellington, New Zealand's capital city, AP started out rapping over ripped Soundcloud beats. They came together properly as a duo through taking part in local community hall music programmes in the suburbs of Mount Roskill and Te Atatu. There, they honed their chops under the tutelage of a cluster of music mentors led by local producer Iron Will. "[Our rapper mentors] Melodownz and Raiza Biza had just come back from playing shows in Europe, and we were all really excited to study under them," Church says. "A lot of people think these programs are just for troubled youth, and that they don't work, but we came from that," he continues.
Their childhoods had equipped them with a solid understanding of classic rap and R&B, and when they started getting on the internet by themselves, they gravitated towards southern rap, UK rap, and grime. At the community hall in Te Atatu, they befriended an engineer named Shallows, with whom they eventually recorded 'Ready Or Not'. But before 'Ready Or Not,' there was a run of events.
Church & AP's first live performance together was at a legendary all-ages show dubbed 'The Plug' in 2017. A social media hit called 'Introverted' put them on the radar of community and youth radio in New Zealand and saw Church recording a viral rap video for Red Bull's '64 Bars' series. Next was multi-venue city festival The Others Way, followed by opening for Saba and Genesis Owusu. "Most of the important connections we've made locally came from people who saw us play at The Others Way," says Church.
'Introverted' set things up for a self-released EP created with a few local producers and vocalists from within their community, and with that, the formalisation of YKK, the fledgling artist collective they've established with Shallows. Coming from such a strong community background, they want to use YKK to pay it forward.
"We're a group, but we're also part of something bigger, a loose collective where you can do anything you want creatively. We want to create opportunities for our community and circle, both here and abroad. Church & AP is the first step towards doing that."
Listen to 'Ready Or Not':