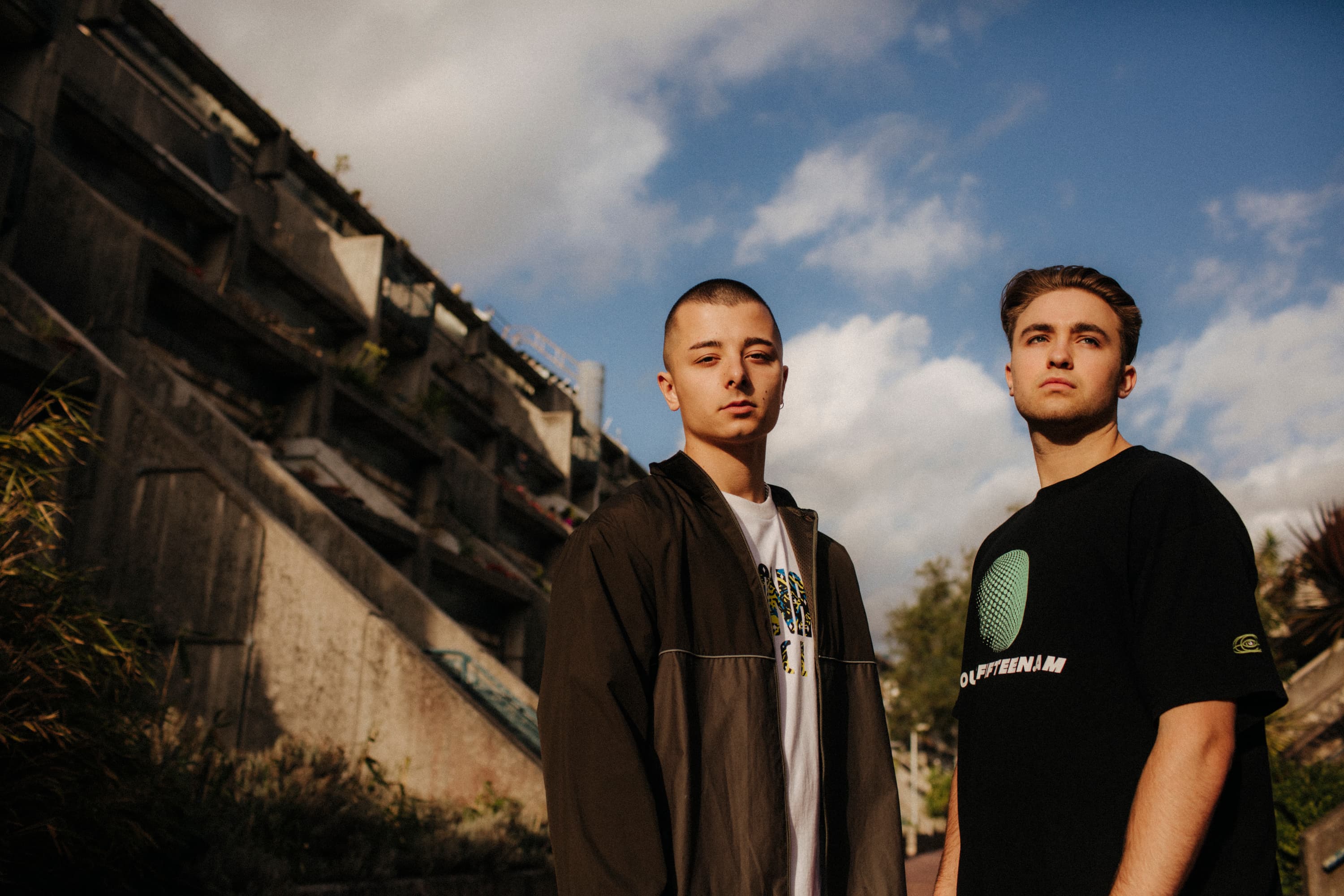 10.10.2019, Words by Felicity Martin
Taking Off: Prospa
From rock beginnings to rave, Prospa are the London-via-Leeds duo making club constructs at their most euphoric...
Prospa are sat underneath a giant painting of what looks like an ancient treaty being signed between China and Russia. It's unclear why it's hanging from the ceiling of the Islington café we're in, but one half of the duo, Gosha Smith, is studying it carefully; pointing out an obscure instrument in the gold-framed artwork – a bit like a banjo, that he owns.
The music the 21-year-olds make now is strictly four-to-the-floor business, but the duo met through a shared love of stringed instruments, in the band scene of their native Leeds. "He loved rock, I loved metal," Gosha says. "He had a mohawk, I had hair down to my arse!" adds collaborator Harvey Blumler. Having moved in the same circles and the same skateparks since the age of twelve, it wasn't until one Leeds festival that they truly bonded, after Harvey started arguing with someone about… "sidechain compression," he laughs. "The guy didn't have a clue what he was on about," says Gosha. "Obviously, I came in and backed Harvey."
Prospa's transition to making machine music was gradual. Harvey had played the drums since he was four, with rockstar ambitions. "I used to watch all these rock documentaries and they'd always be shedding a bit of a negative light on dance and electronic music," he recalls. "I remember this guy saying, like, 'Making music on a computer's for dorks,' or something like that. I sort of always had that opinion of it. But then in high school I remember using one of the computers, I tried it out and I was like, 'Shit, this is good.' Since then I just absolutely fell in love with it."
Gosha, meanwhile, spent his teens playing the guitar as fast as he could, in typical shredding fashion: "I was, like, proper metal only." Eventually falling out of love with it, he picked up jazz guitar and began producing hip-hop and jazz. "It wasn't until that Leeds fest that I actually started liking dance music," he says, "Everyone used to say, you know, 'Mate, why don't you like house? It's the thing right now.' Then I went and saw it was actually sick. That was the day I changed," he laughs.
"We've been constantly, constantly working, hours and hours and hours on end. It's been our life obsession to do this."
Leeds 2013 ended up being a washout, and a group of them took refuge at Gosha's mum's house to avoid their waterlogged tents. "We started making a track the next day," Gosha says, "back when deep house was the thing, you know, Disclosure and that." Co-producing using Reason (via a mixture of samples, external VSTs and analogue emulations, as well as some bits of hardware), the now-London-based pair spent years honing their sound into the dance tent material it is today. "We've been constantly, constantly working, hours and hours and hours on end. It's been our life obsession to do this," says Harvey.
The one thing they don't do, Gosha explains, is compromise. "The one rule that we always stick to, which always works, is that if one of us isn't happy, we keep going until we're both happy." Harvey nods: "At the end of the day, we have to love it, and I think when we both love it, then it's perfect."
'Prayer', released earlier this year, was Prospa's mission statement: a slice of euphoria that twists acid and '90s rave synths into something with instant appeal. It sounded shockingly mature when it landed, re-launching heritage house label Stress Records after a 13-year hiatus, and drew support from Pete Tong, DJ Seinfeld (in the form of a remix) and Annie Mac, who made it her Hottest Record in the World. Proving they weren't just one-hit wonders, Prospa followed up the club weapon with 'Intended', 'Get That' and 'Back To the Motherland', exploring frenetic breaks and soulful vocal chops, while they also reworked Octavian's 'Feel It' into an anarchic rave anthem. Ten Ven's Positiva house cut 'Just About' was also given the Prospa remix treatment, with broad strokes of acid rave nostalgia.
'Control The Party' is the latest addition to Prospa's arsenal: a track that takes their sound in a completely new direction via trance stabs and breakbeats that drive the track as opposed to additions guided by current dance music fashion.
Sonically, their music isn't far off the arena-filling anthems of The Chemical Brothers, The Prodigy or Daft Punk (or as Harvey fondly describes them, "the triumvirate"), acts who are beloved across genre tribes. "We always liked classic dance music," Gosha nods, "The Prodigy was the second album I think I ever got, even though I was into rock. The Chemical Brothers, I've been listening to them for ages, because in a way they have a rock influence to their music."
Those three artists have inarguably carved out scenes and sounds for themselves, untethered to movements or labels, and Prospa have their sights set on a similar trajectory. "Dance music, I find, it's so cliquey and scene-y," says Gosha, "you know, you can make underground stuff or you can do the tech-house thing and play in Ibiza. We want to do our own thing and create our own culture, and have people that follow us for our sound. Do everything in our own lane, independent of what other people do."
That lane has recently been dug out in the form of their own Rave Science label. "The main aim is just to put out our own music," Harvey explains of the imprint, "and hopefully one day also have other people on it."
"We're also not that good at answering to people," adds Gosha.
"We've got to a point where we make tracks really quickly now," he continues, "because we're just so used to working together. By the time 'Prayer' came out, we already had six or seven tracks ready. I think now we've got 15 unreleased tunes."
They launched the label, aptly, with a sweaty warehouse party featuring some of their mates and a bucket of free beers. When we meet, festival season is just about to commence, and the pair are bringing their stadium-sized sounds to a number of events worldwide, with a Printworks date in the calendar as well. Gosha grins: "To be honest, this is probably going to be the best summer of our lives so far…"
Photo credit: Dan Medhurst
Follow Dummy's ELECTRONICS playlist on Spotify to stay up to date with all the best new club music