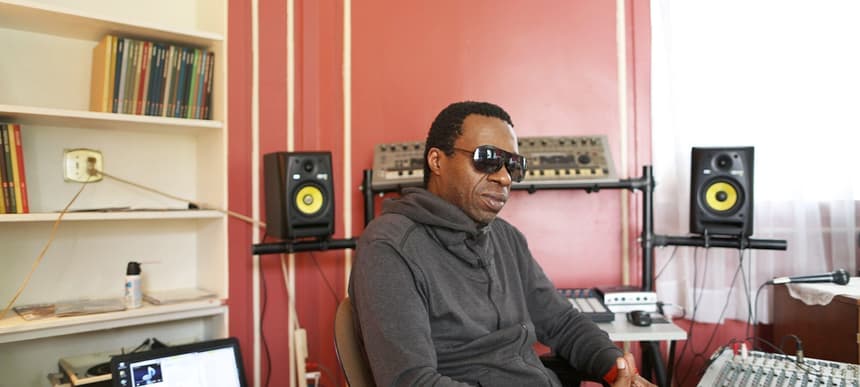 23.08.2019, Words by Reiss De Bruin
Terrence Dixon: Tales of an Accelerated Future
The Motor City legend discusses the new generation of techno and how he refuses to play the game...
In an industry full of egos, talking to Terrence Dixon is a breath of fresh air. Having already attained legend status back when most of today's clubbers were still wearing short pants, it would have been easy for him to rest on his laurels, sit back and cash in on having assembled one of techno's most iconic back catalogues.
Instead, 30 years deep into the game, he continues to push the sonic envelope with all of the exuberance of a still-emerging producer hungry to leave their mark on the scene. So with his creative fires burning as brightly as ever, we begin by asking him where does he think the genre's at in 2019? How can the scene move forward while showing ample respect for its past?
"Techno shouldn't feel disposable and, if we're honest, a lot of it feels like at the minute."
"It's easy to criticise the younger guys as not knowing or respecting the heritage of the music they make but this is a scene all about innovation and collaboration," Terrence begins earnestly. "I think some of my generation just see other producers and DJs as potential competition for gigs when our focus should be on building for the future – together. It'd be nice to see guys looking to maintain a sense of balance promoting music that needs to be heard, that's worthy of recognition. Techno shouldn't feel disposable and, if we're honest, a lot of it feels like at the minute."
So how do we address these issues and move towards a more positive future?
"Well, for me at least, there's a real problem with quality control in the scene right now. It's become so easy to release music due to improvements in technology that a lot of artists aren't asking themselves if they should be putting out what they're putting out. Is it moving the scene forward, is it adding something new or interesting and if you aren't doing that then why aren't you? Music shouldn't be seen as a commodity."
It's a typically nuanced view from one of the scene's most understated statesmen. Delving deeper we enquire as to how the Motor City native feels about the politicisation of techno as a movement in recent years and how he feels about the wider message it's promoting. His answer both surprises and compels.
"For me the faceless nature of the movement in its original form here in Detroit was one of its great strengths," he says. "By humanising the sound and giving it a face we lost the mystery and narrowed the scope of the music. Before we knew so much about everyone making this music it was left to your imagination to figure out what it meant – if anything – and I think that was a good thing. If you wanted to think of it as alien music from the future then you could, man. Find your own meaning, man."
Speaking of meanings, we have to ask the thought process behind Dixon's Population One moniker, the raw, almost improvised, feel of his releases under the alias never failing to simultaneously capture our attention and imagination.
"Music has always been a place where I could go and feel truly comfortable."
"Well the name describes how I feel sometimes," says Dixon. "I've always been kind of a loner and that probably comes from spending the majority of the last 30 years in a studio by myself. It can be a lonely place. I grew up without any siblings, looking for a sense of positivity in the world that wasn't always easy to find. Music has always been a place where I could go and feel truly comfortable."
Asked whether he feels his thoughts and feelings have been chronicled in his releases like an auditory biography, he laughs. "Oh for sure, man, I can lose myself for hours in jam sessions. There have been times where I've been so full of ideas I've been creating 20 tracks a day. The trouble is in picking what parts of these sessions to work into releases. What parts of these recordings I truly want to share with the world. It's an ongoing challenge and one I'm lucky to occasionally able to get help with when I feel I'm too close to the project to listen to objectively and have my wife or Juan [Atkins] come over and give me a second or third opinion."
Talk of his relationship with Detroit techno, founding father Juan Atkins leads us to us discuss Terrence's widely-reported announcement of his retirement back in 2014 which thankfully Atkins managed to convince him to change his mind about and continue producing and performing. So what was it that almost made him walk away from the scene that up until then had been his life?
"It was a mixture of things," the producer says candidly, "Musically I was very frustrated as I felt all the hard work I'd put in as an artist over three decades was being overlooked because I was refusing to play the game. I wanted my music to be able to speak for itself but for the industry, that wasn't enough. Couple that with a few issues outside of music and you can see why I wasn't sure I wanted to continue. It was only after talking to Juan about it that I decided that I was going to carry on doing what I love and just focus on being the best I can be."
Armed with a positive outlook Terrence finishes our conversation by sharing details of no less than two albums he has prepped and ready to go over the course of the next year.
"People say there ain't nothing new under the sun but that's not going to stop me trying!"
"I got a lot of new material coming out that I'm really excited about. I've got a new album coming out on Tresor – 'From the Future Vol. 3' and then next year I've got another album built for Detroit pushing a completely different sound. That lands on Metroplex in the Spring of next year. I'm also going to keep on developing my live show as that's my passion. People say there ain't nothing new under the sun but that's not going to stop me trying!"
Terrence Dixon plays Printworks at the Hydra tomorrow – find tickets here.