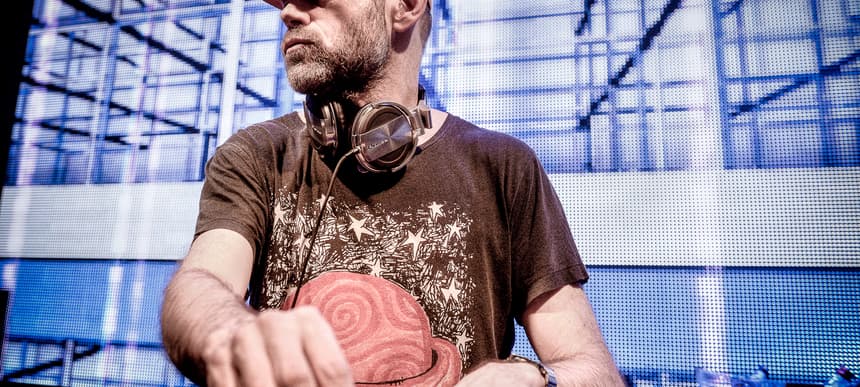 12.07.2018, Words by dummymag
The 10 Best Brit Funk Tracks according to Joey Negro
Dave Lee (aka Joey Negro) grew up on disco, soul and funk in the 70s and 80s but was making house records under various guises in the 90s including Jakatta with which he scored 3 Top 40 hits. His love affair with disco has continued though and with that, the UK's version of underground disco, Brit Funk. Brit Funk is perhaps one of the UK's most under-appreciated genres. Emerging in the late 70's and taking influences from jazz, funk, reggae and pop, by the early 80s it had spread all over the UK. Chart-topping mainstream bands like Wham!, Spandau Ballet and Haircut 100 tapped into the style and sound to help launch their careers, whilst Linx, Level 42, Light of The World, The Cool Notes and Hi Tension were all Brit Funk acts who troubled the UK top 40 with their own singles.
Dave compiled the first Brit Funk compilation back in 2010 but over the last 8 years has come across enough obscure long forgotten gems to justify a second instalment. And it comes with Gilles Peterson's blessing: "I thought I had it all when it came to Brit Funk and beyond but then again I hadn't been round Joey Negro's had I. A crucial selection from a world that inspired a whole generation of DJs and bands."
To mark the release Joey Negro gives us his 10 best Brit Funk tracks – some of which can be found on the compilation or for up to £1000 on Discogs if you want the original vinyl version.
Atmosfear 'Dancing in Outer Space'
Joey Negro: "You can't talk about Brit Funk without mentioning this song and Atmosfear generally. They were the mainstay act of Andy Soika's Elite label that released many of the most popular Brit Funk cuts by the likes of Level 42, Powerline and Touch. Though Atmosfear put out a few vocal tracks later into the 80s they were mainly an instrumental group with a slight reggae dubwise tinge to the bass and general sonics. DIOS is full of catchy riffs: the bassline, the guitars and then the lead synth all blend on top of each other perfectly. It came close to being a pop hit when re-released by MCA but stalled just outside the top 40. It must have sold loads across the various re-issues."
Hi Tension 'Hi-Tension'
"Arguably the first Brit Funk production and one of the best. The blueprint for many UK productions was the American funk, soul and jazz fusion which we lapped up on import. Bands like Mass Production, Crown Heights Affair and Brass Construction had that danceable uptempo sound, with the groove being the main hook, as the 'songs' were often more chants than verse/bridge/chorus affairs. Hi-Tension has that reggae sound on the bass and drums along with a particularly catchy series of chants. It was an underground tune that went all the way to Top of the Pops."
Savanna 'I Can't Turn Away'
"Savana put out two singles on Morgan Khan's R&B label, who most will be familiar with as home to the many Imagination hits. Both this and the follow up 'Never Let You Go' were produced by Brit Funk stalwart Jo Williams and mixed by Tony Swain. They are two of the best sounding records to come out of the UK at the time. Back at the time of release Savana did a session on Peter Powell's drive time show on Radio One, performing the two singles and a third, mellower number 'Last of the Summer Wine'. If you've got that on cassette please hit me up."
Rick Clarke 'Potion'
"One of the recently unearthed obscurities I included on the second volume of Backstreet Brit Funk. This rough and ready brassy instrumental flip side of Rick Clarke's debut single never went beyond being a white label release. Rick will be a familiar name to anyone who followed British black music in the 80s as he became a big name in the street soul scene with songs like 'Perfect Lady'. An original 12" of 'Potion' is tough to find these days."
Light of the World 'Pete's Crusade'
"Flip of their seminal 'London Town', this jazz funk instrumental was co-produced by Side Effects' Augie Johnson and features a trombone solo from the Crusaders' Wayne Henderson. Some of the earlier LOTW material had been quite raw, whereas this has a much more polished sound. Not to say that necessarily makes it better: just stating a fact. There were many brass led instrumentals made by UK acts at this time and many didn't carry it off too well, this is an example of a good one. LOTW's Round Trip LP from which this comes is one of the best all round albums from a Brit Funk outfit."
Incognito 'Parisienne Girl'
"This is where it all started for Bluey and the long serving Brit Funkers who've released something like 20 albums. They went onto commercial success in the 90s on Talking Loud and still gig all over the world. 'Parisienne Girl' is quite an unusual leftfield tune that shifts through different moods with low key vocals and boogie style synth. The flip 'Summer's Ended' is also super nice with a killer bass and Rhodes refrain. Like fellow UK funksters LOTW and Galaxy, Incognito were signed by mafia DJ Chris Hill to the Ensign label."
Paradise 'Stop and Think'
"The immediate thing that hits you about 'Stop and Think' is the similarity of the bass piano riff to Maze 'Joy & Pain' but this is a very memorable song in its own right from a particularly strong, well-made album (one which used to be very hard to find but has been re-issued). The UK gospel act had a big UK dancefloor and radio hit after this with their single 'One Mind, Two Hearts'. Lead singer Paul Johnson went onto solo success and was signed to Columbia in the mid 80s. His recent(ish) 'Better Than This' was a favourite of mine."
Freeez 'Keep in Touch'
"I recall buying this as a new release in Parrot Records, Colchester after hearing it on Robbie Vincent's Saturday lunchtime Radio London show. It was on the band's own Pink Rhythm label in a plain white sleeve with no hole, which to me looked very underground. It was also £2.29 when most 12" were £1.29 – 1.99. I never regretted the purchase as it's a killer bass-driven instrumental, like a cross between Atmosfear and Narada Michael Walden. A year or so later the band ended up in the top 10 of the national charts with their brilliant Southern Freeez and signed to Beggars Banquet."
Hudson People 'Trip To Your Mind'
"One of the best British dance records period. 'Take A Trip To Your Mind' was one of the most progressive dance records to come out of the UK. An extended jazzy jam that starts off with quite subdued vocals but evolves into quite a psychedelic affair with swirling freestyle Rhodes over a stomping rhythm track. Like much of this music it was originally released on the band's own label (Hit House in this case) but was licensed by Chris Hill's Ensign label and remixed by Chris along with Robbie Vincent. Hudson People later signed to Virgin but their 'Boogie Downtown' lacked the jazzy spark of TTYM."
Proton 'We're Funkin''
"Proton was Phil Fearon; post Kanditdate but pre his big success with Galaxy. This and the other Proton 12" 'Pay Up' were both self-released and have become pretty collectable. I'm really glad we've brought these under the radar UK productions into the digital age and back into the spotlight as they have uniquely British raw and haunting atmosphere."
Backstreet Brit Funk Vol.2 – compiled by Joey Negro is out now on Z Records on CD, vinyl and digitally.