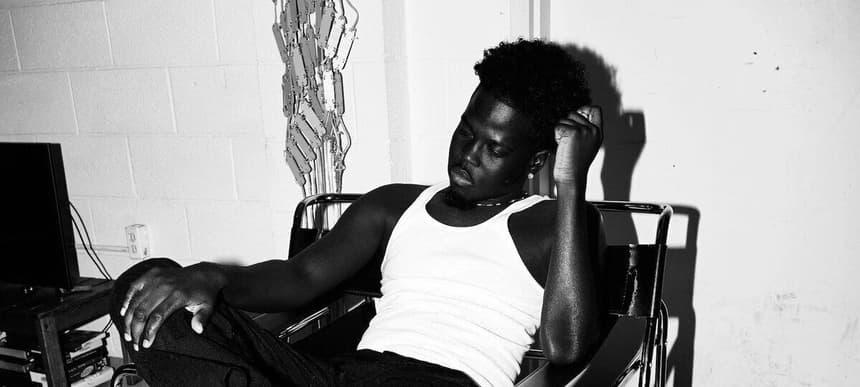 11.01.2023, Words by Billy Ward
The 15 Most Exciting Artists For 2023
A list of the acts we're expecting big things from this year...
2022 was another great year for music - check our picks for the best albums and tracks - but it's time to wave goodbye and welcome 12 brand new months where the next big thing could break through at any given moment. 
Arranged in alphabetical order, we've selected 15 artists on our radar who are poised to take their music to the next level in the year ahead. Our Most Exciting Artists selections last year reached impressive heights throughout 2022, with Nia Archives bringing in the awards and artists like yuné pinku and Bawo establishing themselves in a big way. We've purposely excluded the acts we've been working with via DMY from the list, but you can stay up to date with what we'll be releasing over the next 12 months on our DMY Artists: Releases playlist.
AntsLive
North London-bred AntsLive is a diamond in the rough we think the rap scene is about to uncover in 2023. Since the release of his debut single at the beginning of the pandemic, the rising talent has been building momentum as one of the most innovative and reactive young artists in the scene. Channeling the cheeky, fist-swinging attitude of acts such as slowthai and mixing it with a penchant for undeniably hard-hitting lyricism and spell-binding visuals that ooze confidence, it seems the only way is up for this exhilarating wordsmith. 
BZ
Following a break-out 2022 which saw his explosive single '2 G's' feature in the latest season of Top Boy, Croydon-hailing rapper BZ has been going from strength to strength ever since. Donning the type of distinct vocal style we've seen artists like Pa Salieu stand out from the crowd with, BZ carves out his very own unique sound - an impressive feat for any youngster but especially when it's as good as this. Running with the momentum picked up last year, BZ is certainly one to keep on your radar going forward.
Charlotte Plank
Bringing something new to the Gen Z rave renaissance currently proliferating club nights and afters all over the country, 21-year-old Charlotte Plank is in prime position to energise a new era of party-goers. Snapped up by Black Butter last year after her hard-hitting jungle beats and drum 'n' bass-influenced sound started to gain some serious traction, both on TikTok and IRL events, the rising talent sets herself apart from the likes of scene trailblazer Pinkpantheress with a grungier aesthetic. We can't get enough of Plank's debut 'Hate Me' and 2023 is poised to be even more fruitful for this star-in-the-making. 
Downtown Kayoto
Garnering comparisons to his R&B contemporaries like Frank Ocean and Daniel Caesar, Hull's very own Downtown Kayoto - real name Chiko Chinyadza - is taking the genre into new territory with his sprinklings of drum 'n' bass and soulful rap. With more music on the way in 2023, this experimental northerner is looking to follow up his widely praised 2021 debut EP 'NAVIG8' with something we can't wait to hear. 
George Riley
George Riley's name was catapulted into the lime light back in 2021 after featuring on Manchester producer Anz's bouncy club hit 'You Could Be'.  Signed to Vegyn's PLZ Make It Ruins imprint, Riley's output has an extraordinary world-building quality that invites you to get lost in. We recently put her debut EP 'Running In Waves' in our 25 Best Albums Of 2022 list, so it makes sense that we think 2023 will be another big year for the soulful West Londoner. 
Jasper Tygner
Selector, producer and multi-instrumentalist Jasper Tygner is at the forefront of cutting-edge electronica in London. Shaped by early raving experiences growing up in the city's bustling underground dance scene, the 25-year-old's reverence for club sounds from jungle, through to dubstep and garage have proved crucial in the development of his after-hours productions. Fresh off the back of his debut headline show at Peckham Audio a few months back, Tygner is in a strong position to become one of London's most sought after producers. 
Jouska
Oslo-based, singer-producer and Sassy 009 bandmate Marit Othilie Thorvik aka Jouska is setting herself up to make a lasting impression this year. Having recently announced her sophomore record 'Suddenly My Mind Is Blank', the experimental songstress is bringing something new to the table with her lush blend of R&B soundscapes, dream pop, hip hop and electronica - typified by her unique breathy vocal style. With the new project out in February, Jouska was one of the first names we thought of when compiling this list. 
LVRA
Drawing from the beating heart of hyperpop and deconstructed club music, 23-year-old Chinese-Scottish singer and producer LVRA has crystallised a high-octane, inimitable sound. Sonically, LVRA splices her love of bass, techno, breaks and an array of other left-field electronic music with in-your-face punk-infused noise. Carving out a sound that is truly her own, this unique talent is one of the UK's most exciting up-and-coming acts. 
Mac Wetha
Aside from being a founding member of London hip-hop collective NiNE8, redefining the sound of the city alongside the likes of Lava La Rue, Biig Piig, and Nayana IZ, multi-hyphenate artist Mac Wetha is one of the most in-demand and talented producers about right now. Best known for his work behind the scenes, propping up some of the UK's most exciting names with his slick productions, the 24-year-old has spent the last year claiming some of the spotlight for himself. Now putting himself front and centre with his forward-facing solo work, we expect Mac to take his solo journey to the next level over the next 12 months. 
muva of Earth
Celestial songstress muva of Earth is a breath of fresh air in a world cluttered by social media, pollution and more bad vibes than we'd like to admit. Mining the edges of acts such as Sun Ra, Sade, Fela Kuti and Alice Coltrane, the London-born alternative jazz singer unpacks the complexities of human connection over a bed of afrofuturistic rhythms and ethereal horns. After a strong year in 2022, we can't wait to hear more transformative anthems from the rising soulstress. 
Nino SLG
At just 17-years-old, Nino SLG isn't old enough to legally buy a pint but he's already rapping as if he's got a lifetime of experience under his belt. Emerging from South London, the rising teen prodigy has been tipped by Stormzy as one to watch for the future and after putting out his instant anthem 'Battle Cry' last month, we think 2023 is going to be a career defining year for this unapologetically unique lyricist. 

Skiifall
Every so often a new artist emerges from the cracks who just has it. You can never quite put your finger exactly on what 'it' is. But you know it's there: a certain star factor that sets them apart from everybody else. This is the feeling we had when first stumbling upon Skiifall's music. The Montreal-based, Canadian-twanged rapper mines the edges of UK grime, drill and dancehall with a distinctive Caribbean flow. Despite already earning fans in Drake and the late Virgil Abloh, Skiifall's still nowhere near the level of recognition he deserves. Being this good, it's only a matter of time before he elevates to new levels.  
SOFY
Leicester-raised talent SOFY grew up listening to '90s rap and two decades worth of FIFA soundtracks. A few months after writing and recording her first ever song back in 2021, her demos were already being played on the national airwaves, splicing witty yet observational lyrics with tongue-in-cheek takes on modern life. Completing something of a full circle moment, her hit single 'Big Talk' recently ended up on the FIFA 23 soundtrack - a strong marker in the sand for more success ahead this year.
Somadina
One of the most exciting musical talents emerging out of Nigeria right now, Somadina has spent the last 5 years honing her craft since dropping her debut single 'Ihy' in 2018 and is now ready to show the world what she's really capable of. Pulling together influences from Brit-pop, 70's Afro-rock and R&B, it's safe to say that Somadina's experimental, genre-fusing output has all the formulas for success.
Tendai
It feels like 0207 Def Jam signee Tendai is on the cusp of something big. Born in Canning Town, the 22-year-old was raised in a musical, Seventh-Day Adventist family, citing his spirituality as a big influence on his spell-binding, emotional output. Sonically, Tendai's future-facing brand of R&B is enough to turn heads wherever it's being played, pushing boundaries with each new release and music video as his cinematic vision comes to life. Alongside his own debut project, Tendai spent last year working on Stormzy's latest album 'This Is What I Mean' - in 2023, he's poised to see the rewards for all of his hard work.  
Listen to our 15 Most Exciting Artists For 2023 playlist on Spotify below: