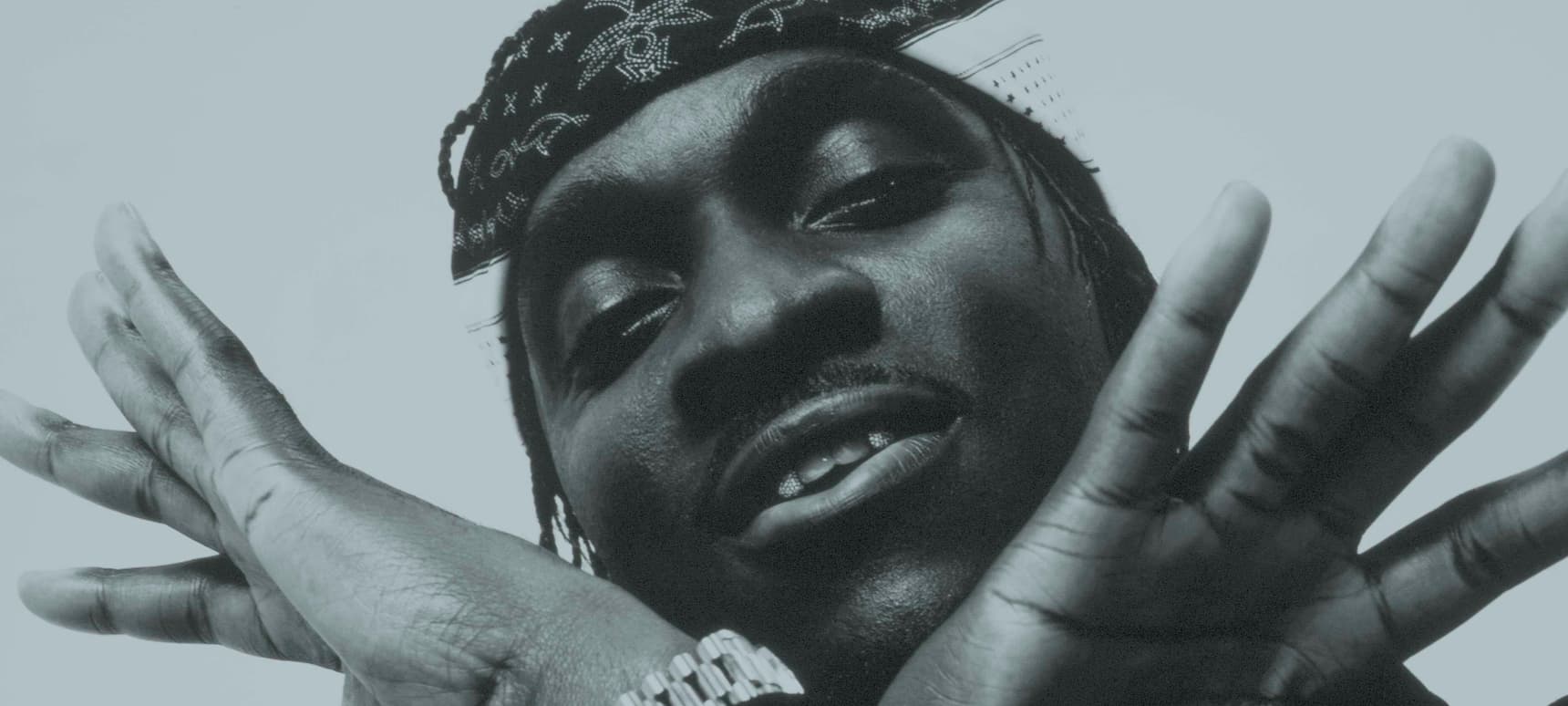 17.12.2018, Words by Felicity Martin
The 25 Best Albums of 2018
We run down the full-length records that made this year bearable...
A good album roundup intro should touch on the year's cultural and political talking points, but 2o18 was trash in many ways and maybe the less said about it the better… Thankfully the last 365 days brought us a load of records to numb the pain, with Spanish language artists blowing up more than ever before, rap going weird and psychedelic, and a certain Swedish popstar making her comeback.
From OG grime MCs dropping their debut albums to singular artists delivering their mission statement, below are the 25 albums that shaped the musical landscape (and had us smashing the repeat button) over the past year.
25. Mitski
Be the Cowboy
Dead Oceans
It's exhausting being a woman and it's exhausting being vulnerable, and Mitski knows this. Perhaps her most mature release to date, the Japanese-American singer-songwriter is thrilling and relatable on 'Be the Cowboy'. Tapping into the anxieties of modern day existence, she is frank and to the point, with many tracks coming in at less than two minutes long. Her vulnerability comes to the fore throughout the LP, and perhaps most notably through her lyricism. On lines like, "Nobody butters me up like you, and/Nobody fucks me like me" from 'Lonesome Love', she captures the sentiment of a woman hiding her vulnerability. Simply breathtaking and timely, Mitski knows we're fed up and has poured that frustration into a stellar album.
Jumi Akinfenwa
24. Burna Boy
Outside
Atlantic
2018 has been the year of OluwaBurna – as the 27-year-old Nigerian artist refers to himself. His third studio album, 'Outside', presents him as never before, wearing his influences and tastes boldly on his sleeve. The album flits between afrobeat – unsurprisingly for the grandson of Fela Kuti's former band manager – and a blend of dancehall, rock and house, with assistance from Londoners J Hus, Mabel and Lily Allen. Rarely has an album produced such differently-sounding standout tracks – the relaxed, dancehall tinged 'Sekkle Down' and the hometown anthem 'Ph City Vibration' to name a couple. The exceptional, infectious 'Ye', however, is undoubtedly one of the songs of the year – a timeless cut that'd be equally suited to a house party as much as in front of thousands at Brixton Academy. 'Outside' is testament to the fact that Burna Boy is a genre in himself, bringing together the cultural and musical blend of the US, Nigeria and London.
Rahel Alkilu
23. Marie Davidson
Working Class Woman
Ninja Tune
"I looooooove your music," a sardonic voice drawls on opener 'Your Biggest Fan', before a chorus of whispers escalate to more dystopian heights: "Do you really need to carry all that gear around with you?! My GOD." On her fourth album and Ninja Tune debut, Québécois producer Marie Davidson (one half of Essaie Pas) takes a wry look at club culture and the reality of life as a touring musician in an often mistakenly glamourised industry. Providing something of a techno counterpart to Britney's 'Work Bitch', 'Work It' is a gruelling ode to the pay packet that'll get your fingers bloody, delivered in Davidson's signature deadpan humour. 'Working Class Woman', though, is not just an art-house/conceptual record, but one that eyes the dancefloor at all times (which you'll be grateful for if you've ever caught one of Davidson's immense hardware-filled sets). With punishing techno sitting next to coldwave with dreamy sung choruses, it's an album to slog out the 9-5 to and to lose yourself in the after-hours in.
Felicity Martin
22. Ghetts
Ghetto Gospel: The New Testament
Caroline International
Ghetts' versatility and ludicrous natural MCing ability have always been a gift and a curse, as he's seemed to struggle with defining his sound and identity over the years. However, his latest album, 'Ghetto Gospel: The New Testament', is one of the strongest coming-of-age releases of the year. It's all here, from the politically charged album closer 'Black Rose', to the mind-bending wordplay and buzzsaw grime beats of 'Shellington Crescent', and the mature, tender storytelling of 'Jess's Song' and 'Window Pain'. It's his best and most complete work to date, and for an artist who's been in the game since 2005, that's saying a lot.
Paul Gibbins
21. Joji
BALLADS 1
88rising
Escaping the confines of his bedroom walls and viral Internet persona, Joji came out with his first full-length project. 'BALLADS 1' boasts a multitude of guests and maintains a quiet intimacy while balancing a welcoming radio-friendly consistency. From anthemic power ballad 'Slow Dancing in the Dark', which layers screaming vocals with clear harps and synths to musing on unrequited love and unfulfilled expectations in opening track 'Attention' to switching gears in the danceable Clams Casino-assisted 'Can't Get Over You,' Joji's music is his catharsis, and as you listen to it, it becomes yours as well. 'BALLADS 1' is an R&B-influenced document that boasts standout tracks, and intriguing collaborations, but above all it's George Miller's collection of despair and the lingering hope lying ahead of that despair.
Malvika Padin
20. Playboi Carti
Die Lit
AWGE/Interscope
"Bags of the future / Did it all off computers," is a line that represents Playboi Carti's contemporary, bohemian mindset. In the space of a couple years, the enigmatic Atlanta rapper has gone from low quality Soundcloud clips and one-off hits to 'Die Lit': a pivotal debut that sees his artistic maturity skyrocket to otherworldly peaks. Following up his 2017 self-titled mixtape, Carti's first LP is a delirious rollercoaster ride that figures as an anomaly to the rest of the Atlanta scene. Aside from major features from Nicki Minaj, Travis Scott and lesser-known rappers like Young Nudy, 'Die Lit' is a raw and unfiltered monologue from an artist whose strengths are based on his own limitations. Juggling between catchy and repetitive, the 19-track work is a cruise through Carti's uncanny delivery and producer Pierre Bourne's atypical use of textures. Like two mad scientists, the pair fashion a techno-tinged brand of hip-hop that feels like a kind of sonic acid trip. Hypermodern and minimalist, Playboi Carti's alluring album is the amalgamation of Soundcloud rap in its purest, most concise, and musically-daring form.
Daniel Laxness
19. D Double E
Jackuum
Bluku Music
It's no exaggeration to say that D Double E's debut album, 'Jackuum', was the most highly-anticipated grime release of all time. After all, we've only been waiting for more than a decade. Double's ability on the mic doesn't need to be restated, and his respect in the scene meant that he could call on the best beatmakers (Sir Spyro, Diamondz, Swindle) and MCs around to put together the best pure grime release of the year, with Skepta, AJ Tracey and Wiley all contributing verses. From the ice-cold opening track 'Bark It' to the bounding beat and elastic vocals of 'Dem Man Dere', 'Jackuum' represents Double's past, present and future about as faithfully as we hoped it would.
Paul Gibbins
18. Robyn
Honey
Konnichiwa Records
Injecting some much-needed positivity into a pretty bleak year, Swedish popstar Robyn returned – eight years after the iconic 'Body Talk' – with her eighth album, 'Honey'. Despite it being the first we'd heard of her since 2010, the release was more than worth the wait. Combining dreamy yet club-ready house production, memorable lyrics and sing-a-long choruses, she's created some of the best pop songs of the year in 'Missing U', 'Honey' and album closer 'Ever Again'. And at just nine tracks long, it's a case of all killer no filler; refreshing in a year that's seen countless overstuffed albums. 'Honey', comparatively, is succinct, knows exactly what it wants to be and, ultimately, full of anthems made for tearing it up (or tearing up) on the dancefloor.
Ben Jolley
17. Kids See Ghosts
Kids See Ghosts
G.O.O.D Music/Def Jam
Anyone who took one cursory glance at pop culture's happenings over the past 12 months could tell you that it hasn't been a good year for Ye. For all his White House dealings and missteps as a soloist, Kanye's work with other musicians in the Wyoming period proved fruitful – and the surprise collaborative LP between him and Kid Cudi as Kids See Ghosts is a real masterwork. The title cut and 'Reborn' sees a hip-hop supergroup (if you can call two people that) at their most vital and innovative. From the unhinged, gun-mimicking splutter of opener 'Feel The Love' to the stadium rock number turned gospel song 'Freeee (Ghost Town Pt. 2)' with Ty Dolla $ign, 'Kids See Ghosts' feels unfairly short at just seven tracks, despite being a refreshing antidote to the bloatedness of many a hip-hop record in 2018.
Felicity Martin
16. Kali Uchis
Isolation
Virgin EMI
2018 was the year that Kali Uchis finally made good on her promise as a pop icon for the modern age. Having been on the horizon for what feels like an eternity, when her debut album 'Isolation' arrived this year it was everything we could have asked for; luscious, extravagant psychedelic soul and pop. 'Isolation' is Kali Uchis' world writ large. From the lavish, gently Latin-influenced opening track 'Miami' with BIA to the frantic drum machine indie-pop of 'In My Dreams', each track revealed a little more of the Colombian American singer's flamboyant, self-created universe. While the tracklist is impressively star-studded for a debut – with appearances from Tyler The Creator, Bootsy Collins, Jorja Smith and more – the guest features are merely the feather boa on Kali's already flawless offering.
Mike Vinti
15. BROCKHAMPTON
iridescence
Question Everything/RCA
If you weren't listening to BROCKHAMPTON this year, then what were you doing?! Redefining the oft-maligned term 'boyband', this collective released quite possibly their most expansive work yet on fourth album 'iridescence'. Coming off the back of sexual misconduct allegations against former member Ameer Vann, the remaining members channelled the emotions that a situation like this can bring to the fore, uniting themselves in the process. Their first US Number One, this is the album that has defined BROCKHAMPTON and has earned them the esteemed position of serving as voices for their generation by allowing each individual to be a storyteller in their own right.
Jumi Akinfenwa
14. Kamasi Washington
Heaven and Earth
Young Turks
He may have only emerged into the public's consciousness a few years ago, but there's no doubt that Kamasi Washington is the elder statesmen of a new generation of jazz artists. 'Heaven and Earth' is a more manageable length than its three-hour predecessor, 'The Epic', but what it lacks in comparative length it more than makes up for in punchy, uplifting arrangements and a funkier palate. Mixing orchestral elements with hip-hop-inspired grooves and the occasional Thundercat bassline, 'Heaven and Earth' pushes Washington's sound even further than 'The Epic'. Standout tracks like the squelch-laden 'Street Fighter Mas' and militaristic 'Fists of Fury' grab listeners' attention, meanwhile deeper cuts like 'The Space Traveller's Lullaby' transport them to another world. With 'The Epic', Washington proved his vision, on 'Heaven and Earth' he proves his virtuosity.
Mike Vinti
13. Vince Staples
FM!
Def Jam
Vince Staples is the most creative rapper of a generation, and he knows it. Consistently underrated, Staples has barely ever put a foot wrong and 'FM!' is no exception. Barely half an hour in length, the album manages to pay tribute to hip-hop radio while simultaneously sending it up. Enlisting West Coast radio legend Big Boy to host the record gives it a slightly surreal feel, while cuts like 'Brand New Tyga' and 'New earlsweatshirt' turn hip-hop fans constant lust for new drops on its head. From front to back, 'FM!' is Staples on top form. Razor-sharp and provocative, despite its short length the album doesn't pull any punches with lead single 'FUN!' offering the closest thing to a Vince Staples manifesto: "Christian Dior, I'm Crippin' Bjork." Elsewhere 'Run the Bands' showcases Staples' much-loved humour with lines like: "House so big need Kanye lipo," while closing track 'Tweakin' delivers a sombre hit of reality, enlisting Kehlani and Buddy to lament the death of a number of Staples' friends.
Mike Vinti
12. serpentwithfeet
soil
Secretly Canadian/Tri Angle
Josiah Wise's artistry is the godsend no-one knew they needed. Elegant, unusual, daring and honest, these four words only scratch the surface when attempting to describe the Baltimore native's tapestry of sounds spanning baroque and '90s R&B along with the former choirboy's own breathtaking vocal abilities. Two years on from the release of his widely-praised 'blisters', serpentwithfeet unveiled his staggering debut album, 'soil'. With his operatic vocals taking centre stage, the experimentalist sings of queer love, human connection and the exploration of one's self up against a loved one and the world. As he welcomes you into his world coded with realist imagery and hyper-poetic metaphors with textural, layered production by Clams Casino, mmph and Katie Gately, time stand stills and nothing disrupts Brooklyn-based artist's lyricism and open-heartedness.
Daniel Laxness
11. Janelle Monáe
Dirty Computer
Atlantic
"I am not America's nightmare," Janelle Monáe sings, "I'm the American dream." It's become de rigueur for end-of-year lists to reflect on the passing year as having been exceptional in terms of political and cultural upheaval, though it's fair to say that we are reaching some kind of escape velocity. 'Dirty Computer' will spawn a million thinkpieces for years to come, not just across the prominent borderlands – race, gender, sexuality – but the strength of their intersections, in which the concept of what 'American values' meant in 2018 will ride high. Most of all, Monáe somehow makes it all sound like the best fucking time, literally: "We're so screwed," she laughs, and the world laughs along: sad, horny, and desperately glad there's someone else out there who gets it too.
Matthew Neale
10. Octavian
SPACEMAN
Black Butter
It's been a banner year for Octavian: the Drake-endorsed rapper has laid waste to venues the world over with his incendiary live shows, walked for Louis Vuitton (with Travis Scott and Kanye West on the frow) and joined Virgil Abloh onstage at Tyler, the Creator's Camp Flog Knaw. Plucked from the underground, the French-born, south east London-raised artist's addictive, genre-bending 'Spaceman' mixtape felt refreshingly different. Fusing dancehall, grime and bass-heavy production (courtesy of his Essie Gang crew), Octavian's distinct vocal tone and uncompromising lyrics told the story of living on the streets for four years. Translating such a range of emotions onstage, Octavian has become known for his high-energy, moshpit-inducing live shows, and his stratospheric rise shows no signs of slowing down.
Ben Jolley
9. Blood Orange
Negro Swan
Domino
In a time when the identity and existence of the marginalised is the source of constant, exhausting debate, the notion of finding a safe space – of finding your own family – can feel of tantamount importance to self-preservation. Dev Hynes' output as Blood Orange has always boasted a musicality, but this time around the sound felt especially vital in its richness: 'Negro Swan' was a necessary comfort blanket. Instrumentally, that feeling came from the plush keys, flutes, sax and guitars, channelling black music from hip-hop and R&B to soul and gospel. But the replenishing feeling came from the words too, delving softly into considerations of blackness and queerness, cut with spoken word from trans activist and screenwriter Janet Mock, a strikingly vulnerable feature from Diddy and a sublime falsetto from Ian Isiah.
Tara Joshi
8. Sheck Wes
MUDBOY
Interscope
After demolishing the internet and most raves with a mosh-worthy ode to his basketball-playing best friend, Sheck Wes asserted himself in 2018. How he would follow the viral success of 'Mo Bamba' would test the scope of his longevity and he delivered an exciting debut opus that singled him out in rap's increasingly saturated playing field. 'MUDBOY' is the closest to a marriage between rap and heavy metal as you'll get, as the 20-year-old New Yorker – born to Senegalese immigrants – opens up his personal haunted house, with dark, gloomy and thumping instrumentals juxtaposed by the restless (bordering comical) nature of his lyrics and favoured "Bitch!" adlib. With no features to speak of, he fills the space with certified bangers in 'Gmail', 'Wanted' and 'Live Sheck Wes' and an almost endearing introspection throughout. With 'Mudboy', Wes ensured his debut hit would not define him or his bright future.
Yemi Abiade
7. Cardi B
Invasion of Privacy
Atlantic
Drama and intrigue seem to follow Cardi B wherever she goes. Indeed, her career trajectory to date, from dancing in clubs to reality TV and now the very pinnacle of the global hip-hop scene, has been driven by an uncanny ability to command attention. And given the consistency with which she's generated non-music-related headlines in 2018 – be it via an on-TV pregnancy reveal, allegedly orchestrating an assault on some strippers, or just throwing a shoe at Nicki Minaj – you might be forgiven for forgetting that she also released her debut album this year. Might.
With 'Invasion Of Privacy', Cardi announced herself as a great for the age. One of the most assured debut rap albums in years, the record saw Cardi flexing her idiosyncratic vocal tics and razor sharp wit over moody trap rollers, silky R&B, pool party jams, and, with the Latin-leaning 'I Like It', the undisputed song of the summer. Ignore her at your peril.
Will Pritchard
6. Shame
Songs of Praise
Dead Oceans
Shame were the band we needed in 2018. Emerging from the same fetid South London pit that spat out Fat White Family, the post-punk quintet dropped their universally-adored debut album back in January. The band's sense of humour comes to the fore on 'Songs of Praise' (a nod to the fusty religious TV show) and on record they matched the reputation they'd built for themselves as one of the fiercest live acts going. Distilling the sweat and riotous moshpits they magicked up IRL into a sordid, sarky but utterly infectious full-length, the band delivered one of the finest commentaries about British society in the process. Providing a barrage of eyebrow-scorching, completely filthy lyrics ('Gold Hole' is especially icky), along with belligerent basslines and adrenaline-pumping drum riffs, 'Songs of Praise' aptly soundtracked a year of political upheaval and hopelessness. And, as the old adage goes, you've gotta be doing something right to get lambasted by The Sun.
Felicity Martin
5. Tirzah
Devotion
Domino
Intimate, sparse and passionate, Tirzah's debut album was the sort of beautifully-profound pop that we really needed in 2018. Teaming up with Mica Levi, as she has done on previous releases, 'Devotion' tells of love and intimacy with a hushed intensity, guided by Tirzah's gentle yet simultaneously powerful vocals. In this sense, it's full of contradictions, in the same way that love itself is. Tracks like 'Gladly' and 'Reach' are filled with introspective, heartfelt moments that resonate with anyone who has held intimate feelings towards another (i.e. most of humankind). Complex and tender, yet simple both lyrically and musically, Tirzah and Levi captured an emotion that is just so difficult to place.
Jumi Akinfenwa
4. Skee Mask
Compro
Ilian Tape
From the breathy, fragile ambience of 'Cerroverb' to 'Soundboy Ext.'s breakneck-speed jungle, it's hard to not be completely floored by Bryan Müller's second album as Skee Mask. 2018 was the year where you couldn't escape a break in the club, and the Munich producer's record looks toward '90s ambient techno and rattling breakbeat for inspiration – but 'Compro' never feels gratuitously nostalgic. Instead, Müller displays an almost sixth-sense-like aptitude for rolling rhythms, whisking drum patterns into something that feels like the giddy excitement of your first proper rave experience. It's the kind of expansive techno that works when played softly as ambient music as much as on a stacked club system with thunderous results – and 'Compro' will surely stand the test of time.
Felicity Martin
3. Tierra Whack
Whack World
Self-released
With only a handful of (admittedly excellent) releases and a few freestyle videos on the web before the turn of the year, Tierra Whack hit 2018 like a tonne of multicoloured bricks. Singularly uploading fifteen aesthetically-linked but seemingly individual one-minute visual clips to Instagram, Whack unveiled 'Whack World'; a staggeringly creative and infectiously concise display of the breadth of her artistic prowess, and whether intentional or not, an intriguing comment on music consumption in the 21st Century. Spanning haze-filled cloud rap on 'Flea Market', introspective bars on '4 Wings', gloss-laden pop on 'Hungry Hippo' and so much more, 'Whack World' was a diverse introduction to a very special artist, with each visual helping to further embed the listener into Whack's World; a technicolour, sometimes sinister dream where anything is possible.
Made all the more sugary and addictive by the short runtime of each track, 'Whack World' plays like a sonic social media timeline, feeding us something different in small doses each time with almost instant gratification before moving onto the next snack. Later uploaded to YouTube as a whole 15-minute film, it would seem that 'Whack World' is destined to stay as just a hint of what Tierra Whack was working on in those sessions. If, as alluded to in an October freestyle, 'Whack World' is "just samples", one of 2018's best albums was simply an intriguing peek into the consciousness of one of the most unique new artists around today, and if this isn't even her in full flow, 2019 is set to be Tierra Whack's year.
Phil Grant
2. Rosalía
El Mal Querer
Sony
If anyone required a reminder of music criticism's intensely performative role in global culture, look no further than its reaction to 'El Mal Querer' within the US and UK. Much has been made of its reconstructive qualities, imagining that the threads of R&B, electronic voice treatment and Justin Timberlake samples weave through flamenco's superannuated frame like so much scaffolding. In truth, mainstream pop has been swiping bits from Catalan and Latin quarters for decades, and this is perhaps why Rosalía's breakthrough LP feels so natural: for many listeners, that sonic palette came closer to distillation than adulteration.
Those who seek to delineate musical (or indeed national) points of origin miss the point entirely. Flamenco itself is a style built on fluidity and integration, developing between Andalusians, Romani, Castilians, Moors and Sephardi Jews in the 18th Century. At 25 years old, Rosalía Vila Tobella speaks across both centuries and nations: as well as incorporating modern influences, there are moments of operatic drama ('Reniego') and more heavily pronounced Arabian tones ('De Aquí No Sales') that effortlessly coalesce, each part a stream that passes through its colossal whole as easily as the river punctuates the mountain.
The album's lyrics tells the story of a broken relationship, and the conflicting emotions that arise within ("put your body against mine and make the bad be good, make the blessed be impure"). Perhaps one of its most remarkable accomplishments is that this narrative arc transcends the limitations of language; at its peak, on tracks like 'Di Mi Nombre', it barely matters how closely you can interpret 'El Mal Querer's tale of love gone bad. The sound of pleasure and pain colliding is universal.
Matthew Neale
1. Pusha T
Daytona
G.O.O.D Music/Def Jam
Despite being only seven tracks long, few albums have had as significant an impact on hip-hop this year as 'Daytona'. In many ways it was the album that kickstarted some of the biggest news stories in hip-hop; the beginning of Kanye West's transformation from problematic genius to just problematic, the reignition of Pusha T and Drake's legendary feud, hell – 'Daytona''s closing track is the reason we know Drake has a son.
Regardless of the drama that surrounded it, 'Daytona' is the record that finally pulled Pusha T out from Clipse's shadow. While 'My Name is My Name' and 'King Push' were solid solo efforts, 'Daytona' distilled Pusha's rap to its simultaneously grimy and glamorous essence and proved he's been one of the most criminally underrated MCs of a generation.
Opening track 'If You Know You Know' immediately immerses you into the opulent underworld Pusha T has made his lyrical home, a knowing grin underpinning every detail in his dense, narrative-driven verses. The juxtaposition between high culture and criminal class reflecting the controversial decision to put the now-infamous photo of Whitney Houston's bathroom on the album's cover. Speaking of controversy, 'Daytona' proves that, for all his flaws, Kanye still knows how to make a beat knock. On 'The Games We Pay', a stripped-back loop underpins a fierce series of verses and flawless braggadocio from Push, the occasional horn blast keeping things moving. Meanwhile, on 'Santeria', ominous stabs of bass give way to a gothic hook from one of West's latest prodigies, 070 Shake.
Ultimately, though, 'Daytona' is at its best when the drama, the guests, and the beat peel back and just let Pusha rap. Since the days of 'Lord Willin', T has had one of the most unique flows in hip-hop. Precisely poised and packed with internal melody and convoluted rhymes, T's confidence on the mic is the key to his success. Allusions to secret trap doors, luxury suites and more supercars than you can count litter 'Daytona', painting a picture of a lifestyle so flagrantly over-the-top that if any other MC tried to portray it as reality, they'd be laughed out of the studio.
Where his contemporaries brag about their wealth and lord it over their listeners, Pusha T revels in it, inviting his fans into a world of pure hedonism. That is, if they can handle the darkness that's always just around the corner.
Mike Vinti
Listen to our Spotify playlist of the top 25 albums: