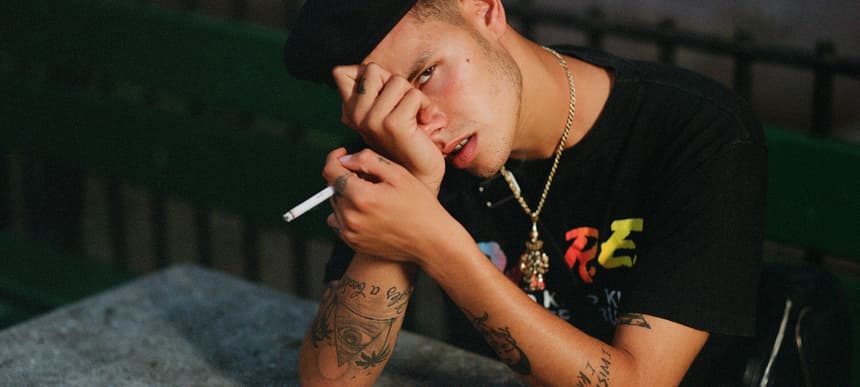 18.12.2018, Words by Felicity Martin
The 50 Best Tracks of 2018
We sift through the sonic gems that the past year has spat out...
It's been a year! Selecting the best tracks from a whole 12 months is always gonna be a tall order, especially in a year where there was a real wealth of new music pouring out each week.
Without further ado, below are the fifty tracks that have made a lasting impact on Dummy's consciousness, have had the world dancing or have nudged sonics in fresh new directions.
50. Caterina Barbieri – 'Virgo Rebellion'
49. JPEGMAFIA – 'Puff Daddy'
48. Suspect – 'Say It With Your Chest'
47. Sami Baha – 'Discreet ft. Dimzy'
46. IDLES – Never Fight a Man With a Perm'
45. Shy One & Kwam – 'Spoons'
Read: London Living: Shy One & Kwam talk 'Spoons'
44. Bloom – 'Dark Energy'
43. Christine and the Queens – 'Girlfriend (ft. Dâm-Funk)'
42. MihTy (Jeremih & Ty Dolla $ign) – 'The Light'
41. Yves Tumour – 'Licking An Orchid'
40. Aphex Twin – 'T69 Collapse'
39. KG – 'Midnight (Hitmakerchinx FDM Remix)'
Listen to Hitmakerchinx's Dummy mix
38. Channel Tres – 'Topdown'
Read: Compton is in the house: Channel Tres makes house music born from his West Coast roots
37. Maxsta – 'Born On Your Own ft. Jme'
36. BEAN – 'Flatter'
35. Yung Lean – 'friday the 13th'
34. A$AP Rocky – 'Praise The Lord (Da Shine) ft. Skepta'
33. French Montana – 'No Stylist ft. Drake'
32. Bicep – 'Opal (Four Tet Remix)'
31. Finn – 'Dance Music Has Betrayed Us All'
30. Tommy Cash – 'X Ray'
The Scooter-mimicking, Danny L Harle-produced single from the Estonian rapper's '¥€$' finds an artist turning parody into art.
29. Strict Face – 'Cherryhugs'
This track sounds like Brandy & Monica's 'The Boy Is Mine' and a Timbaland beat all in one – what more could you want?
28. Lil Berete – 'Time Flies'
17-year-old Lil Berete is an exciting breakout voice in Canadian rap, and the MC dropped one of the best mixtapes of the year with 'Icebreaker'. The uplifting 'Time Flies' employs melodies so sweet they'll give you toothache.
27. Bad Gyal – 'Blink'
Taught and bouncy, the DJ Florentino-produced 'Blink' was another flawless move for the Catalonian reggaeton queen.
26. Col3trane – 'Britney'
Cole Basta dropped a widely-loved follow-up to his 'Tsarina' mixtape – 'BOOT', inspiring a load of Frank Ocean comparisons in the process.
Read: Tyler Durden Flex: Dummy meets Col3trane
25. Peggy Gou – 'It Makes You Forget (Itgehane)'
We watched Peggy drop this track on a boat in the middle of the Adriatic sea over the summer, and there was probably no better place to hear the sleek, '90s-influenced cut from her Ninja Tune EP that was all over dancefloors this year.
24. Denzel Himself – 'BE THERE ft. Jack Davey'
The beat on this is mad – and 'BE THERE' sounds kind of like if Death Grips and Britney collaborated, further marking the multi-disciplinary talent out as a force to be reckoned with.
23. Vince Staples – 'Outside!'
Last year Vince Staples brought future garage back on 'Big Fish Theory', while this year the chameleonic artist dropped the surprise, radio-themed 'FM!' to widespread delight.
22. Ambush – 'Jumpy (Remix)'
Undeniably one of the biggest tracks of the year, made even better by Chip and Skepta hopping on it.
21. Sega Bodega – 'Maryland'
Like self care for our ears, Sega Bodega's 'maryland' is beauty and abrasiveness all in one.
20. Corella – 'Talk'
We're biased, of course, as Corella's 'Talk' is the first single to grace our newly-launched DMY label. Over sleek Cadenza production, the Croydon rapper speaks true tales of life on the roads, as well as her past and present: "You can talk the name you will find South".
19. YG – 'Bulletproof ft. Jay 305'
This video's intro – which imagines a world where 6ix9ine has justice served to him – is enough to earn it a spot in this list alone, but the YG and DJ Mustard combo (predictably) bangs.
18. Bruce – 'What'
Bruce's 'Sonder Somatic' narrowly skimmed our top 25 albums of the year, with the Hessle Audio drop refusing to conform to the album format and comprising eleven slabs of ecstatic, banging techno – 'What' being a highlight.
17. Miink – 'Scorched Moth'
West London's Miink seemed to spring out of nowhere – boasting ASMR-inducing, fka Twigs-like production and fragile, choral vocals, the double-braided musician was one of the most exciting new acts of the year.
Read: Influences: Miink – 'Small Clan'
16. Father – 'Lotto ft. ABRA'
The King of the South brought ABRA along for the ride on the eerie, booming 'Lotto', one of the fruits of Awful Records' recent creative partnership with RCA.
Read: No longer mad as hell: Dummy meets Father
15. The Carters – 'APESHIT'
If you tried to visit the Louvre this year, it might have been shut – and just as well, as this masterpiece of a visual was the result. Fusing low and high culture, Jay and Bey's 'APESHIT' resonated on both sides of the Atlantic, making for the ultimate in relationship #goals.
14. Ploy – 'Ramos'
Ploy gets 10/10 on his percussion report card. Crisp, functional, and stripped back to its bare bones, 'Ramos' shows what can be done by making a few elements bang.
13. Afro B – 'Drogba (Joanna)'
The afroswing frontrunner's tribute to the Ivory Coast footballer launched the #DrogbaChallenge, and the Team Salut-produced track had the world dancing in the process.
12. Mura Masa – 'Move Me (ft. Octavian)'
Octavian shone on his 'Spaceman' mixtape (our tenth favourite album of the year) but it was the creeping Mura Masa collaboration that really stood out.
11. Morgan Hislop – 'My Shadow Is Always With Me (ft. NAINA)'
A floor-focused bomb with a blend of Jersey club chops, Morgan Hislop pooled in Beats 1's NAINA to muse on fast-paced, late-night city life.
10. DJ Lag – '3 Step Culo'
South African gqom innovator DJ Lag returned this year with a hefty EP in tow, the ice-drenched '3 Step Culo' being the jewel in its crown.
9. Flohio – 'Watchout'
Incendiary MC Flohio took 2018 by the horns, responsible for a string of singles that blazed with fierce punk energy: 'Watchout' delivered some shocking, warped bass.
8. TSVI – 'Whirl'
Aphex Twin dropped the Nervous Horizon boss's track at his recent run of shows and, well, there's few compliments that are better than that.
Read TSVI's list of influences for his 'Inner Worlds' album
7. YS Tekdinner – 'Carni'
YS Tekdinner is still pretty new to the game, but the south London MC is making a huge impression already, stamping his gruff, expressive tone over cuts like 'Carni' and 'Spliff In The Morning' that are on the right side of weird.
Read: Taking Off: Dummy meets YS Tekdinner
6. Unknown T – 'Homerton B'
"Baby bend your back and then dig it" should basically replace the National Anthem at this point.
5. Charli XCX – 'Focus'
Following the explosion of her 'Pop 2' mixtape last year, Charli XCX kept the momentum up with a string of '90s and early '00s-mining hits, including the blindingly beautiful 'Focus'.
4. Ariana Grande – 'No Tears Left To Cry'
'thank u, next' might be the track on everyone's lips right now (and getting viewed the most by nostalgic '90s babies), but Ariana's powerful year peaked with 'no tears left to cry', a cut you could dance or cry to in equal measure.
3. Santi – 'Rapid Fire'
Spearheading Nigeria's 'Alté' movement is Santi, who's been releasing remarkably high-grade music by the boatload. From his top shotta lyrics to Amaarae's syrupy voice, 'Rapid Fire' makes for a gripping experience.
2. Travis Scott – 'SICKO MODE ft. Drake'
Kanye has many things to answer for, but popularising mid-track beat switch-ups is not one of them. 'SICKO MODE' swings from emosh to turn-up at the drop of a hat, and in the words of Scott himself, "it's lit!"
1. slowthai – 'T N Biscuits'
2018 was undoubtedly slowthai's year. Delivering angsty, full-blooded rap (and directing barbs at Theresa May at every possible opportunity), the Northampton rapper proved his lyricism and boundary-less creativity could stand up again and again, whether it was on the punk, Slaves-like 'Doorman' or the tender ode to the women in his life, 'Ladies'. The snarling 'T N Biscuits' kicked off a year of moshpits for the gold-toothed rapper, fuelled by his now-infamous "drug dealer" bars.