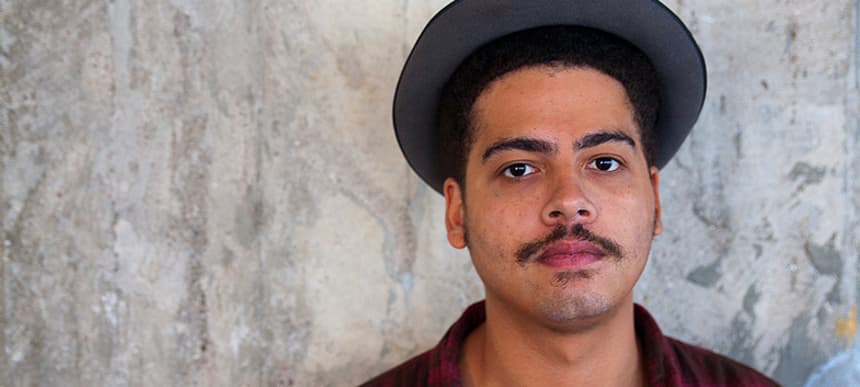 04.10.2017, Words by dummymag
The Art of DJing with Seth Troxler
Over the last ten years, you'd be hard pressed to find a harder working, jet-setting DJ than the one and only Seth Troxler. The 32-year-old demands your attention, with a larger than life, magnetic personality that cannot be ignored, because he has no fear about expressing whatever is on his mind. Whether musical, cultural or political, Troxler oozes charisma when he has the platform to speak. That same personality is translated to his infamous sets, where he merges the notable house and techno scenes of his hometown of Detroit and takes it global, shelling down stages from Bali to Ibiza.
Recently, he has been part of the ongoing True Music partnership between Boiler Room and Ballantine's, curating impressive line-ups and working with producers from each country. The type of hands on approach that he very much subscribes to. He recently headlined True Music's latest incarnation in Warsaw, Poland. Which, naturally, he killed. With a new project out soon, Troxler remains hungry to continue making his mark. We caught up with him in Poland to discuss his ten years in the scene, regrets, the changing art of DJing and saving London institution Fabric from extinction.
You've been in the game for a long time, how would you say you've grown as a musician?
Its more than just growing as a musician, more like growing up to become a man. I started playing in clubs when I was 16, started playing in Europe in 2005 and now I'm about to become 32 so, from then to now, is a world of difference. Travelling and being has just been a crazy thing. Went from making music in my basement and a home speaker to doing it in big studios, have albums come out and do these crazy collaborations with artists; its kind of all happened over night and been a lot to take in it. I think the biggest development would be growing up, more than anything, and realising my role as a musician and artist.
Do you feel it has been a natural progression?
Definitely, but it's a progression you don't even realise. Like, one day, you're an adult and have all these responsibilities and then you have this job and you're flying around doing it, and then that naturally grows. I always said I wanted to be a professional DJ but didn't think it would get to this…I kind of dreamt about getting to this point but now I'm here, its really incredible.
What brought about your initial move to Europe?
It was 2007, I was just making music, moving to and fro, and one day my teacher took me out of class and said, 'hey seth, you're really good at graphic design but you're really good at music, so you should quit school and make music.' I quit school the next semester and just moved thinking the worst thing that could happen is moving back to Detroit, and I didn't [laughs]. It was planned, the music thing was just working, and I took the risk. People have to take more risks and so few do what's needed to achieve their dreams. I was just like, 'fuck it, I'm going to go.'
Was it not a little scary at the time, making the big jump to Europe?
I don't really have fear like that, my fear mechanism works in a different way. I've always taken big risks and I think that's whats helped me succeed because, where most people would say no, I'm just like, 'lets do it'. They would say, 'oh, it's so risky,' and I would say, 'so what?' Things that have always been scary to me are, like, relationships, not things concerning my career. I could mess it all up tomorrow and I would be happy because its been a good run [laughs].
Do you consider your career to be a job or passion?
Its both, at first it was a hobby, then became a job, its always been my passion, and now its my true career. A lot of people rely on me to keep it going, so I have to be more strategic of how and where I play. I played at Burning Man this year then had to go to Kosovo and everyone was like, 'stay,' but I have to fucking work! [laughs] It not like I can't get up and do the job. My career has become more of an adult situation; when you're playing in small clubs its one thing, but as you become more successful, you have to turn up. The other day I played in Portugal and I was in a bad mood and felt like shit because I just flew from Tokyo, to play the closing set of BPM Festival, but I turned it on and made it happen. That's the difference: being able to make the party happen regardless of the situation, that's what people pay you to do.
You've made a lot of your music in your career, what would you say are some of your proudest moments?
I got to work with Everything But The Girl and Tracy Thorn once which was really good. Got to work with David Lynch and do a really cool remix on Vision Quest. Its just these small interactions with artists you respect, you know. I've blown it a few times, like when I had some guys in from Depeche Mode who asked me to make some music, and I just couldn't get my shit together. But sometimes its just been luck, and vision, they say, is when training and luck meet opportunity. Sometimes the opportunity is there and you're just not prepared, like the life plan is already set for you like there is some type of fate. But it is your responsibility to get your shit together for when those opportunities come to be able to take them. Otherwise, its like, 'this really cool opportunity just came up, but I'm not at all qualified or prepared' whereas, in another reality, you would be completely prepared and ready to take it to the next level. My life and career is great, but I definitely could have been more successful and on it.
By taking those opportunities?
Yeah, and being more prepared for them. I took a long time off making music to focus on DJing and that worked out really well for me, but at the same time, I lost a lot of the momentum I gained in my earlier career from music.
What do you think you could have achieved?
I probably could have been able to make big pop hits and, maybe, some number ones. At one point, Jamie Jones and I were on the same trajectory in the beginning and while I focused on DJing, he focused more on music and he's made a lot more. I'm happy with all of my musical output, and there is more coming, but there was a time in my life when the output was low, and that's my own choice.
"I've always taken big risks and I think that's what's helped me succeed because, where most people would say no, I'm just like, 'lets do it'."
How do you think the art of DJing has changed throughout your career?
We were talking about this the other day, and the art of DJing has changed. I played the other night for about 7-8 hours and I was talking to this promoter and he was saying DJs can only play the one style or sound that they're booked to play, and nothing else. We talk about 'selectors' now but I think I'm one of those DJs who can play these different genres of music whenever they fit the moment, and I think that style [of DJing] is gone. Now, it feels like there's this extra elitism to DJing that wasn't there before. Generally, everyone wants to be [a DJ] but not many know what it is to be an actual DJ. To be a real DJ is to be a music fanatic and a collector, and that's something I've never lost. I still love collecting odd music, and it's a good way for us to get in touch with our pasts and found this lost nostalgia that we didn't have amongst Generation X or millennials. Generation fun [laughs].
So, to be a DJ, is to understand and curate music…
That's the exact term I use. It is a DJ's job to curate music for any situation you may be in. whether you're playing a funeral, bar mitzvah or party. I'm always horrible at DJing weddings, but you should be able to do that. You should have a song for every moment in life, because every moment in life is a reflection, and there will be a song that fits in somewhere to help you connect with it, and if you find it, and everyone on the dancefloor can connect with it, then you're doing your job right.
Do you not think that, because the market is so oversaturated, you could just book a particular DJ for a particular vibe you're after?
Of course you can, and there are lots of DJs who do, like Richie Hawn for example. Like, techno DJs play techno and that's fine. Danny Tanegglia used to be my favourite DJ and would play literally anything for 20 hours a day. I was talking to him the other day and he said the switch was he went from being asked to play for 15-20 hours to then being asked to do a 2-3 hour power set. That was a huge change, and that's not where we come from. I like to play overnight and most of the time, when people come up to me and say my set was incredible, its after I've played for 5-6 hours. Playing bombs for teenagers for an hour and a half isn't really my comfort zone.
Where do you see electronic dance music going in the next 5-10 years?
It seems like there's this big group of kids that are super into it, like crazy geek nerds, and then there's this other big group who don't really care, they go out and listen to the DJ, but there isn't really that middle ground. Those who are militantly into it, but don't always go to parties. We'll see what happens in the future; the culture is very much in its infancy and, in 20 years, there might not even be a dance music culture. Young kids aged 13-14 might not like going out or the idea or drinking and leaving a club when the sun's up, when that's my favourite thing in the world! [laughs] They would rather be at home on their phones, but we'll see how society changes. Maybe, one day there will be a backlash against society and people will want to start interacting with each other, talking and being human beings.
"I like to play overnight and most of the time, when people come up to me and say my set was incredible, its after I've played for 5-6 hours. Playing bombs for teenagers for an hour and a half isn't really my comfort zone."
You've been all over the world, where are some of your favourite places to DJ and party?
That's the best part of my job, being able to see the world and meet people, but its really the cultural differences that make it amazing. Everywhere is different, and I'm one of the people who get to see what makes these cultures so beautiful. We seem to be more on this isolationist mentality, with Brexit and America, but what really makes the world so beautiful is that we're all so different. In the past five days I've been to Bali, Tokyo, Portugal, Poland and Ibiza and I got try different dishes, say hello in different ways, but we're all the same. We're all human, but with different tastes. If everything was this homogenous, fascist future, then it wouldn't be so good. But when I'm done DJing I'm going to spend more time in places.
You were part of the campaign to save London's Fabric. How important do you think it is for cities to protect their respective nightlife scenes?
Its about culture and, at the end of the day, Fabric is a cultural institution, it is the number one representation of the original contacts that electronic music was meant to be displayed. It's the perfect canvas for an underground artist to do what we do. It's the defining look of what club culture has been since its beginning. That was their goal – to create a space for artists to be in this environment – and to save that, for London to have that type of treasure, should be one of the biggest legacies of that city. The Tories are cunts, same as Republicans, and they have different views on culture and the homogenised, white washed world they like to live in, where diversity isn't important. But cultural diversity, to us, is what makes London what it is. Saving Fabric was a big part of preserving that diversity and, personally, Fabric was one of the first clubs to put me on so, I felt like if I didn't get behind something that got behind me, where does that put my morals?
Talk to us about your upcoming photo compilation project.
So, I've been in Europe for the past 10 years and I've kind of become a man here and I'm about to go on this next musical chapter in my life, and its been a lot of fun. So we're going to be releasing a mini album of the music I've made, along with a photo album of me with my fans. The first rule to being funny is being funny looking, so I guess people who think I'm funny must think I'm funny looking. I would always do a thumbs up in photos so I thought it would be cool for everyone who has taken a picture with me, to send it in and then turn it into a book. It's a good way to cap 10 years.
Check out Seth's Boiler Room set at True Music Poland below.