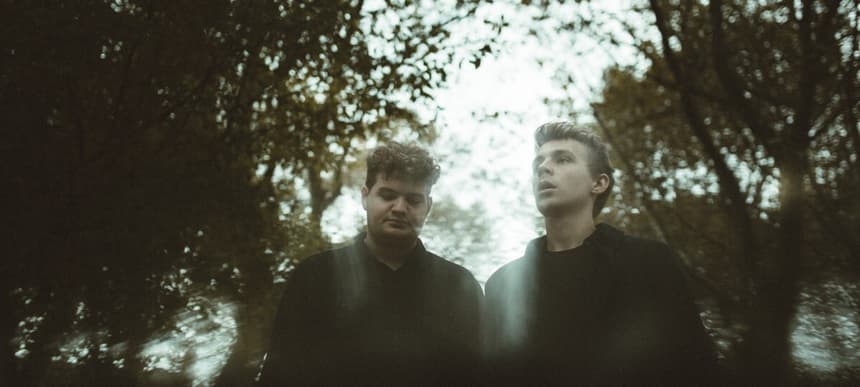 11.04.2018, Words by dummymag
The Bondax guide to disco
UK production duo Bondax are kings of the dancefloor. Ready to release their debut album via Recur Recordings, the opus is an expression of the Manchester-based duo's independence, creativity and marks a graduation of sorts from the 'teenage producer' label to credible adult artists.
Bondax kicked off album proceedings with 'Neo Seoul', a soulful, funky and up-tempo club jam, a sound they say "stands alone in stark contrast to our album", and wouldn't be out of place in the midst of the peak of the original club sound – disco. Over time, the genre has somewhat faded into obscurity, but continues to maintain a spell of relevance as the format for many sounds prominent today. Think GoldLink, Kaytranada and Bondax themselves. With that said, they precisely broke down the history of the genre in the below playlist, selections that prove how wide reaching their influences are.
Scroll down for the playlist and their reasoning behind the selections.
Kiki Gyan (Kofi & Kiki) – 24 Hours In A Disco
Bondax: "Our favourite track from the charismatic Ghanaian disco pioneer. The string arrangement from Bill Lyall… wow! An incredible, raw talent from his early teens, Kiki toured with one of the most popular Ghanaian funk bands of his time. Kiki sadly died in 2004 after a fight with drugs making his limited discography even more important."
Steve Watson – Born To Boogie
"Steve Watson is a musician who worked with bands. Backlot & Soul Conference produced a series of great funk records over the years. This track encapsulates our view of the perfect dancefloor track; the fluid bassline, perfectly scored horns, unwavering vocal melody and frank lyrical content. This track could move the most single footed of dancers."
Ned Doheny – To Prove My Love
"A truly forgotten great who seems to be returning to record collections across the world after a Japanese resurgence brought him back into the minds of music lovers. After writing tracks for the likes of Chaka Khan, Ned was dropped from his record deal and forgotten. His resurgence seems to justify the belief that a minority of music lovers have that the ruthless capitalistic nature of major labels can miss pure musical talent and corrupt the industry from the top down. Now we are seeing the beauty of the bottom up movement bringing great music back into the modern conscience. Shouts to DJ Dials showing us sweet Ned when we first went to SF in 2014!"
Greg Henderson – Dreamin
"Henderson, originally born in Australia, is a record producer and mastering engineer who only has several solo releases to his name. Like many of these tracks, this is a re-issue released in 2006 on SAM Records and has been a regular in our sets from dark rooms to beaches across the world."
Arian – Your Love Makes Me A Winner (Lutas Velikim Gradom)
"Arian, originally from Skopje in Macedonia where we completed our album with an incredible 40-piece orchestra. Arian to our knowledge has only one album release to his name with a split four tracks in English and the same four tracks in his native Slavic language. Not matter the language you listen in, it's all vibes."
Oby Onyioha – Enjoy Your Life
"A popular one after it's recent re-issue we have to throw this amazing piece of disco into the playlist. This track speaks for itself and being one of the more popular releases on the playlist much is known of the record. This is a track we have made our own edit of which you can catch us play out in our DJ sets."
Junior Byron – Inch By Inch
"From the Sunshine LP, amazing track and there's a great edit by Joey Negro for those who are looking for a version to potentially play out in a more contemporary set. The bassline was an influence on our latest track 'Neo Seoul'."
Split Decision Band – Watchin' Out
"Jeeeeez! Never lost when playing this one out, from start to finish it's the kind of disco funk you'd have to have lost all sense of conscious feeling not to enjoy."
Slave – Watching You
"The word tropical induces dire thoughts into one's mind given the state of contemporary pop music. However, given a chance to redefine the word musically, we'd pull this record out in defiance. This is the first tune we look for when we get off a flight anywhere with an ounce of sunshine. Summertime funk!"
Ramon Pryme, Jean Claude Cornely – Vacance Union
"Anyone who knows us knows how much of an affiliation we have with French electronic music so this list wouldn't be complete without something special from across the channel. A piece of more relaxing disco, this track is all about falling into the hypnotic repetitious motif and slowly allowing every little element to reach around & entangle you within it's beautiful lethargy."
Aged In Harmony – You're A Melody
"For any heads out there, this one needs no introduction. This now infamous record has become ubiquitous in the underground community in recent years, thanks to Floating Points' label's reissue and worldwide "You're A Melody" parties; named after this brilliant record. Originally produced, written and arranged by the unknown and slightly mythical Arnold Moore in Detroit, this track is an absolute hip-mover. With glistening string arrangements and melodies, the track effortlessly flows between its solid core disco/funk groove and beautiful sweeping orchestral lines, its no surprise the original pressing of this record will cost you £600+."
Teddy Pendergrass – You Can't Hide From Yourself
"The very first track off his very first solo record the late great Teddy Pendergrass made after his first creative departure from Harold Melvin and the Blue Notes. This track speaks for itself, supremely introducing the funk with a timeless and epic brass line from its first second. The likes of which has literally never failed to elate a crowd during our DJ sets (Thanks again to Joey Negro's incredible edit)! The undoubtedly infectious funky bass and clav line never fails to make us dance and we've played this out countless times!"
MFSB – Mysteries Of The World
"Written and produced by one of our favourite soul/funk/disco pioneers Dexter Wansel, this track is safe to say one of our favourite disco records of all time. MFSB, the supergroup of highly influential Philadelphia Intl Records, saved their best till last in our opinion, as they let Mr. Wansel take the reigns and create an absoutely superb disco record. As in keeping with Wansel's style the track's introduction is cinematic and ominous yet grows into one of the funkiest basslines you'll ever hear. An expert at complex subtlety, Wansel's main groove is expertly simple yet grows into beautiful, jazzy string-centred sections, whilst simultaneously showing off his classic Juno synth work. You can't miss this one."
Curtis Hairston – I Want You All Tonight
"This is a particularly smooth and classically 80's number, a wonderfully and cleanly produced track that was Salem born Curtis Hairston's debut release. In terms of bass synth sounds and synth lines, this song rivals similar contemporary classics like Evelyn King's 'Love Come Down'. It's got the perfect amount of cheese to make this tune the musical equivalent of mature Red Leicester."
Sylvester – Over And Over
"Ohhhhh yeah baby. This is the real shit! Sylvester's magnificent and dazzling falsetto dances above an undeniably solid groove. This track's is a great example of Sylvester's signature flamboyance, the B-side 'Down, Down, Down' takes a much quicker, more typicaly funk approach. No way you can't tap your feet and starting pouting when blasting this one! Sylvester's reputation amongst the gay and disco communities earned him the title "Queen of Disco" before he tragically passed away from HIV in 1988."
Akin Richards & The Executives – Afrikana Disco
"Reissued on the almighty Soul Jazz Records from the depths of Nigeria, there's not much that can be found out about Akin Richards & The Executives. Other than that he released his only LP Little Girl back in 1980 and getting a copy is nigh on impossible. If you're not used to the lo-fi aspect of African disco, don't be unsettled by the tinny, slightly pitchy horns at the start, this tune is an absolute belter when it gets going. The bass is so subby and high in the mix and the guitars so wonderfully tinny and pitchy, who could withstand that boogie boogie down?"
Willie Hutch – Brother's Gonna Work It Out
"This has gotta be one of the most feel good tracks of all time, and would you believe it was a B-side?! The line between funk/soul/disco is hard to draw and this may be more of a funk and soul track but there was no way it wasn't gonna make this guide. We've played the 7 Samurai edit of this track across the globe and more often than not, it unites more than it divides! The funk out section at 1.36 being one of our favourite switch ups of any funk tune, we gotta have it!"
Idris Mohammed – Could Heaven Ever Be Like This
"Recently made famous by Jamie xx's sampling of this record on 'Loud Places', the original is not one to miss. Written and produced by David Matthews (not to be confused with Dave Matthews), Idris opens the track by playing some beautifully effected drum solo, and evolves into a beautiful subtle slow groover. For a track where the main artist is a drummer, the groove and rhythm throughout is very understated and lets the beautiful instrumentation breathe. Lose yourself in this summer classic!"
Lord Echo – Just Do You (ft. Mara TK)
"The only modern selection in this list, Lord Echo from New Zealand has been making some exceptional modern disco since 2010. His latest album Harmonies being one of our favourites, featuring some amazing tracks with frequent collaborator Mara TK from Electric Wire Hustle. Mara's delicate but powerful Curtis-esque falsetto works perfectly with the sweet and organic sonic pallet Lord Echo brings to the table. Some of the most authentic modern disco we've heard anyway!"
Sex On Toast – Oh, Loretta!
"To appreciate the absurdity and irony of us two straight, white Northern-English boys being so obsessed with disco, we thought we'd post an amazing modern comical disco tune. Shout out to our good friend and amazing producer Kahwe on this one, one of the best juxtapositions between beautiful instrumentation and bizarre and hilarious lyrics. Make sure you watch the music video for this one!"
Bondax will play at London's Village Underground this Friday, April 13th. Grab tickets here.
Follow Dummy's curated playlists on Spotify.