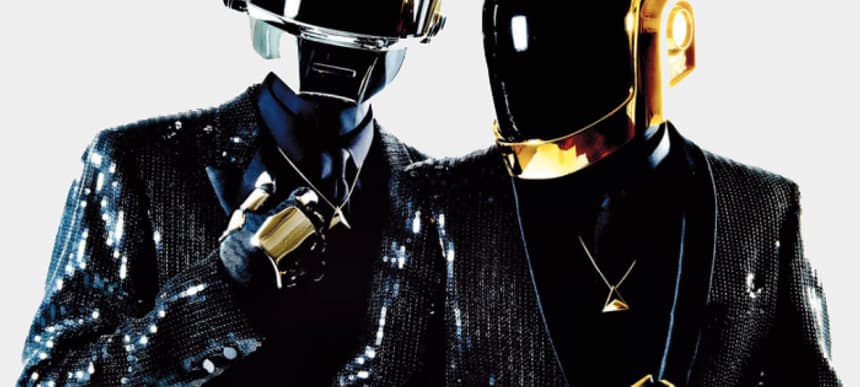 17.12.2010, Words by Charlie Jones
The Dummy Guide To Daft Punk
Daft Punk are back with their first album since 2005, the soundtrack to Disney's Tron: Legacy. The most enigmatic duo in dance music emerged at a time in the mid 90s when the Chemical Brothers were recording with Noel Gallagher and Underworld were wielding guitars. Their concession to the rock/dance nexus was their moniker and first EP – The New Wave. But it was Da Funk that launched Thomas Bangalter and Guy-Manuel de Homen Christo into the premier league a record that is still one of the oddest – and slowest – dance records to become a top ten single. Their Discovery album and accompanying robot aesthetic remains their career peak and the 2006 'pyramid' live show revealed an act still drunk on ideas. Tron may not be the album proper we have been waiting for but it will keep us satiated until their next game changing move.
The unmasked years
They gave the demo for their first E.P to Stuart McMillan of Slam backstage at a rave in Euro Disney (as it was called then). Their early recordings were then released on McMillan's Soma records. The press shot for their debut – The New Wave – featured a still teenage Thomas and a mulleted De Homen Christo pulling on a Gitane (something he later regretted declaring that smoking is bad for you kids!). They appeared unmasked only once on the cover of Jockey Slut in 1998. They also appeared semi-disguised on the cover of Musik magazine the following year sitting on lily pads with green faces, yellow eyes, darting tongues – frogs basically. Charming!
The albums
Homework was regarded by the duo as a collection of singles. Both tracks from The New Wave EP featured as did Da Funk and Musique (originally recorded for a Source compilation) and an eponymous track they had released on Soma under the name Indo Silver Club. The influences for the album can famously be heard on Teachers where they name check both banging techno legends like DJ Hell and DJ Rush, house DJs like our own Ashley Beedle but also Brian Wilson and George Clinton. 2001's Discovery was kept firmly under wraps with reviewers having to go to press offices to hear it. Initially surprised by its nod to 80s bubblegum pop and – on Superheroes – Barry Manilow samples – it is widely regarded as their masterpiece. Their third album Human After All (2005) took six weeks to record and mix. It chimed with the dance rock nexus made popular at the time by Soulwax and Daft Punk have claimed it their favourite. It's certainly not ours, though Robot Rock did come alive in the live show the following year.
The live shows
In 1995 their shows were the standard techno Two Blokes Standing Behind Machines affair and they played Bugged Out at Sankeys and The Renfrew Ferry in Glasgow. The show was short, heavy duty consisting of Da Funk, Rollin' & Scratchin', New Wave of New Wave and Alive. In 1997 they toured The Daft Mix which was a DJ show with live elements; they hid their faces behind bank robber style masks (they had an assorted box to choose from backstage). Their retina pinging, ante upping 'pyramid' live show debuted at Coachella in 2006 and toured UK festivals the following year, the likes of Deadmaus took notes. They have DJed sporadically over the years (once playing Prince's Purple Rain at Fabric!) but hung up their headphones when Bangalter contracted an ear infection in 2002.
Extra-curricular activity
Both of the punks have always busied themselves solo though Banglater has been the more active. In 1998 he launched his label Roule and had a major hit with Alan Braxe and Benjamin Diamond as Stardust and the deathless Music Sounds Better With You. In the same year he also collaborated with Bob Sinclair on the cheesy Ibiza anthem Gymtonic (it never received a proper release as Jane Fonda refused to clear the samples). He had cult hits under his own name with further Roule releases Trax on The Rocks and Spinal Scratch. Partnering with DJ Falcon as Together they had an eponymous club hit in 2000 followed by the less well received So Much Love To Give in 2002. His name last graced a sleeve in 2008 when he remixed DJ Mehdi's Signature for his old manager Pedro Winters' Ed Banger label. Guy-Manuel De Homen-Christo also ran his own label Crydamoure at the height of the French Touch explosion (he released records by his brother Play Paul too) and formed a duo with co-boss Eric Chedeville Le Knight Club. In 2008 he produced Sebastian Tellier's Sexuality album.
Daft Punk at the movies
There is much fanfare about Daft Punk soundtracking the new Tron: Legacy movie but they are no strangers to the film world. Bangalter provided the soundtrack for controversial film Irreversible (released on his Roule label in 2002); Interstella 5555: The 5story of the 5secret 5star 5system (2003) is a Japanese 'animated house musical' based on the tracks from Discovery masterminded by manga series creator Leiji Matsumoto and in 2007 Daft Punk's Electroma received a theatrical release – a film that perversely didn't feature any music by Daft Punk whatsoever.
Dummy were there…
When Thomas Bangalter met James Murphy after an LCD Soundsystem show in Paris in 2005 when Daft Punk Is Playing In My House had just been a hit. "No one has ever written a song about us before," he said. No one has since either.