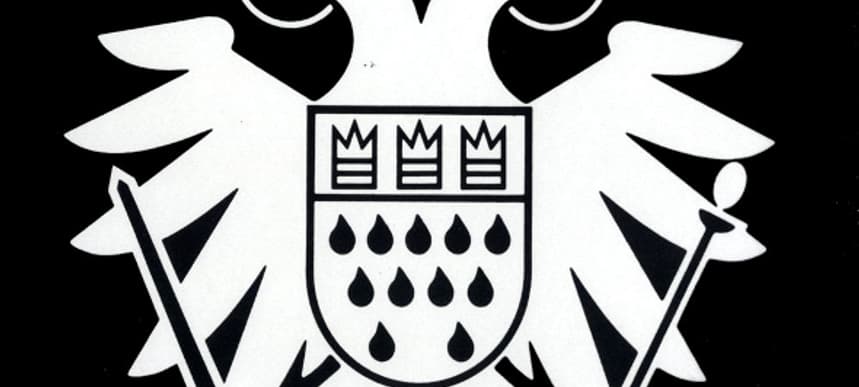 24.10.2013, Words by dummymag
The Dummy Guide To Kompakt
Kompakt. The name of the label alone conjures up so many images and ideas: an era-defining Cologne-based record shop; the wizard-like charm and wit of Wolfgang and Reinhard Voigt; the large splashes of colour adorning their vinyl covers, part of their firm music-as-art-object principle. Critic Simon Reynolds has cited the label/collective as the overarching catalyst for Germany's dominance in the electronic music of the 21st century. But in 2013, this probably doesn't go far enough: Kompakt deserves to be mentioned in the same breath as Warp or Trax Records. The label's aura still lingers all over the domains of house and techno, not to mention being embedded in the approach of DFA records and the indie-dance of Hot Chip or Friendly Fires. Their logo – featuring a black and white two-headed eagle emblazoning a shield, like some Scottish family crest of old – looks more apt than ever, because Kompakt is nothing short of an institution these days.
To most people, Kompakt is most closely aligned with the minimal movement, also termed "microhouse" by DJ/journalist Philip Sherburne. While techno at its most industrialised and futuristic soundtracked the year zero mood of post-Berlin Wall unified Germany, minimal saw the genre enter a new stage of stylistic evolution and sophistication. The granulated, essentials-only feel owed as much to Brian Eno as it did to Underground Resistance, and while staunchly tied to clubland, it's responsible for such "crossover" artists as Pantha Du Prince and (Kompakt's own) The Field. Like any movement or musical development, minimal and deep house have their shallow end – you know those bars with the granite-finish bar tops, all neon lights and Asahi lager, and a goatee-d DJ overdoing it in the corner? Along with labels like Hamburg's Dial Records, Kompakt have no doubt played an indirect part in this. But the Cologne collective, lacking in tribalism, and who've resolutely kept Berlin in their periphery rather than in their eyeline throughout their existence, have always been about techno and the dancefloor at its most open-minded.
After 15 years as a record label and two decades as record store/cultural hub, Kompakt have been spending 2013 celebrating their 20th anniversary – with a pop-up store in Amsterdam, and showcases across Europe that lead them to London (and Boiler Room) this week. With that in mind, it felt like no better time than any to pay our respects. Any truly definitive Kompakt guide – given the label's almost 300 releases, from over 150 artists – would be bound to have holes. Instead the aim here, focusing mostly on the tunes themselves, is to take a snapshot of the label's most forward-thinking and fun moments, with a little help from Michael Mayer and Walls along the way. As well as some stone-cold classics, there are a few oddities too: an electro cover of pre-ambient Eno, or a post-punk cover by UK artist/director Sam Taylor-Wood, anyone?
Cologne, 1993: where it all started
Rewind to 1993 in Cologne: Wolfgang Voigt and Jürgen Paape are two of the key figures behind a new techno record store called Delirium. A fresh-faced college student and budding DJ called Michael Mayer, who's underwhelmed by what's on offer to him in the city, is so eager to find somewhere worth investing his time in he's the store's very first customer. But it doesn't take long for him to spot gaps in their stock, and so he sharply draws up a list of the hottest records they simply have to have in store. The three gel immediately, and within the next year Mayer is a partner.
Before Kompakt became a singular institution, there were up to twenty different labels run at one time or another by Voigt and Paape. One of the most significant of these was Voigt's Profan imprint, which started in 1993 and would eventually piggy-back onto Kompakt as a sub-label. The label's very first release was produced by Voigt, who would set off his penchant for adopting a moniker (some future gems would include Kafkatrax, Grungerman and Wasserman) by releasing a 12" titled Jingle Bells, under the name Mike Ink.
"What we do is something is something apart from rave techno. This is adult techno." – Wolfgang Voigt [Speaking In Code, 2009]
Amy Grill's earnest 2009 documentary on techno, Speaking In Code – a film which has aged pretty unfortunately due to its pre-EDM look at the US's electronic underground – included a segment on Kompakt that shed some light on these erly days. Featuring shots from inside their Cologne offices, with its pearly whiteness and strong air of community, Grill's film captured the air of mystique around the label. Voigt gave a rare on-screen interview, and while outlining some of the label's early musical aims, he stated: "We were no enemies of hysteric parties and rave culture, we were part of it and we loved it… but what we do is something is something apart from rave techno. This is adult techno." Jingle Bells' 303 warble carries that idea, with its overlapping twinkles nestling above the 4/4 clomps hinting at emotions reaching beyond pure hysteria. Listening now, it signals ahead to much of what would be realised by Kompakt in years to come.
Kompakt gets more compact
Kompakt as it's now known and loved was born a few years later. As Mayer describes it: "In 1998, we took the conscious decision to cut back our solo projects and personal interests in benefit of something bigger, stronger and better. I was looking at things more from a DJ angle and Wolfgang [Voigt] brought in his vast experience as producer. But I wouldn't say that Kompakt sounds like a compromise at all. We just complemented one another perfectly. We wanted Kompakt to be as elastic as possible so it could harbour all the kinds of music we love."
With the benefit of having first been a fan and then an insider to the Kompakt set-up, Sam Willis of Walls is clear on the characteristics that have aided the likes of Voigt and Mayer over the years, from the label's inception to the present day. He cites their "unswerving commitment to music for its own sake, not driven by trends or commerce. It's a true reflection of the tastes and passions of the label as a whole."
Bringing the beach and Brazilian footballers to techno
Tracing back to Kompakt's earlier releases, you can hear this elasticity that Mayer talks about, and it wasn't long before the label was confidently bucking a trend for specialisation by backing a range of ambient dreamscapes, thoughtful techno and gnarlier 4/4 experimentations. With the benefit of hindsight, certain records also feel touched by a visionary edge, with Dettinger's Tottentanz 1 being a well-acknowledged example: possessing an ambling, attack-minded aura that could well have been birthed around London's burgeoning 2-step/dark garage scene. Here was an artist who would later release two of Kompakt's first really adored ambient albums in 'Fur Dich' and 'Oasis', but retrace to 1998's 'Blond' 12" and you'll hear the beginnings of that instinctive blend of delicate textures and unrelenting backbeat.
Understandably, many of these records still spoke more directly to the mindset that had guided Profan, indicating a mood still closely aligned with the techno world at its most militant and subterranean. While Kompakt's first yearly compilation with 'Total 1' in 1999 demonstrates this, what's also apparent is the relaxed, fun edges that mark these often blunt-edged cuts. Andreas Oster took his techno to the beach on Surf's Up, while Reinhard Voigt contributed a sparse and miasmic piece titled Tod Eines Hippie Mädchens ('Death Of A Hippie Girl'), whose name was lifted from a West German TV show titled Der Komissar. In that same year, Reinhard would do hypnotic things with a vocal sample by putting out Robson Ponte – making extensive use of the name of a Brazilian footballer playing in the German Bundesliga.
Wolfgang Voigt sets 'Pop Ambient' in motion
Wolfgang Voigt's first appearance on Kompakt came with the 'Alltag' 12". Tracks like Alltag 1 also possess that visionary quality: there's something specific in the way it laps at connection and uncertainty, and at times its skeletal outline of an '80s rock ballad places it not too far off from a Dan Lopatin eccojam. The strength of this release later carved the way for Kompakt's 'Pop Ambient' albums, which along with the 'Total' releases represent Kompakt's yearly compilations – out every year since 2001 and always adorning a still life-style floral image. While not a series that redefines what ambient is in Richard D. James fashion, not many releases of this kind have explored the genre's capacity to soothe, expand and unnerve so fully.
When I asked Mayer for a few of his current unearthed Kompakt gems or overlooked cuts from the back catalogue ("they're all underrated! None of them ever entered the Top of the Pops"), he had a few ambient joints to throw in: "Jonas Bering's first album for us, 'Bienfait' from 2000 doesn't sound like it's 13 years old at all. And Andrew Thomas' 'Fearsome Jewel' is such an amazing ambient album."
How Pet Shop Boys, Heaven 17 and Kylie Minogue played a part
"Kompakt has an unswerving commitment to music for its own sake, not driven by trends or commerce." – Sam Willis of Walls
By 2002 the core Kompakt team, avoiding the lure of Berlin, had moved into their new Cologne office buildings, and were able to start implementing their holistic, think-local-act-global approach to their business. Not surprisingly, this was timed with the label entering a new stage of creative output over the next five or so years. Artists like Justus Köhncke, Superpitcher, Sascha Funke and Michael Mayer himself (to name only a few) were taking the varied Kompakt sound to new creative territory; tracks like Superpitcher's transcendent remix of The MFA's The Difference It Makes displayed the heights minimal could reach when blended with understated Balearic sunshine, and Justus Köhncke's techno tapestries typified Kompakt's unique mingling of pop hooks, good vibes and pounding percussion.
That incorporation of pop styling is often cited as a unifying factor in what defines the Kompakt aesthetic. Mayer and Voigt take it seriously: they've voiced their dislike for the laziest hooks used in "schlager techno" – music essentially building on 60s/70s Euro-pop and bringing it into a new age of commercial dancefloor bait – but worship the sophistication of '80s synth pop groups like Pet Shop Boys and Heaven 17 (who Mayer described in an interview last year "as one of my all-time favourite bands"). If a vibe has been built across the night at a Kompakt showcase and the early hours are crying out for some Kylie Minogue, then so be it. Jürgen Paape's So Weit Nie Noche Nie, which first featured on the exemplary Total 3 compilation, shows this canny ability to distill and re-appropriate pop at its very best. Sampling Isreali schlager singer Daliah Lavi's Vielleicht Schon Morgen – in itself a fascinating piece of music for how it moves from something sublime to utter cheese at such a rapid pace – Paape isolated its bittersweet verse to build something elegant. Released on several occasions since, it stands as one of the most untouchable pieces of music the label have put their name to.
Techno gets a sense of humour
With Kompakt responsible for some of the most memorable European techno and house of the age, a lesser label might have settled to ride the minimal waves, and cash in while they could. But not Kompakt – and nothing made this fact clearer than Matias Aguayo's delightful 2008 takedown, Minimal. Having been one half of Closer Musik with Dirk Leyers, the Chilean had been responsible for classic pieces such as Maria, but now he showed up a culture he saw as limp and lifeless: "that music got no groove, got no balls". With traces of self-reference and knowingness, Kompakt showed off that rarest of things for a techno label: a sense of humour – one that trickled into a delightfully kitsch rework by trickster DJ Koze.
You can also hear this playfulness surface a few years earlier with Superpitcher's suave cover of Eno's Baby's On Fire. Then there's a release on sub-label Kompakt Pop the same year as Minimal, which saw artist and director Sam Taylor-Wood covered The Passions' post-punk classic I'm In Love With A German Film Star (because, why not?) – Mayer, Voigt et al would also jump at the chance to recruit their heroes the Pet Shop Boys to produce.
Breaking through the Walls of the digital age
Things obviously haven't been completely rosy along the way for Kompakt. The fact that the 'Total' and 'Pop Ambient' series have continued almost unabated since their respective births means they haven't always been five star knock-outs – but then, not many places would be capable of curating such fully realised yearly updates on where the label's at.
More significantly, in 2007 Kompakt faced serious money problems, and they haven't made an entirely smooth transition through the mass digitalisation and shifting landscape of the music industry. The creation of their mp3 online store – the first techno-focused of its kind – was perhaps the label's most significant setback, but this was a gamble taken where it seemed like endless mp3 stores might be something workable, while the reality has fallen into something much more confined. One happy outcome of that was the creation of their phenomenal online player, which is mocked up as a turntable and complete with the occasional audible vinyl crackle. You'll find it available on the page of almost every release in the Kompakt back catalogue, as well as a hefty chunk of the labels represented in their Cologne store.
"I still clearly remember the day when I heard Arquipelago on Gui Boratto's very first demo. It's a very simple techhouse track but there was something that made my ears itch." – Michael Mayer
So while more recent years may have offered new tests, Kompakt have still found the time to pick out new talent that nestles into their aesthetic: most notably by releasing Axel Willner's hugely popular LPs as The Field, and welcoming indie-ambient duo Walls into the fold. "When we first started working on music together, it had a melancholy and euphoria that immediately suggested that Kompakt might be a good fit for us, we were very gratified when they agreed" says Sam from the duo, also noting that the label's grand tradition had no doubt helped lead new fans in Walls' direction. Unsurprisingly, considering Kompakt's interest in nurturing talent over moulding it, Walls found their own creative vision was supported all the way, "rather than [them] trying to push us down one particular alleyway".
Willis also shared with me a few personal favourites from the Kompakt catalogue: Superpitcher's mix of Quarks' I Walk for its incorporation of a rock sound pallette; Voigt & Voigt's Vision 3 ("never ending, spiralling arpeggios and driving bassline that could just go on forever, masterful minimalism") and Mikkel Metal's Nepal for being "an incredibly brooding and suggestive piece of electronic music – you can almost see the snowy mountain caps by night".
From demos to demand
It's so difficult for labels or record stores to make it to five years in the current music industry, let alone 20, and over the years Kompakt have been able to reap the benefits of nurturing their talent and seeing them grow from modest beginnings. This cultivation is something that, ahead of all the great parties and the personal milestones, Mayer sees as one of the most memorable aspects for those closely involved in the label: "Retrospectively, some of the most magic moments were the ones when we fished out a new promising artist from the mountains of demos we've received. Marcus Guentner, Kaito, Gui Boratto, The Field, Rex The Dog – they all came out of nowhere and proved themselves to become some of our biggest acts. I still clearly remember the day when I heard Arquipelago on Gui Boratto's very first demo. It's a very simple techhouse track but there was something that made my ears itch. Who would have thought that he'd become one of the most prolific and gifted electronic producers that ever graced our label? Taking part in building up an artist from scratch feels a bit like watching my kids grow up… very rewarding and touching."
"What's important to us? Independence, peace of mind and a lively, creative tension surrounding us. Put some decent bottles of red wine on top and you can definitely count us in for another five years." – Michael Mayer
Look through their catalogue in more recent years and you can detect the fact that it's a privilege to get the chance to put out music on Kompakt these days: Animal Collective's Panda Bear cropped up on the label in 2011 with Surfer's Hymn. While carried along by familiar Brian Wilson-style yearns, its haphazard 4/4 kicks and snaking synths came off like the white dwarf remains of a minimal techno track. To make the release even more noteworthy, Actress also made his Kompakt debut by providing a scorched remix on its flipside.
On the horizon
So what's in store for Kompakt over the years to come? Mayer bats off with characteristic humour my suggestion that The Field's darkest album to date and the more sombre mood of the last few Pop Ambient records could influence the label more widely: "we've just signed this new act called MORDOR. Apart from that everything's going to stay the same". But when looking ahead, he seems confident that there's only positives on the horizon: "As in the past 20 years, there is no business plan stating that Kompakt needs to achieve this or that in period X. That ain't how we roll. What's important to us? Independence, peace of mind and a lively, creative tension surrounding us. Put some decent bottles of red wine on top and you can definitely count us in for another five years. Easily."
Stream 15 of our picks from the Kompakt back catalogue in the playlist below:
Kompakt will take over Fire in London on Friday as part of The Hydra, with the likes of Michael Mayer, Robag Wruhme and Pachanga Boys. More information on that here.